The metro network across India is rapidly expanding, making a Metro map an essential tool for commuters. With increased urbanization, it's important to keep up with the latest version of the metro route map. The Indian economy has advanced due to growth in various sectors, including transportation through the largest railway system in the world.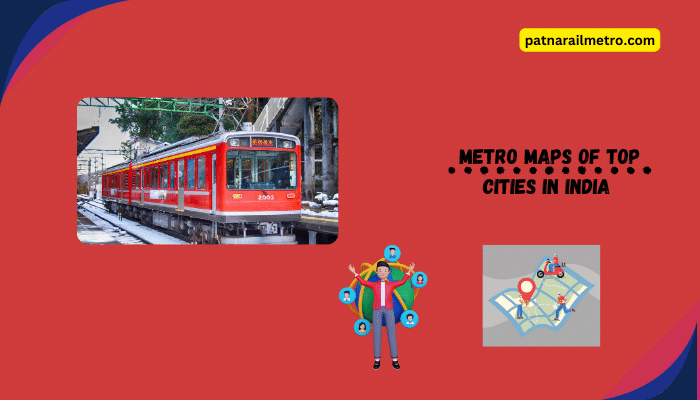 Today's metro route map covers 500 km; another 600 km is under construction. This demonstrates India's potential to become a leader in Metro Rail Networks.
Metro Maps in India:
India is blessed with 15 bustling cities, all offering an active and running metro rail system, from the map, we can observe Delhi as the largest provider, being the national capital and commencing their service back in 1984.
Kolkata, Chennai, Bengaluru, Hyderabad, Ahmedabad, Jaipur, Gurugram, Mumbai, Noida, Kochi, Lucknow, Nagpur, Kanpur, and Pune are all included in the list of metro routes found in India, which serve millions of citizens around the country daily. Let us explore the growing network of India's metro rails.
1. Kolkata Metro Map:
The Kolkata Metro is a prominent rapid transit system serving the City of Joy. It was established in 1984, making it the first metro in India. Currently, the Kolkata metro map consists of two operational lines, Blue and Green, with an overall network length of 38.26 km. Additionally, four more lines are currently in construction under the Kolkata metro map. These metro lines offer service from 7 AM to 11 PM daily, and ticket prices vary from Rs 5 to Rs 25.
The Blue line runs from Dakshineswar to Kavi Subhash, while the Green line covers the Salt Lake to Sealdah route. Shortly, this Green line will connect the two cities, Howrah and Tigharia. Moreover, Kolkata Metro is managed by two organizations – Metro Railways, Kolkata and Kolkata Metro Rail Corporation. In addition to this, it is also controlled directly by the Indian Railways, making it the only metro system under this control. The metro carries around 7,00,000 passengers every day on average.
2. Delhi Metro Map:
Delhi Metro Rail, operated by the Delhi Metro Rail Corporation, is India's largest and busiest metro network. It consists of nine color-coded metro lines stretching 348 kilometers of the national capital and its neighboring cities in the NCR. All metro lines run from 5 AM to 11:30 PM daily. Depending on the distance covered, passengers must pay fares between Rs 10 and Rs 100.
The official source of information for all of these operational metro lines is the Delhi Metro Map. This detailed, color-coded map covers the nine active lines – Red, Yellow, Blue, Green, Violet, Orange, Pink, Magenta, and Grey – and all their branches, consisting of 285 stations. Thus, this map helps the passengers understand the network comprehensively and plan their travels accordingly.
The United Nations honored the Delhi Metro in 2011 for significantly cutting Carbon emissions in New Delhi – an impressive 630,000 tonnes annually! Its daily ridership is an incredible 40,00,000 passengers.
3. Mumbai Metro Map:
The Mumbai Metro Map embodies the infrastructure developed in Mumbai to make travel easier and more convenient. It includes details of all the metro stations available on the Mumbai metro route map and those currently under construction, in the planning stages, and under renovation.
The map represents the total network of over 356 km, scheduled to be completed by 2026. Reliance Infrastructure and the Mumbai Metropolitan Regional Development Authority (MMRDA) jointly manage the metro network. The network will eventually have 14 corridors identified by 14 color codes.
For passengers' convenience, the metro rail of Mumbai runs every day between 6.30 AM to 11.00 PM. Additionally, the metro fare has been kept between INR 10 to INR 50. Due to its widespread use, the Mumbai Metro sees an average daily ridership of 8,83,000 passengers.
Overall, the Mumbai Metro Map is a remarkable example of the infrastructure planning and construction process. Its efficacy has not only simplified travel within the city but has also proved to be extremely popular among passengers.
4. Bangalore Metro Map:
The Bengaluru Metro Rail Network, known as Namma Metro, is the go-to for getting around Bangalore. Not only was it the first metro system in South India, but it was also managed by the Bengaluru Metro Rail Corporation Limited (BMRCL).
The Purple Line of Bengaluru Metro route map covers the stretch from Baiyappanhalli to Kengeri, spanning 22 km and covering 17 stations. This stretch passes through several important locations in the city, such as MG Road, Halasuru, Swami Vivekananda Road, and Indiranagar.
Meanwhile, the Green Line of Bangalore Metro Route Map spans 24 km from Nagasandra to Silk Institute and includes 17 stations. It runs through popular areas like Yelachenahalli, K.R. Market, Lalbagh, and Southend Circle. These two metro lines of Bengaluru Metro provide an easy and convenient commuting option to its citizens and help decongest the traffic in the city. Expanding this network in future years would make it easier for people to traverse through the city.
If you are traveling on the Bengaluru Metro Route map, you'll find the services operating from 5:00 AM to 11:30 PM, seven days a week. Regarding fare, you can get on the metro with a minimal amount of Rs 10 to Rs 17, depending on your journey.
No wonder the Bengaluru Metro system has an average daily ridership of 5,18,000 passengers. This shows how the Metro has revolutionized transportation within the city, making traveling easier and more convenient.
5. Chennai Metro Map:
The Chennai Metro map is a clear visualization of the 43 stations covered across the city. This extensive network of metro routes consists of the Blue line, covering 26 stations from Wimco Nagar to Chennai International Airport, and the Green Line, with 17 stations from MGR Central to St Thomas Mount locality of Chennai. With landmarks and localities across the city featured on the map, it offers a reliable public transportation service for citizens and visitors of Chennai.
Established in 2015, the Chennai Metro is managed by the Chennai Metro Rail Limited (CMRL), a venture between the Central Government of India and the State Government of Tamil Nadu. It is India's fourth-largest metro network after Delhi, Hyderabad, and Bengaluru. This 54.65 km metro line offers efficient services from 4.30 AM to 11:00 PM. The fare varies from Rs 30 to Rs 60, with an average daily ridership of 1,60,000 passengers.
6. Hyderabad Metro Map:
The Hyderabad Metro Route Map has three major lines – Red, Blue, and Green. The Red Line runs from Miyapur to LB Nagar and is 28.87 km long, while the Blue Line spans from Raidurg to Nagole over a distance of 27 Km. Recently, the Green Line from JBS to MGBS metro stations has been added to the Hyderabad Metro Route Map.
The Public-Private Partnership (PPP), funded by the Telangana Government and led by L&T, makes the Hyderabad Metro one of its kind. Operational from 6.00 AM to 11:15 PM every day, the metro fare is nominal, ranging from Rs 10 to Rs 30.
Overall, the Hyderabad Metro Route Map, with its vast coverage of the city, provides convenience to its commuters and facilitates a seamless journey throughout Hyderabad.
7. Ahmedabad Metro Map:
The Ahmedabad Metro is an efficient mode of transport, offering commuters in the city of Ahmedabad and Gandhinagar, Gujarat, convenient travel options. This metro network is overseen by the Gujarat Metro Rail Corporation (GMRC).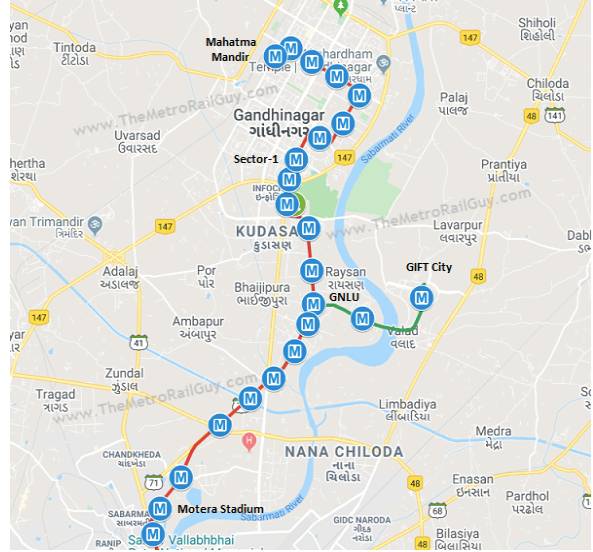 Phase-1 of the expansion of Ahmedabad Metro became operational in 2019. The East-West Corridor of the metro, also known as the Blue Line, stretches from Thaltej to Vastral Gram, while the North-South Corridor, or the Red Line, connects Motera Stadium to APMC. Operating from 10.00 AM to 6.00 PM every day, commuters can use the metro for fares ranging from Rs 5 to Rs 10.
However, the average daily ridership of the Ahmedabad Metro stands at just 500 passengers, making it the least-used metro network in India.
8. Rapid Metro Gurgaon Map:
Rapid Metro Gurgaon is a localized metro network in Gurgaon City, India. A private firm manages it – Rapid Metro Gurgaon Limited (RMGL) and its operations have been overtaken by the Delhi Metro Rail Corporation (DMRC).
The network covers a total distance of 12.85 Km and 11 stations. From Phase 3 to Sector 55-56, the rapid metro route connects with the Delhi Metro at Sikandarpur station. The services of Rapid Metro Gurgaon are operational from 6.00 AM to 11.00 PM daily, with a fare set at Rs 30.
9. Jaipur Metro Map:
Jaipur Metro Route is the lifeline of the City of Jaipur, providing travelers and residents alike with comfortable, convenient, and affordable transportation. The network is 9.63 kilometers long and has a phase 1 connecting the Mansarovar and Chandpole Bazar areas.
Fully managed and controlled by the Rajasthan State Government, the Jaipur Metro operates daily between 6.20 AM to 9.49 PM, making commuting around the city simple and easy. Ticket prices range from Rs.12 to Rs.18, depending on the route. Every day, the Metro serves 50,000 passengers, demonstrating its popularity among the people of Jaipur.
10. Kochi Metro Map:
The Kochi Metro Map is an efficient route guide providing information on the stations spread along the Metro network. Currently, 25 metro stations are part of the network. Out of these, 24 are in operation. This route guide maps out the journey between Aluva to Tripunithura Railway Station.
Kochi Metro serves the city of Kochi and covers a distance of 25 km. It is the fastest metro project of India, which was completed in 4 years. Moreover, it is the first network to connect via roads, rail, and waterways. Kochi Metro has also created many employment opportunities for the members of the transgender community.
It runs from 6.20 AM to 10.30 PM daily, and the fares are Rs 10-Rs 60. The average daily ridership of Kochi Metro ranges from 10,00,000 to 15,00,000 passengers.
10. Noida Metro Map (Noida Aqua Line Metro Map):
Noida Metro Map describes the Metro Rail Network of Noida's Aqua Line. It connects Noida to Greater Noida, a 29.7 km distance, with 21 stations from Noida Sector 51 to the Depot in Noida. Since its official launch in 2019, Noida Metro Rail Corporation Ltd (NMRCL) has operated the Aqua Line.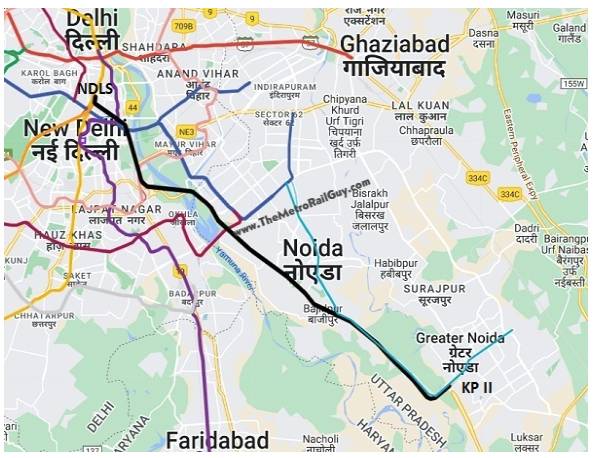 The Aqua Line Metro is functional from 6 AM to 10 PM and offers fares starting from Rs. 10 up to Rs. 50. Each day, an average of 30,000 passengers take advantage of the Noida metro to reach their destination. Furthermore, to ensure convenience, an electronic ticketing system is available that allows users to access their destination at the swipe of their Metro card.
By understanding the current scenario, it is safe to say that the Aqua Line has revolutionized Noida's public transport system. It provides an efficient, fast, and cost-effective mode of transport. Thus, the Noida metro map is an invaluable tool for locals and tourists to navigate the city.
12. Lucknow Metro Map:
The Lucknow Metro Map is a fantastic resource for those who take the metro daily. Its vivid color-coded route lines make the network easy to understand and follow. It's easy to find out which stations are connected and the sequence of stops for your journey.
In addition to its ease of use, the Lucknow Metro Map provides additional information on the Metro system. For example, all the Lucknow metro rails operate between 6:00 AM to 11:00 PM daily, with the fares ranging from Rs 10 to Rs 50. On average, it handles over 60,000 passengers each day.
All in all, the Lucknow Metro Map is an indispensable document for commuters and residents of the city, offering the utmost convenience in finding the right route and timings for their journeys
13. Nagpur Metro Map:
The official metro map of the Nagpur is the ultimate source of accurate information about its metro stations and the route along the Green and Red lines. It serves the city of Nagpur, Maharashtra, and is renowned for being the greenest metro network in India.
The whole Nagpur Metro Rail Network system is spread across 22 km and two principal corridors. Every day, its services are available between 8:00 AM, and 8:55 PM, and the fare varies from Rs 10 to Rs 55. Additionally, an average of 51,670 passengers use this Metro daily
Overall, the Nagpur Metro is an efficient and clean way of commuting within the city. It also helps contribute towards a healthier environment as well as convenience to people of the city.
14. Pune Metro Route Map:
Pune is a city of exponential growth in Maharashtra, prompting the need for an effective public transportation system. The Pune Metro Map offers its citizens a convenient way to learn all they need to know about its metro rail network, stations, and route map. The Pune Metro Rail Development Authority (PMRDA) operates the metro and includes three lines – purple, aqua, and red.
Approved in 2016, two of the three lines are currently operational. The timings of this metro network are from 8 am to 9 pm, with the cost of the fare ranging from 10 rupees to 20 rupees. Line 1, or the purple line, begins at PCMC and stretches till Swargate. Line 2, the aqua line, runs from Vanaz to Ramwadi. And line 3, the red line, is still under construction from Quadron to Civil Court.
The Pune metro network provides citizens with a timely and efficient transport service for daily commutes. As the city continues to grow, the metro will provide the citizens of Pune with a viable transport solution for the future.
15. Kanpur Metro Map:
Kanpur Metro Map offers commuters an easy way to travel around the city. The current operational Orange Line stretches from IIT Kanpur to Motijheel, providing numerous metro stations. There are further metro stations in the construction process, adding to the length of the Orange Line.
In addition, the Blue Line is currently in the process of construction. The route spans from Agriculture University to Barra 8. This metro system in India remains operational from 6 AM to 10 PM, allowing plenty of time for travelers to use it for their daily commutes. Moreover, the fare for this service is quite economical, with fares ranging from Rs 10 to Rs 30.
16. Delhi–Meerut Regional Rapid Metro Map:
The Delhi–Meerut Regional Rapid Transit System is set to revolutionize transport within the National Capital Region. Set to be completed in 2025, the system will be the first of its kind semi high-speed rail corridor and stretch for 82.15 km between Delhi, Ghaziabad, and Meerut.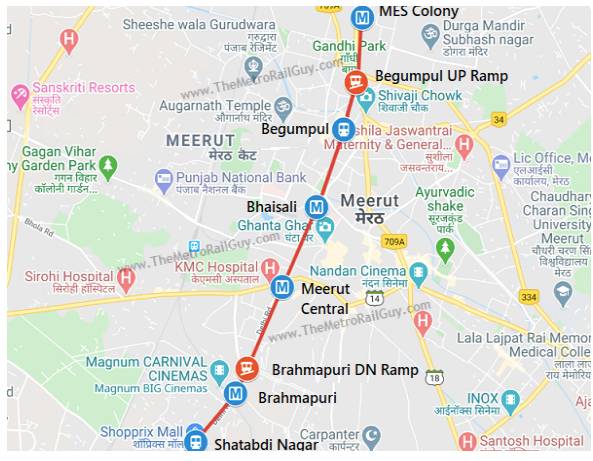 On the 14th of March 2019, Prime Minister Narendra Modi laid the foundation for this revolutionary project. With a maximum speed of 180 km/h, the entire distance from Delhi to Meerut is expected to be completed in less than an hour. In total, 24 stations and two depots at Modipuram and Duhai will be created for Rs 30,274 crore.
The project is scheduled to be opened for use in March 2023 for the first phase, which will stretch from Delhi to Duhai Depot. By 2025, the entire system will be opened to the public. It is expected that this corridor will provide much-needed relief to commuters, who have until now relied heavily on the overcrowded road network of the National Capital Region.
Metro Network Under Construction In India:
India is undergoing a major transformation in its transportation infrastructure by constructing several metro projects in different parts of the country. These metro projects aim to expand India's metro network and ease traffic in major cities. Equipped with world-class facilities and affordable fares, these metro projects are set to transform the way people travel in their respective cities.
Agra Metro:
Agra Metro is a 4-km metro route under construction in the city of Agra, with the project headed by UPMRCL. The total approved routes for Agra Metro would cover a distance of 25.4 km.
Bhopal Metro:
Bhopal Metro, under construction by MPMRCL, is designed to serve the city of Bhopal. The approved routes would cover a distance of 21.65 km, with 6.22 km of the route already under construction.
Indore Metro:
Indore Metro is another metro project designed for the city of Indore. While 5.29 km of this metro project is under construction right now, Line 1A, Line 1B, Line 2, and Line 4 have been proposed, with Line 3 (Yellow Line) currently under construction.
Meerut Metro:
Meerut Metro, which will serve the city of Meerut, has 3 km of routes under construction.
Navi Mumbai Metro:
Navi Mumbai Metro is designed to serve the residents of Navi Mumbai, with about 11.10 km of this metro project currently under construction.
Patna Metro:
Patna Metro, headed by PMRC, would cover a total distance of 24.803 km in Patna.
Surat Metro:
The Surat Metro Project, headed by GMRC, has metro routes covering a distance of 18.62 km under construction right now.
With the expansion of the metro network in India, commuters can look forward to more efficient and comfortable modes of transportation. These metro projects, with their state-of-the-art facilities and affordable fares, are set to revolutionize the way people travel in their respective cities, making transportation easier and more accessible to all.
Approved Metro Projects:
In addition to the major metropolitan areas of India, there is a proposal for expanding the metro network with several approved projects. This includes the Gorakhpur Metrolite, Kozhikode Metro, Nashik Metro Neo, Trivandrum Metro, and Vizag Metro. With this potential expansion of India's metro network, residents of India can look forward to greater connectivity and improved public transportation.
Proposed Metro Projects:
The Delhi – Gurgaon – Rewari – Alwar Regional Rapid Transit System (RRTS) is one of several proposed projects planned to be included in India's metro network. This project would greatly improve the cities included and the daily lives of their citizens.
This project will be 164 kilometers long, complete with a semi-high-speed rail corridor. This project is part of Phase 1 of the RRTS system, regulated by the National Capital Region Transport Corporation (NCRTC).
The project will connect four major cities: Delhi, Gurgaon, Rewari, and Alwar. This system would create convenience for travelers and businesses and generate new opportunities for employment and growth. With this metro, cities and their citizens will become more integrated, transforming the socioeconomic and physical fabric of these cities.
The Delhi – Alwar RRTS, the Regional Rapid Transit System connecting two major cities, will be completed in 104 minutes. It will travel with a maximum speed of 160 km/hr and an average speed of 105 km/hr. The government of Haryana and Rajasthan have both approved the project, and NCRTC has approved the first phase.
Phase 1 covers a 10 km stretch of Gurgaon, Delhi to Gurgaon, Shahjahanpur, Neemrana, and Behror. Construction is underway in the 10 km Gurgaon area, and pre-construction activities have also commenced in this region. There will be 22 stations proposed along this route, and phase 1 will incorporate 16 of them, 11 being elevated and 5 below the ground.
Warangal Metro Neo in Telangana
Rajkot Metrolite/Metro Neo in Gujarat
Jamnagar Metrolite/Metro Neo in Gujarat
Vadodara Metrolite/Metro Neo in Gujarat
Bhavnagar Metrolite/Metro Neo in Gujarat
Chennai Metrolite in Tamil Nadu
Coimbatore Metro in Tamil Nadu
Aurangabad Metrolite in Maharashtra
Varanasi Metro in Uttar Pradesh
Prayagraj Metro in Uttar Pradesh
Guwahati Metro in Assam
Delhi Metrolite in Delhi
Raipur Metro in Chhattisgarh
Jammu Metro in Jammu and Kashmir
Srinagar Metro in Jammu and Kashmir
Vijayawada Metro in Andhra Pradesh
Bangalore Metrolite in Karnataka
Uttarakhand Metro in Uttarakhand
Conclusion:
India's metro network is increasingly comprehensive. Each major metropolis across the country has been gifted with its own robust rail transport facility, which seems only likely to improve.
Looking at various State Government plans, one can expect a top-of-the-line metro system to soon appear in tier 2 and tier 3 cities. By doing so, more and more people will have easy access to these transport systems, allowing for convenient journeys between the rural and urban hubs. Ultimately, this should significantly help to extend the metro network within India.
Frequently Asked Questions:
Q: Where can I find the Metro Maps of Top Cities in India?
A: The Metro Maps of Top Cities in India can be easily found on the respective Metro Rail websites or mobile apps. Most of the Metro Rail corporations have interactive maps available on their websites and apps, which provide detailed information on the routes, stations, and timings. Additionally, printed copies of the Metro Maps can also be obtained from the Metro Rail stations or customer service centers.
Q: How frequently is the Metro Maps updated?
A: The Metro Maps of Top Cities in India are regularly updated to reflect the latest information on the routes, stations, and timings. Metro Rail corporations typically update their maps whenever there's a change in the route, station locations, or timings. Additionally, any new stations or routes added to the network are reflected in the updated maps. Commuters are advised to check the Metro Rail website or app for the latest map version, to ensure they have the most accurate and up-to-date information.