Bangalore, known as the Garden City of India, is a technology hub and a rapidly growing center for startups, poised to become the world's startup capital potentially. However, the city's growth has also led to increased traffic. To address this issue, the Bangalore Metro, also called Namma Metro, was planned in the early 2000s.
Currently, two metro lines, Green and Purple, are operational and connect most of the city, with further expansions under construction. The metro system carries a significant number of passengers each month.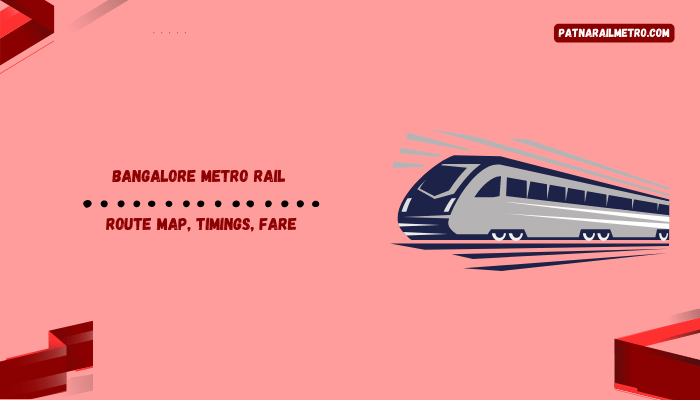 The launch of the Bangalore Metro has led to a surge in property prices, particularly for properties located near the metro lines. Property prices within 500 meters of Namma Metro have increased by 10-15% for residential properties and 19% for commercial properties. The area around the metro stations has seen the construction of several malls, including Prestige Falcon City, Mantri Square, One MG Mall, and Brigade Orion.
Namma Metro has been a successful model for Bangalore Metro Rail Corporation Limited, significantly contributing to reducing carbon emissions in the city. It is India's first metro rail project to use 750V DC Third Rail Traction on Standard Gauge, making it an environmentally friendly addition to the city.
Bangalore Metro Rail – Route Map:
Bangalore has two operational metro lines: the Purple Line and the Green Line. Additionally, three more lines are currently under construction – the Yellow Line, the Pink Line, and the Blue Line – and one more line in the planning phase, the Orange Line. Together, these metro lines cover a total of 52 stations in Bangalore.
Purple Line:
The Purple Line of the Namma Metro spans a length of 25.7 km and runs from east to west, connecting Baiyappanahalli to the Kengeri Metro Station. This line has 22 metro stations, including 17 elevated stations, five underground stations, and one at-grade station.
The Purple Line runs through several key locations, including MG Road, Vidhana Soudha, and Majestic Station, which serves as an interchange station between the Purple and Green Lines. Notably, the first underground section of the metro in South India was part of phase I of the Purple Line.
Phase II of the Purple Line is under construction, connecting Whitefield to Challaghatta. The section between Whitefield and KR Puram is expected to operational by March 2023. The Bangalore Metro Rail Corporation Limited (BMRCL) has proposed India's first underground metro car depot at Baiyappanhalli, which will feature 28 stabling lines to serve trains operating on the Outer Ring Road. The process of acquiring land for this proposed project is underway.
Green Line:
The Green Line of Bangalore Metro consists of 29 stations and covers a distance of 30.37 km from Nagasandra to Silk Institute. The extension of the Green Line from Nagasandra to Bangalore International Exhibition Centre is currently under construction and expected to be operational by 2023.
Yellow Line:
The upcoming Yellow Line will connect Rashtreeya Vidyalaya Road to Bommasandra, spanning over 18 km and covering 16 planned stations. Recently, the State government has approved the extension of this line from Bommasandra to the industrial hub of Hosur in neighboring Tamil Nadu. The electronic city corridor is also scheduled to open in June 2023.
Blue Line:
The Blue Line of the Bangalore Metro will have 30 stations and cover a total distance of 58.19 km, with two phases of development. The first phase will link Central Silk Board to Krishnarajapuram, while the second will connect Kempegowda International Airport to Kasturi Nagar. The airport link section will have two new stations at Chikkajala and Jakkur Plantation, totaling 19 stations on this stretch.
Pink Line:
The Pink Line will run for 21.25 km, with 18 stations connecting Nagawara to Gottigere in South Bangalore. Some of the stations on this line will be underground, which is expected to start operating in 2027.
Orange Line:
The proposed ORR-West Line or Orange Line is expected to be operational by 2028-29 as part of Phase-3A of the Namma Metro project. The BMRCL is also building a combined station at Iblur, connecting Phase 2A and Phase 3A of the Metro, with the station design yet to be finalized. In addition, the BMRCL has plans to expand the Namma Metro route with three more stretches to improve connectivity.
Bangalore Metro Rail – Timings:
The Bangalore Metro provides daily services with trains arriving every 4-20 minutes from 5 am to 11 pm, except for the second and fourth Saturdays or public holidays when services begin at 6 am and end at 10:35 pm. On Sundays, the services start at 7 am and continue until 11 pm. Recent reports suggest that over five lakh people, on average, use the Bangalore Metro.
Bangalore Metro Rail Fare 2023:
The cost of using the Bangalore metro depends on the token type and distance traveled. Generally, the fare can range from Rs 10 to Rs 45. The Bangalore metro has three fare categories: tokens, group tickets, and smart cards.
A token can be bought for a minimum of Rs 10 and a maximum of Rs 50, which is suitable for one-way travel. A group of at least 25 people traveling to the same destination can avail of a 10% discount on the token fare by purchasing group tickets. Smart cards, which can be recharged for multiple trips, can be obtained for Rs 50, loaded up to Rs 3000, and offer a 5% discount over the token fare.
Bangalore Metro App:
The Bangalore Metro App offers users a way to buy tickets for a hassle-free journey using QR codes. As of now, this app is only available for Android users. The government is taking inspiration from the 'One Nation One Card Model' and plans to make taxi and auto services available through digital platforms. Currently, there is a chatbot option for booking tickets.
But the app has been updated to allow travelers to purchase tickets through popular apps such as Paytm and Yatra. In the future, passengers can use these apps to book taxis or autos from the station, improving last-mile connectivity and making it faster and more convenient.
How To Check Balance on Bangalore Metro Card?
To check the remaining value on your card, you can visit a station and use the "Remaining Value Check Terminal (RVCT)" near the Customer Card/EFO section. Then, show your card to the terminal to view the remaining balance. You can also show your card at the Automatic Gates (AG) at the station to enter and exit the platform.
Bangalore Metro Phases:
The Bangalore metro project has been divided into three phases, with phase 1 completed from Mysore Road to Byappanahalli and phase 2 work up to Kanakapura already concluded. The remaining work on phase 2 is expected to be operational by 2024. The work on phase 3 is scheduled to begin in 2025.
Bangalore Metro Phase 1:
The first phase of the Namma metro consists of two lines covering a distance of 42 km with a total of 40 stations, out of which 36 km is elevated and 8 km is underground. The first phase was launched in 2007 between MG Road and Baiyyappanahalli, which later expanded to Yeshwanthpur to Nagasandra and Rashtriya Vidyalaya Road Yelachenahalli.
Bangalore Metro Phase 2:
Namma Metro's second phase consists of 72 km of track with 62 stations, 13 km underground. The second phase is an essential expansion of the first phase with extensions on both lines.
The Purple Line will be extended from Baiyappanahalli to Whitefield and from Mysore Road to Challaghatta via Kengeri. In contrast, the second line will be extended from Yelachenahalli to Anjanapura along Kanakapura Road and from Nagasandra to Madavara on Tumkur Road. The government has allocated approximately Rs. 32,000 crores for the extension.
There are also plans to build a new elevated line for 18 km between RV Road and Bommasandra via Electronic City. A 21 km stretch from Kalena Agrahara to Nagawara is in the works. The second phase is expected to be completed by 2024.
With the opening of the Baiyappanahalli-Whitefield metro line, Namma Metro expects an increase in ridership between 2.5 lahks to 3 lakhs passengers. This expansion will be particularly beneficial for IT employees who work in Whitefield. The Bangalore Metro Rail Corporation Ltd has announced that trials on this line will begin in September and will be operational for the public by the end of the year.
Bangalore Metro Phase 2A:
Phase 2A of Namma Metro includes the proposed Blue Line, which will run between Silk Board and KR Puram and is expected to have 13 stations. The stations on this line will include Silk Board, HSR Layout, Agara, Ibbalur, Bellandur, Kadubeesanahalli, Kodibisanahalli, Marathahalli, ISRO, Doddanekundi, DRDO Sports Complex, Sarasvathi Nagara (previously known as Mahadevapura), and KR Puram. This line will be located on the outer ring road and will have an interchange station connecting to the Purple line at KR Puram and the Yellow line at Silk Board.
Bangalore Metro Phase 2B:
Phase 2B, called the Airport line, is a construction project connecting Kempegowda Airport with MG Road. The estimated cost of this project is Rs 10,584 crores, and it will stretch over a distance of 39 km from Krishnarajapura (KR Puram) to Kempegowda Airport. The route of this metro line will be along the northern section of ORR (Outer Ring Road).
Bangalore Metro Phase 3:
The proposed Bangalore metro phase three consists of two corridors planned to be approximately 44.50 km long and fully elevated. The construction of both corridors is expected to be completed by the end of 2027.
In March 2022, the state government budget speech announced that one of the corridors would run from Hebbal to Sarjapura. According to the detailed report, the estimated cost for the phase three project is around Rs.15,000 crore.
Bangalore Metro: Interesting Facts
Here are some interesting facts about the Bangalore Metro, also known as Namma Metro:
Namma means 'Our' in Kannada
It is the first metro project in any southern state in India
Bangalore Metro is the first rail project that uses 750V DC Third Rail Traction on Standard Gauge
It is a joint venture between the Government of India and the Government of Karnataka
The metro is divided into two corridors, the east-west corridor (Purple Line) and the northern corridor (Green Line)
The maximum speed of the metro is 80 kmph, with an average speed of 34 kmph
If you travel without a token or lose your token, you will be charged a penalty of Rs. 200 in addition to the maximum token fare.
Bangalore Metro: Latest Update
To alleviate traffic near Banashankari Signal, BMRCL has proposed constructing a skywalk connecting the Banashankari Metro Station and the Bengaluru Metropolitan Transport Corporation (BMTC) terminal. The Skywalk, a Foot-Over Bridge (FOB), will be designed as a public space with resting pods and recreational facilities.
In addition, the BMRCL recently conducted the first trial run of the Purple Line extension between KR Puram and Whitefield, covering the 13-km stretch in just 12 minutes at a speed of 80 km per hour. After successful testing, the stretch is expected to be operational in March 2023, with five trains operating at 10-minute intervals.
Bangalore Metro Customer Care (Helpline) Number:
If you have any queries or need further information about the Bangalore metro, you can reach out to the following address, phone number, or email:
Office Address: Bangalore Metro Rail Corporation Ltd, Byappanahalli Depot, Old Madras Road, NGEF Stop, Bengaluru – 560 038
Email: travelhelp@bmrc.co.in
Toll-free Helpline: 1800-425-12345
Conclusion:
To sum up, Namma Metro, also known as Bangalore Metro, provides a cost-effective and convenient solution to the traffic issues in the city. Presently, there are two active metro lines, the Purple and Green.
Frequently Asked Questions:
Q: What are the operating hours of Bangalore Metro Rail?
A: Bangalore Metro Rail operates from 5:00 am to 11:00 pm daily. However, the timings of the first and last trains may vary slightly depending on the station and the day of the week. It's always a good idea to check the Bangalore Metro Rail website or app for the latest schedules and timings.
Q: How can I purchase a ticket for Bangalore Metro Rail?
A: You can purchase a ticket for Bangalore Metro Rail at any metro station using a smart card or a token. Smart cards can be purchased and recharged at the stations, while tokens can be bought from the vending machines. The fares are based on the distance traveled, starting at Rs. 10 for a single journey. Additionally, various types of passes are available, such as daily and monthly passes, which can offer discounts and convenience for frequent travelers.