The Nagpur Metro is a state-of-the-art public transportation system in Maharashtra, India, with a total route length of 38.21 km. It has 24 stations and runs on standard gauge lines, with an overhead wire supplying 25 kV alternating current. The system is still in its early stages and operates three-coach trains that can reach a maximum speed of 90 km/h and an average of 33 km/h.
The project was approved by the Union Cabinet on August 20, 2014, and was inaugurated by Prime Minister Narendra Modi on August 21, 2014. On March 8, 2019, PM Modi, Chief Minister Devendra Fadnavis, and UCM Nitin Gadkari officially launched their operations.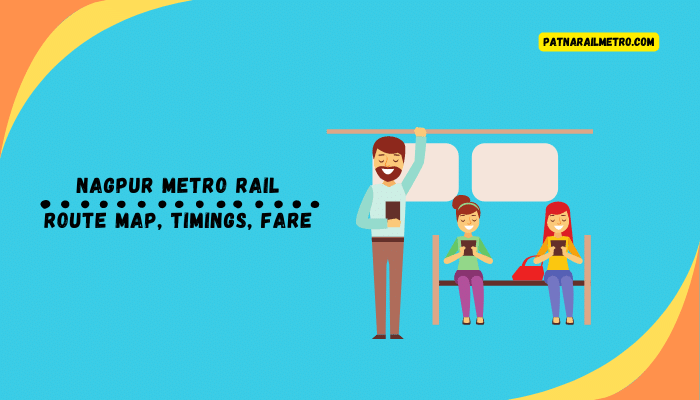 Nagpur Metro Rail – Route Map:
The Nagpur Metro map shows the Orange Line and Aqua Line, which are part of the Nagpur Metro system. The map includes the two lines' routes, lines, stops, and key landmarks.
The two lines of the Nagpur Metro rail currently operating are the Orange Line Metro (Line 1) and the Aqua Line Metro (Line 2). The Orange Line runs from Sitabuldi to Khapri, and the Aqua Line runs from Sitabuldi to Lokmanya Nagar. Both lines are operated using three-coach trains that reach a maximum speed of 90 km/h and an average of 33 km/h.
The Nagpur Metro is powered by an overhead wire supplying 25 kV alternating electricity, and the standard gauge lines have a total length of 26.1 km.
Hyderabad Metro Route: [Orange Line 1]
The Orange Line opened its first section to travelers on March 8, 2019, and runs from Sitabuldi to Khapri station, covering a distance of 13.5 km with 11 existing stops and 20 planned stops. Operating north-south, it connects the city's central and southern areas and has been extended in both directions, adding 7 km of track and 9 planned stations. It now stretches from Metro City in the south to Automotive Square in the north, covering 23 km.
Hyderabad Metro Route: [Aqua Line 2]
The Nagpur Metro's Aqua Route is a 19.407 km long metro line in Nagpur, India. It runs from Prajapati Nagar to Hingna Mount View Metro Station and has 21 stations, all of which are elevated. On January 28, 2020, the Aqua Line was partially opened to the public. When using this line, travelers can access just one interchange station, the same as the Orange Line.
Nagpur Metro North-South Corridor: [Orange Line]
The Nagpur Orange Line metro rail stops at the following stations:
Khapri, New Airport, Airport, Ujwal Nagar, Jayprakash Nagar, Chhatrapati Square, Ajni Square, Rahate Colony, Congress Nagar, Sitabuldi, Zero Mile, Kasturchand Park, Gaddigodam Square, Kadvi Square, Indora Square, Nari Road, and Automotive Square.
Nagpur Metro East-West Corridor: [Aqua Line]
The Nagpur Aqua Line metro rail consists of the following stations:
Prajapati Nagar, Vaishno Devi Square, Ambedkar Square, Telephone Exchange, ChittarOli Square, Agrasen Square, Dosar Vaisya Square, Nagpur Railway Station, Sitabuldi, Jhansi Rani Square, Institute of Engineers, Shankar Nagar Square, LAD Square, Dharampeth College, Subhash Nagar, Rachana Ring Road Junction, Vasudev Nagar, Bansi Nagar, and Lokmanya Nagar.
Nagpur Metro Interchange Station:
The Sitabuldi Metro Station in Nagpur, Maharashtra, is a T-shaped structure with an area of 250,000 square feet and serves as an interchange stop for commuters wishing to transition between the Orange Line and the Aqua Line. This station provides an easy way for travelers to switch between the two lines, making it a popular destination for commuters in the area.
Nagpur Metro Rail – Timings:
Nagpur Metro is available to passengers regularly, and the authority keeps them informed of any changes in the schedule via their social media accounts.
The first train on the Orange Line departs at 8 AM, while the last one leaves at 8 PM and reaches the last station at 8:55 PM. The first train on the Aqua Line starts at 8 AM, and the last leaves at 8 PM, reaching the last station at 8:52 PM. The trains on both the Orange Line and the Aqua Line run every 15 minutes.
It takes 25 minutes to travel from Khapri to Sitabuldi Interchange Metro Station on the Orange Line and 22 minutes from Lokmanya Nagar Metro Station to Sitabuldi on the Aqua Line. The journey from Khapri to New Airport takes 4 minutes, 14 minutes to Jaiprakash Nagar, and 25 minutes to Sitabuldi. From Lokmanya Nagar to Vasudev Nagar, it takes 5 minutes, 14 minutes to LAD Square, and 22 minutes to Sitabuldi.
Nagpur Metro Rail Fare 2023:
Traveling via the Metro in Nagpur is an economical and eco-friendly way to get around. The minimum fare for the Orange and Aqua Lines is only INR 5, and discounts are available when using the Metro card.
For example, if you begin your journey from Khapri on the Orange Line, the fare to New Airport Metro Station is only INR 5. In contrast, the fare to Jaiprakash Nagar Metro Station and the Sitabuldi Interchange Metro Station is INR 25 and INR 55, respectively.
If you start your journey from Lokmanya Nagar on the Aqua Line, the fares to reach Vasudev Nagar Metro Station, LAD Square Metro Station, and Sitabuldi Interchange Metro Station are INR 10, INR 25, and INR 55, respectively.
Nagpur Metro's Automated Fare Collection System:
The Nagpur Metro Rail has implemented an advanced Automated Fare Collection System based on Contactless Fare Media Technology. Entry/exit gates and fences separate each station's paid and unpaid areas, allowing only those with valid tickets to access the system. Contactless Smart Card (CSC) and Contactless Smart Token (CST) tickets can be purchased, catering to regular and occasional riders.
The system can accept a wide range of passes and tickets and provides a stage-based pricing structure and the flexibility to adapt to various fare structures and ticketing options, such as flat fares, time-based fares, and free transfers across modes.
SBI MAHA Card For Nagpur Metro:
SBI and its AFC and System Integrator partners acted as the leader of a consortium that implemented the Automated Fare Collection (AFC) system for the Nagpur Metro Project. The system includes MAHA Cards, which have a stored value balance feature that enables offline transactions at Nagpur metro stations.
To use the system, passengers must tap their MAHA Card at the entry gate when they start their journey and again at the exit gate when they finish. The MAHA Card's dual interface (EMV chip) ensures secure and convenient payment processing.
To obtain a MAHA Card, metro riders can apply at a metro station desk and provide basic information in an application form. They will then receive a one-time PIN sent to their phone number to verify their identity. After completing the application process, commuters need to pay a one-time card issuance fee of INR 150 and top up their card with a minimum of INR 100 and multiples of INR 100, up to a maximum of INR 2,000 for seamless metro travel.
The MAHA Card's stored value balance allows users to make offline transactions at Nagpur Metro stations. After the exit tap, the fare amount will be deducted from the card's balance.
How To Check Balance On Nagpur Metro Card?
Tap your MAHA card on the Ticket Readers (TRs) situated at metro stations at your nearby Nagpur metro station. The latest five transactions and the card balance information will be shown on the screen.
Nagpur Metro Application For Buying Tickets:
The Nagpur Metro's official ticketing mobile application makes it easy for commuters and visitors alike to purchase tickets. Users can book tickets, check station information, view routes, and train schedules, find nearby tourist attractions, and contact the metro station through the app. Additionally, the app can provide directions to the nearest Metro station and points of interest, making it a great tool for tourists.
Nagpur Metro Connectivity:
Battery-operated vehicles are one of the concepts included in the Nagpur Metro project. Also, it offers facilities for pedestrians and bike sharing. 14 metro stations are being built, while 24 are open for business. Moreover, 43.8 kilometers is planned for the Nagpur Metro Rail.
Nagpur Metro Amenities:
Every station of the Nagpur Metro is created distinctively, with the motto 'Metro for Everyone.' Alongside easy access, these metro stations include a childcare facilities room and CCTV surveillance. Also, these metro stations offer first-rate amenities for travelers with physical disabilities and multi-modal services.
A Position For Nagpur Metro In The Guinness Book Of Records:
The Nagpur metro has achieved a distinction in the Guinness World Record for constructing the longest double-decker viaduct for the metro line, which is 3.14 Km long. Brajesh Dixit, MD of Maharashtra Metro, received the record certificate from the Guinness World Record management at the ceremony.
He expressed that making the viaduct was one of the most difficult challenges in the metro project. Additionally, the stretch has been recognized as the longest viaduct in Asia by the Asia Book of Records and the longest in India by the India Book of Records.
The double-decker viaduct was built jointly by the National Highways Development Authority (NHAI) and Maharashtra Metro. The first layer is composed of an existing highway, the second layer has a flyover highway at a height of nine meters from the ground, and the third layer has the Nagpur metro railway, which is 20 meters tall. A structure similar to this is planned for the Ganeshkhind Road in Pune.
Nagpur Metro Customer Care (Helpline) Number:
If you have any queries or need further information about the Nagpur Metro, you can reach out to the following address, phone number, or email:
Address: METRO BHAVAN, VIP road, Near Dikshabhoomi, Nagpur – 440010
Mobile No: 7720027181, 7720027182, 7720027198
E-mail Id: contactus@mahametro.org
Is Nagpur Metro started?
Prime Minister Narendra Modi inaugurated the rest of the Aqua Line of Nagpur Metro phase I section on 11 December 2022
Conclusion:
The Nagpur Metro offers residents a quick, dependable, and cost-effective means of transit. It recorded the greatest single-day ridership of more than 220,000 passengers during the first week of 2023. Keep up to date with the latest news and updates regarding its progress.
Frequently Asked Questions:
Is Nagpur Metro started?
Prime Minister Narendra Modi inaugurated the rest of the Aqua Line of Nagpur Metro Phase I section on 11 December 2022.
When Nagpur Metro Phase 2 will start?
The Prime Minister started the foundation stone of Nagpur Metro Phase II on 11 December 2022, destined to be completed by the year 2026. The cost of the project is about Rs 6,700 crore, which will take the total length of the Nagpur Metro project to 82 km.