The introduction of the metro rail urban mass rapid transit system in 1984 marked Kolkata as India's pioneer in adopting this transportation mode. Presently, the Kolkata Metro network encompasses two functioning lines with an approximate length of 38 kilometers. The Kolkata Metro railway system has undergone significant enhancements in recent years by leveraging advanced technology and new infrastructure. Kolkata Metro is a transportation system that runs on broad-gauge and standard-gauge tracks, consisting of a combination of elevated, underground, and at-grade stations. 
Despite being in operation for many years, the Kolkata Metro network has been expanded gradually, with the second line commencing operations in 2021, and four additional lines presently under construction.
In addition, Kolkata is on track to become the first Indian city to construct an underwater metro tunnel to augment intra-city connectivity. The East-West Metro corridor, being developed by the Kolkata Metro Rail Corporation (KMRCL), will feature an underwater tunnel beneath the river Hooghly. As per officials, the underwater tunnel is anticipated to be operational by 2023.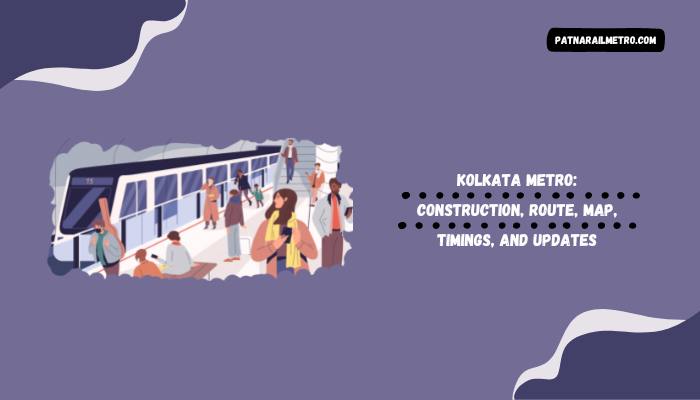 The ownership and operation of Kolkata Metro are shared by the Metro Railway, Kolkata, and Kolkata Metro Rail Corporation (KMRC). Notably, the Metro Railway, Kolkata, has been recognized as the 17th zone of Indian Railways, making Kolkata Metro the only metro system in India controlled by the Indian Railways.
Kolkata Metro Construction:
The inauguration of the North-South Metro route extension from Noapara to Dakshineswar in 2021 will enhance connectivity in the highly congested areas of the city. The upcoming metro corridors are also anticipated to improve intra-city transportation.
Most of the construction work for Line 1 has utilized the Cut and Cover construction method, a conventional tunneling technique.
Moreover, the East-West Metro corridor project incorporates an underwater tunnel with all essential amenities and safety measures, including tunnels for passenger evacuation in an emergency. According to an official, 80% of the construction work is complete.
Kolkata Metro Rail Corporation Ltd (KMRCL), established as a government enterprise in 2008, is responsible for constructing the East-West corridor project of Kolkata Metro. In July 2019, KMRCL transferred the operations of Metro Line 2 to Metro Railway, Kolkata, which is the owner and operator of Kolkata Metro, in partnership with KMRCL.
Upon the completion of construction, Metro Railway, Kolkata, will also operate other metro lines. The first train embarked on its journey from the Sector V station of Kolkata Metro and traveled a distance of 4.88 kilometers to reach the Stadium.
Kolkata Metro Route:
The Kolkata Metro Railway introduced a color-coded system in March 2022 to distinguish between the various metro corridors and new extended metro lines under development in different phases.
Kolkata Metro Line 1 [Blue Line]:
The Kolkata Metro's first line, commonly known as the Blue Line or Line 1, runs in a North-South direction. The line comprises 26 stations, including 15 underground, 2 at the surface level, and 9 elevated stations, spanning a distance of around 32 kilometers, starting from Kavi Subhas and ending at Dakshineswar.
Initially, the Kolkata Metro's first line was introduced on October 24, 1984, with a small segment of just 3.4 kilometers, connecting Esplanade to Bhowanipore, now known as Netaji Bhavan. Over time, more sections were added, including an elevated route linking Tollygunge metro station to New Garia station. In 2013, the line was further extended towards the north with a new section connecting Dum Dum station to Noapara. In February 2021, an additional four-kilometer stretch from Noapara to Dakshineswar became operational, making it the latest addition to the Blue Line.
Kolkata Metro Line 2 [Green Line]:
The Kolkata Metro's Line 2 encompasses 17 stations, consisting of 11 elevated stations and 6 underground stations, covering a distance of 22 kilometers. The initial phase of the East-West Metro corridor, extending from Salt Lake Sector V to Salt Lake Stadium, was launched on February 13, 2020. Phoolbagan Metro Station was the first underground station to open in the East-West Metro route.
Kolkata Metro Underwater Tunnel: East-West Metro Route.
The East-West Metro corridor length's 16.6 kilometers in total, of which 5.8 kilometers is an elevated route and 10.8 kilometers of underground section. Within this stretch is a 520-meter segment that runs beneath the riverbed of the Hooghly River, connecting the twin cities of Kolkata and Howrah. The underwater tunnel is being constructed at a depth of 33 meters below the riverbed of the Hooghly River. The Green Line's origin point is Howrah, and its final destination is Teghoria.
Kolkata Metro Line 3 [Purple Line]:
The Kolkata Metro's Line 3 is presently in progress and is being developed by Rail Vikas Nigam Limited (RVNL), owned by the Indian Railways. The route spans approximately 15 kilometers, connecting Joka Metro Station in the south to Esplanade in the north.
However, the first phase of the Joka-Esplanade Metro line (Line 3) has been experiencing significant delays and will only initially operate between Joka and Taratala. The completion of the East-West Metro project has also been considerably postponed due to three incidents during the past three years while tunneling at Bowbazar in central Kolkata.
Kolkata Metro Line 4 [Yellow Line]:
The upcoming Yellow Line of the Kolkata Metro, also called Line 4, will connect Noapara to Barasat in North 24 Parganas, spanning around 16.8 kilometers.
Kolkata Metro Line 5 [Pink Line]:
As part of the Pink Line of the Kolkata Metro, a 12.5-kilometer stretch will be constructed, linking Baranagar to Barrackpore.
Kolkata Metro Line 6 [Orange Line]:
The Line 6 of Kolkata Metro, covering a distance of 29.8 kilometers, will connect New Garia with Netaji Subhas Chandra Bose International Airport via Salt Lake and New Town, two satellite towns. The opening of this metro route will provide convenient access to Kolkata Airport for residents in the southern and eastern parts of the city.
Kolkata Metro Timings:
Kolkata Metro operations commence at 7:00 AM and conclude at 10:30 PM. However, during the Covid-19 pandemic, the state government modified the metro schedule. Each train makes brief 10-20 second halts at every station, resulting in minor discrepancies in the first train's arrival time each morning.
Kolkata Metro – Token and Smart Card Rules:
Token:
A token permits one journey and is only valid on the day of purchase. Passengers must enter the paid area within 45 minutes of buying the token or it becomes invalid. If a passenger loses the token, it cannot be replaced. At the journey's end, the token is collected at the exit gate. Failure to return the token at the exit gate incurs a penalty of Rs. 250.
Smart Card:
New users can buy a smart card for Rs.100/200/300/500 or 1000, which includes a security deposit of Rs. 60. The smart card can be recharged for Rs.100/200/300/500 or 1000 and can hold a maximum balance of Rs. 5000. Passengers must have a minimum balance of Rs. 25 to enter the gate.
If a passenger fails to tap the card at the exit gate or exits from the wrong gate, the card is locked, and a maximum fee of Rs. 25 is deducted when it is next presented. After the fee is deducted, the card is unlocked.
How To Recharge Kolkata Metro Card Online?
It is now possible to recharge your Kolkata metro card online.
First, visit the Metro Railway Kolkata website at https://mtp.indianrailways.gov.in/ and click "Online Recharge". 
Then, you'll need to enter your Kolkata smart card number, select the amount, and click "Pay".
At the final step, you can choose your preferred payment method, such as debit or credit card, Net banking, Paytm, or Gpay. 
Once the payment is processed, your card will be ready to use.
SBI users can also recharge their card through the SBI YONO mobile app and SBI net banking portal.
Kolkata Metro Mobile Application:
The Kolkata Metro App can be downloaded from Playstore, providing information about the Kolkata Metro. You can check the fare, find your nearest station, recharge your smart card, and check train timings, among other features. The app also offers helpline numbers for emergencies.
Features Of The Kolkata Metro Mobile Application:
The Kolkata Metro Mobile Application has different sections, including:
Timings: This section displays upcoming metro train timings for the selected route, including travel duration, fare, distance, and the stations between the two selected metro stations in Kolkata Metro.
Stations: This section provides information about all the metro stations, including their locations and surrounding areas.
Smart Card: The smart card section shows different types of smart cards available for Kolkata metro travelers and provides an easy recharge option to recharge the smart card online.
About Metro: This section provides basic information on how the Kolkata metro works and its benefits.
Helpline: This section displays helpline numbers for Kolkata metro stations that metro travelers can use in case of emergency.
Please note that this is a third-party mobile app not affiliated with the Kolkata Government.
Some Interesting Facts About Kolkata Metro:
Here are some intriguing facts about the Kolkata metro:
Kolkata metro is the oldest metro system in India.
It has the least expensive fare in the world.
Ten metro stations are named after famous Bengali personalities.
Kolkata metro transports more than 500,000 passengers every day.
The Kolkata metro is constructing India's first underwater metro rail tunnel, which is expected to cost Rs 8,600 crore. The project is expected to be completed by 2023.
Kolkata Metro: Latest Updates.
Jan 2023: Kavi Subash-Hemanta Mukherjee Stretch of Kolkata Metro to Begin Operations Soon.
The Kavi Subash-Hemanta Mukherjee section of the Kolkata Metro's Orange Line, constructed for Rs 1,550 crore, has undergone a mandatory safety inspection by the CRS on Jan 30, 2023, and will soon begin operations. This 5.4-kilometer stretch includes five stations: Kavi Subhash, Satyajit Ray, Jyotirindra Nandi, Kavi Sukanta, and Hemanta Mukhopadhyay. The exact date and time of the commencement of operations are yet to be announced and will only occur after receiving clearance from the CRS.
Jan 2023: Kolkata Metro Purple Line Begins Commercial Operations.
The Joka-Taratala stretch of the Joka-Esplanade Metro's purple line started its commercial operations on January 2, 2023, with a footfall of more than 5,000 passengers. The inaugural journey began at 10 am from Joka, carrying approximately 306 passengers, and the first 100 riders were greeted with roses by the authorities.
The 6.5 KM stretch includes six stations: Joka, Thakurpukur, Sakherbazar, Behala Chowrasta, Behala Bazar, and Taratala. Currently, 12 daily services are planned for the Purple line, with six runs in each direction. The scheduled service timings are 10 am, 11 am, 12 pm, 3 pm, 4 pm, and 5 pm from Joka and 10:30 am, 11:30 am, 12:30 pm, 3:30 pm, 4:30 pm, and 5:30 pm from Taratala.
Nov 2022: Two New Kolkata Metro Lines to be Added.
Kolkata Metro Rail Corporation is expected to initiate two new metro routes by December 2022, namely the Joka-Taratala and Garia-Ruby metro routes. The Salt Lake City to Howrah route, running through the Kolkata metro, is also expected to begin by August 2023. The Commissioner of Railway Safety (CRS) will inspect the stretch, with trial runs already being conducted in September. Initially, the Joka-Taratala Kolkata Metro Line will operate between Joka and Taratala. However, the construction of the East-West metro corridor line has been significantly delayed due to tunneling at Bowbazar in Central Kolkata. 
Kolkata Metro Helpline And Contact Information:
If you have any queries or need further information about the Kolkata metro, you can reach out to the following address, phone number, or email:
Office Address: Kolkata Metro Rail Corporation Ltd, HRBC Complex, KMRCL Bhawan, 2nd & 3rd Floor, Munsi Premchand Sarani, Kolkata – 700021
Phone number: 66071117
Email address: gm.admin@kmrc.in
Conclusion:
In conclusion, the Kolkata metro can rightly be called the lifeline of Kolkata. Having been in operation for a long time, it has significantly eased commuting challenges for the citizens of Kolkata.
Frequently Asked Questions:
Q: What are the timings of Kolkata Metro Rail?
A: Kolkata Metro Rail operates daily from 6:45 am to 9:55 pm, with trains running at 7 to 10 minutes during peak hours and 15 minutes during non-peak hours. However, the timings of the first and last trains may vary slightly depending on the station and the day of the week. It's always a good idea to check the Kolkata Metro Rail website or app for the latest schedules and timings.
Q: Is there a mobile app for Kolkata Metro Rail?
A: Kolkata Metro Rail has a dedicated mobile app called 'M-Safe', available for Android and iOS devices. The app provides real-time information on train timings, schedules, fares, and station facilities. It also features a panic button, which commuters can use in emergencies, and a feedback section to improve the travel experience. The app is user-friendly and convenient, making it a popular choice among commuters.