Over the past decade, Pune has experienced significant growth in its corporate and industrial infrastructure, transforming it into an industrial hub. However, during rush hour, the city's roads are congested, with up to 8,000 commuters traveling in each direction, resulting in long traffic jams and increased pollution. To address this issue, the Pune Metro route is being introduced to provide a safe and eco-friendly mode of transportation, with a 50% reduction in travel time.
The Pune Metro was constructed by Maharashtra Metro Rail Corporation Limited (Maha-Metro) and Pune Metropolitan Region Development Authority (PMRDA). This Mass Rapid Transit System (MRTS) consists of three lines that will serve the urban area of Pune in Maharashtra.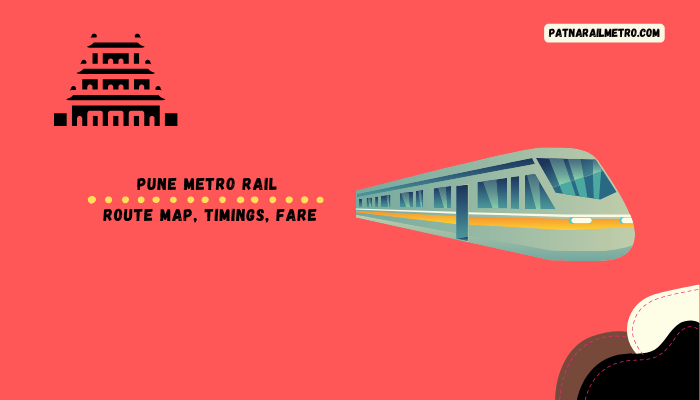 The Pune Metro route will consist of public and non-public sections, commonly called technical zones. Within the public spaces, there will be paid and unpaid areas that are separated. The paid areas will feature escalators and lifts at all stations to enhance accessibility.
Pune Metro Background:
In December 2016, the cabinet approved the Pune Metro Project, overseen by MAHA Metro, a Special Purpose Vehicle of the Indian and Maharashtra governments. The project aims to modernize Pune's infrastructure and create top-notch stations and surrounding areas that showcase the city's rich cultural heritage. The project includes three lines.
In January 2018, the Maharashtra Metro Rail Corporation Ltd. (MMRCL) awarded a contract worth Rs 484 crore to the Hindustan Construction Company Ltd. (HCC) for the Pune Metro Route Project. In September 2019, the PMRDA granted a concession contract to the Trail Urban Transport-Siemens consortium.
As of April 2020, the project had made 49.64% progress on excavating work for the elevated and underground metro stations. The tunneling work for the northern half of the underground metro route stations is underway.
Pune Metro Rail – Route Map:
The Pune Metro route project is overseen by MAHA Metro, a Special Purpose Vehicle jointly owned by the Government of India and the Maharashtra state government. The project aims to enhance the infrastructure of Pune and construct modern stations and surrounding areas that showcase the city's rich cultural heritage. At present, the Pune Metro route is divided into three lines.
Line 1 – Purple Line:
Line one of the Pune Metro has a total length of 16.58 kilometers and comprises 14 stations, with five of them located underground. The following stations are included in the line:
PCMC
Sant Tukaram Nagar
Bhosari (Nashik Phata)
Kasarwadi
Phugewadi
Dapodi
Bopodi
Khadki
Range Hill
Shivaji Nagar
Civil Court
Budhwar Peth
Mandai
Swargate
Line 2 – Aqua Line:
Line two of the Pune Metro will be 14.66 kilometers in length and will have 16 stations located above the ground level. The following stations are part of the line:
Vanaz
Anand Nagar
Ideal Colony
Nal Stop
Garware College
Deccan Gymkhana
Chhatrapati Sambhaji Udyan
PMC
Civil Court
Mangalwar Peth
Pune Railway Station
Ruby Hall Clinic
Bund Garden
Yerawada
Kalyani Nagar
Ramwadi
Line 3 – Red Line:
Line three of the Pune Metro will be 23.3 kilometers long and consist of 23 stations above the ground level. The following stations are included in the line:
Quadron
Infosys Phase II
Döhler
Wipro Technologies
Pall India
Shivaji Chowk
Hinjawadi
Wakad Chowk
Balewadi Stadium
NICMAR
Ramnagar
Laxmi Nagar
Balewadi Phata
Baner Gaon
Baner
Indian Agricultural Research Institute
Sakal Nagar
Savitribai Phule Pune University
Reserve Bank of India
Agriculture College
Shivaji Nagar
Civil Court
Pune Metro Future Route Map (2030):
Pune Metro Line Extension:
The Pune Metro is set to expand with the extension of Line 3 beyond Shivaji Nagar to Kadam Wakwasti and add a fourth line, Line 4, which will run from Swargate to Pul Gate.
Features of Pune Metro:
The Pune Metro coaches are manufactured in India as part of the Make in India initiative, with over 70% of the components being domestically sourced. The coaches are also the lightest in the country. They are made of aluminum, 6.5% lighter than traditional steel coaches, providing greater durability, less maintenance, and lower energy consumption.
To address space constraints in the crowded areas of the city, the Pune Metro's underground stations use an innovative construction method that saves space, avoiding the traditional "Cut and Cover" method.
The Pune Metro also integrates solar energy generation on the rooftops of elevated stations, aiming to produce approximately 11.20MWp of solar energy, saving approximately Rs 20 crores per year in energy costs and preventing the emission of around 25,000 tons of CO2.
The Pune Metro also employs an anaerobic biodigester technology for 100% wastewater management, resulting in zero discharge into the municipal wastewater system across all stations. This initiative is in partnership with the DRDO.
Pune Metro Rail – Timings:
Traveling on Pune Metro can be a time-saving option for commuters, with operating hours from 8 AM to 9 PM for both the PCMC to Phugewadi and Vanaz to Garware College routes. The trains operate for 13 hours every day and are available every 30 minutes, with the possibility of running every 15 minutes in the future.
From the PCMC Metro Station, you can reach Sant Tukaram Nagar in 5 minutes, Kasarwadi Metro Station in 11 minutes, and Phugewadi Metro Station in 17 minutes. Similarly, suppose you board a metro from Vanaz Metro Station. In that case, you can reach Anand Nagar Metro Station in 3 minutes, Ideal Colony Metro Station in 6 minutes, and Garware College Metro Station in 12 minutes.
Pune Metro Rail Fare 2023:
The Pune Metro Line 1 has a fare system where the minimum fare from PMC Station to Phugewadi Station is INR 10, while the maximum fare is INR 20. The Vanaz to Garware College Station route also has a minimum fare of INR 10, and the maximum fare is INR 20.
As for the Pune Metro Line 3, information regarding its fare system, tariffs, and restrictions has yet to be disclosed. The details of the fare system will be made available closer to the start of operations.
Maha Metro has developed a smart card that enables contactless payments in line with the National Common Mobility Card mandate of the Indian government. This card can pay for metro fares, buses, feeder services, parking, utilities, and other retail purchases.
How To Check Balance On Pune Metro Card?
To check the balance on your Pune Metro Card, you can follow these steps:
Go to the Pune Metro website: https://www.punemetrorail.org/
Click on the "Smart Card" option in the menu.
Click on the "View Your Card Balance" option.
Enter your card number and security code (CVC) in the respective fields.
Click on the "Submit" button.
Your card balance will be displayed on the screen.
Alternatively, you can check your card balance at the ticket vending machines at the Pune Metro stations. You need to insert your card into the machine to do this, and the balance will be displayed on the screen.
Connectivity Of Pune Metro:
Maha Metro has implemented various modes of feeder services to provide sufficient transportation options for commuters in Pune. These include motorized and non-motorized options like e-rickshaws, bicycles, and feeder buses, which commuters can take home. A mobile app will be available to support these feeder services, which will feature pick-up and drop-off locations within a specific radius of Metro stations.
The mission of Maha Metro is to link Metro services to existing bus and train lines. The Pune Metro route will connect with major railway stations, state transport depots, and the city transit hub at Swargate, Shivaji Nagar, Civil Court, and Pune Railway station, allowing commuters to switch between transportation modes seamlessly.
Maha Metro plans to collaborate with vehicle aggregators, service providers, and electric vehicle infrastructure suppliers to offer eco-friendly and affordable services. So far, Maha Metro has signed agreements with 24 partners, and more companies are joining, mostly electric-mobility service providers.
Pune Metro: Signalling And Communications.
The Pune Metro will use cab signaling and continuous automatic train control to ensure automatic train protection. It will have a comprehensive telecommunications system, including fiber optic cables, supervisory control, and data acquisition (SCADA).
The train radio and public announcement systems will also be integrated into the network. To keep the trains on schedule, a train information system, a centralized clock system, and control telephones will be used for communication.
Pune Metro App:
The Pune Metro Rail Limited (Mahametro) has developed an application for the Pune metro system that allows users to book tickets and access information about fares, routes, and metro stations. The mobile app provides several important features, some of which are:
Ticket booking – This enables users to easily book tickets for their preferred station by entering the "from" and "to" metro stations, along with the type of ticket (General, Senior Citizen, & Student) and journey type (one-way or return).
View Tickets – The Pune metro application also lets users view their booked ticket details by providing the reference ID or ticket number.
Fare Information – Users can also easily check the fares between two stations using the Fare Enquiry button on the mobile app homepage.
Stations List – The Pune metro application provides a station list for the various metro lines in Pune (Aqua, Purple, & Red Line), making locating stations easier.
Metro Map – Users can also access the Pune metro map by clicking on the Metro Map option on the mobile app homepage.
Consumer Care – The application also offers a customer care feature, enabling users to contact the help and support team to resolve their queries.
Pune Metro – Latest Updates:
Feb 2023: In February 2023, the European Investment Bank (EIB) announced a loan of 150 million euros to support the construction of the Pune metro network, which is expected to benefit over 3 million people in the city. The project, co-financed with AFD (Agence Française de Développement), aims to improve sustainable transport and climate action and is part of the EU Global Gateway initiative. The Pune metro project will be completed in 2023, creating 900 new jobs. EIB has also supported metro networks in other Indian cities, including Bangalore, Kanpur, Bhopal, Lucknow, and Agra, committing a total of 2.45 billion euros since 2016.
Jan 2023: In January 2023, it was reported that the central government is expected to release a fund of Rs 566 crore for the third metro line (Hinjewadi to Shivajinagar) in Pune by the end of March as part of the project's first installment. The total cost of the third Pune metro line project is Rs 8,313 crore, and the central and state governments will each contribute 20% of the execution cost, while the private concessionaire will cover the remaining 60%. The central government's total funding for the project is expected to be Rs 1,224.96 crore, with the first installment to be received by March 2023 and the remainder in 2024.
Jan 2023: As of January 2023, trial runs for the Pune metro from Pimpri to Shivajinagar have begun since December 31, 2022. However, commercial operations are delayed by at least two months from the originally scheduled start date over the New Year. Commuters who frequently travel to and from Pune and Pimpri-Chinchwad eagerly await the metro to begin operations. Currently, the Pune Metro only operates on a six-kilometer stretch from Pimpri to Phugewadi.
After the Maha Metro completes the trial runs, they will submit a report to the Commissioner of Metro Rail Safety, who will then inspect the system and give the final approval. The process is expected to take at least two months. The operations of the Pune metro up to Shivajinagar, the hub of Pune city, are likely to be a game-changer.
Pune Metro Customer Care (Helpline) Number:
If you have any queries or need further information about the Pune metro, you can reach out to the following address, phone number, or email:
Office Address: The Orion Building, 1st floor, Opposite Don Bosco Youth Centre, Near St. Mira's Girls School, Koregaon Park, Pune
Phone number: 020-26051074
Email address: mail.pune@mahametro.org
Frequently Asked Questions:
How long is the Pune Metro Rail project?
First Pune Metro Phase I will cover an aggregate length of 31.254 Km.
Corridor 1– PCMC to Swargate, a length of 16.589 Km with 5 Km underground and 11.5 Km elevated, comprising 15 stations (9 Elevated and 6 Underground).
Corridor 2 – Vanaz to Ramwadi, a length of 14.665 Km entirely elevated with 16 stations.
How much is a metro Pune ticket?
A round trip on both routes will cost the passengers ₹30. There are two single journey fares — ₹10 and ₹20.
Conclusion:
The Pune Metro system is an excellent way to explore the beautiful city. It offers easy transportation, providing seamless connections to industrial and residential areas at a low price. No longer is it necessary to drive your car – the Pune Metro runs around the clock, so it's always available whenever you need it!