The Ahmedabad Metro system provides a swift, convenient transportation option in Ahmedabad. There are currently two phases planned for its growth, with the end of Phase 1 having 32 stations and Phase 2 aiming to build 22 more. Ultimately, Ahmedabad Metro's network is intended to connect Ahmedabad to the urban center of Gandhinagar and the newly constructed GIFT City. As of now, Ahmedabad Metro is ranked eighth best in India.
Gujarat Metro Rail Corporation (formerly Metro-Link Express for Gandhinagar and Ahmedabad, or MEGA) was established in 2018 to spearhead the execution of all metro-related initiatives in the Gujarat state. GMRC is responsible for constructing this new project.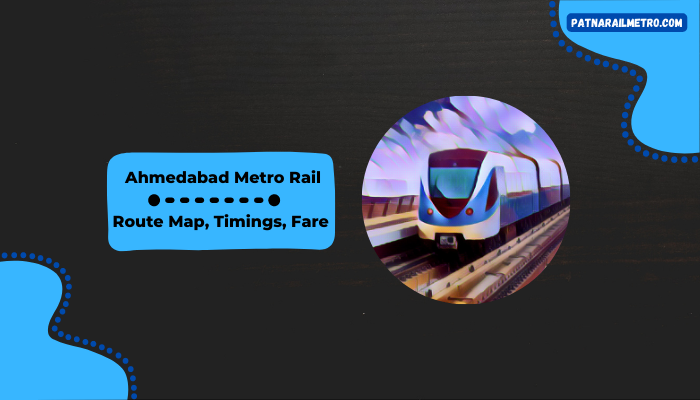 Ahmedabad Metro is a project created to provide commuters with a secure and convenient way to travel while reducing overcrowded roads. Its purpose is to grant people safe transportation and, additionally, grant them a cost-effective way to get around.
For example, the metro has implemented a 10% discount with their smart card to give individuals a break on fares. This adds up to creating less crowded roads, thereby providing relief from congested areas and ultimately cutting down travel time.
Ahmedabad Metro Rail – Route Map:
Ahmedabad metro will be constructed in 2 phases where phase 1 started in 2015 and
Ahmedabad Metro Route Phase 1:
In 2014, the center agreed to invest around Rs 10,773 crores for Phase-1 of the Ahmedabad Metro route, which began building in March 2015.
This phase of the Ahmedabad Metro will span a length of 40.03 kilometers, with 33.53 kilometers of that being elevated and the remaining 6.5 km underground. The project is due to have 32 stations and two corridors when complete.
The remaining portion of Phase 1 of the Ahmedabad Metro will begin operating on September 30, 2022. Initially, 32 sets of trains consisting of three coaches each will be made available, and should demand increase, the size of the trains will be increased to six coaches. Running tests are underway, pending approval by the Commissioner of Railway Safety.
GMRC uploaded a video and tweeted that the Gujarat Metro has initiated its trail runs on the east-west stretch between Thaltej and the Old High Court. This testing period involves sending the trains along their route and conducting interface checks with other equipment like traction, signals, and the platform screen doors.
Features Of Phase 1:
Prime Minister Narendra Modi inaugurated the Phase-1 of the Ahmedabad Metro rail project between Thaltej and Vastral. The timings for the Ahmedabad Metro train are from 9 am to 8 pm, with a 30-second halt at each of the 17 stations in this route. It takes 40 minutes to travel between Thaltej and Vastral.
Passenger service for the East-West corridor (Thaltej to Vastral) will start on October 2, 2022, and the North-South corridor (APMC to Motera Stadium) will begin on October 6, 2022. It takes approximately 35 minutes to travel between APMC and Motera Stadium.
The minimum fare for the first 2.5 km on this metro route is Rs 5, while the maximum fare is Rs 25. Currently, the Ahmedabad Metro train frequency is 30 minutes, but it may be increased to 5 minutes if demand for Phase-1 of the Ahmedabad Metro rises.
Ahmedabad Metro Route North-South Corridor
The North-South Corridor is 18.87 kilometers long and is set to have 15 stations, which will become known as the Red Line. Travelers will have the opportunity to travel between Motera Stadium and APMC, Vasna, on this line.
Stops on the Metro will include Sabarmati, AEC, Sabarmati Railway station, Ranip, Vadaj, Vijaynagar, Usmanpura, Old High Court, Gandhigram, Paldi, Shreyas, Rajivnagar, and Jivraj.
Ahmedabad Metro Route East-West Corridor:
The East-West Corridor of Ahmedabad Metro is a total of 21.16 km and will provide a connection between Vastral Gaam and Thaltej Gaam. This Blue Line route is split into four underground and thirteen elevated stations.
The stations along the way include Nirant Cross Road, Vastral, Rabari Colony, Amraiwadi, Apparel Park, Kankaria East, Kalupur Railway Station, Ghee Kanta, Shahpur, Old High Court, Stadium, Commerce Six Road, Gujarat University, Gurukul Road, Doordarshan Kendra, and Thaltej. The Old High Court station serves as an interchange for the East-West and North-South Corridor of Ahmedabad Metro.
Ahmedabad Metro Route Phase 2:
In 2019, the government officially authorized the commencement of Phase 2 of Ahmedabad Metro. This installment has a route length of 28.25 km, with the North-South Corridor making up 22.8 km of this and the GNLU-GIFT City route being 5.416 km. If everything stays on track, it is expected that Phase 2 will be functional by the summer of 2024.
Ahmedabad Metro Rail- Timings:
The latest research indicates that on weekdays and Sundays, the operating hours of Ahmedabad Metro remain the same. Nonetheless, the final train might not leave simultaneously, so reviewing the timings before planning a Sunday trip is advised.
The Metro service is operational between 10 AM and 6 PM. It usually takes about 12 minutes and 53 seconds for a single journey from Vastral Gam to Apparel Park and approximately 12 minutes and 22 seconds from Apparel Park to Vastral Gam.
Ahmedabad Metro Rail Fare 2023:
The Ahmedabad Metro path is still in its formative phase, so metro officials have calculated an estimated ticket rate.
For the 2.5km segment between Vastral Gam Metro Station and Apparel Park Metro Station, it is set at INR 5. Between these two places, going up to a maximum of 7.5km, the cost of travel will be INR 10. Moving from Vastral Gam to Thaltej, which is a distance of 21km, the ticket could cost up to INR 15.
The first 3 metro stations charge a flat fare of INR 5; with a smart card, it comes down to INR 4.5. Beyond the third station, it is priced at INR 10, and with a smart card, it is INR 9. Updated info related to the metro fare is accessible at metro stations in easily-readable formats.
Fare Terms And Conditions:
These are the fares you must pay for rides on the GMRC network: tokens, smart cards, and provisional paper tickets (which are to be used in the case of an AFC system breakdown).
All children who are less than 3 feet tall can ride free if an adult accompanies them.
Tokens are valid only on the same day they were bought.
Refunds on unused Smart Cards can be made within 30 minutes of purchase.
Passengers are allowed to carry luggage that has a maximum weight of 25 kg and that is not more than 80 cm x 50 cm x 30 cm (length x width x height) in size.
Ahmedabad Metro Smart Card: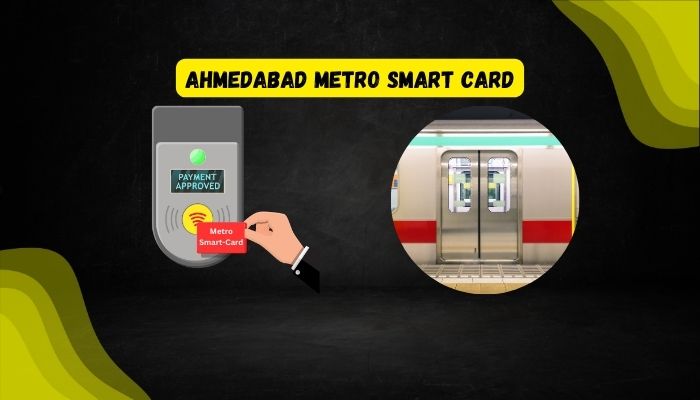 Living in a modern world means our lives can often get hectic. Furthermore, paying cash each time you must ride the Metro is only sometimes an option due to the reliance on technology nowadays. This is why getting an Ahmedabad Metro Route Smart Card is a great solution!
The smart card is affordable – paying INR 100, which includes INR 50 security deposit and INR 50 stored value – and you can also easily recharge your Smart Card in several ways. For example, at any operable station, you can top it up for as little as INR 50 to a maximum of INR 3000 with either cash or a debit/credit card. Additionally, the Smart Card has a longer validity of 5 years from the date you make your last recharge.
How To Use A Smart Card For Ahmedabad Metro?
To use a smart card on the Ahmedabad Metro route, tap it at the fare entry gate to enter the paid area and at the exit fare gate to leave the paid area.
Remember always to follow the entry-exit sequence with the smart card. Otherwise, an error may occur, and you should contact Customer Care at the station.
Smart card users must have a minimum stored value of 4.5.
The fare for each journey will be deducted from the card balance at the exit gate, except when entering and exiting at the same station, in which case the minimum fare will be charged.
Passengers can check their stored value using the Recharge Card Machine (RCM) or the ENQ Machine.
How To Check Balance On Ahmedabad Metro Smart Card?
To check your Ahmedabad Metro card balance easily, go to one of the Metro stations and locate the Automatic Vending Machine (AVM).
Then, put your metro card onto the AVM machine, click 'Enquiry,' and then click 'Check Balance.'
Your card balance will then be shown on the screen.
Benefits Of Ahmedabad Metro Smart Card:
If you're looking for an efficient and convenient way to travel on Ahmedabad Metro, you should use a Smart Card. Unlike the Token system, you pay a one-time fee of Rs 50 as a deposit, and then you get a 10% discount on your fares. You also save a lot of time because you don't have to stand in queues to get tokens, and the Smart Card can even be shared with friends and family, so they don't need tokens.
Furthermore, if you change your mind while on the train and decide to get off at a different station, your fare will be deducted from the exit gate. Therefore, Smart Cards are a great way to travel on the Ahmedabad Metro!
Refund Of Smart Card Stored Value:
According to GMRC rules, any Stored Value associated with an unreadable smart card cannot be refunded in cash. The solution is to replace the card, and the associated security deposit will be refunded minus any administration fees. The replacement may take up to one week, at which point the passenger can then access their Stored Value again.
Ahmedabad Metro Facilities:
Following the NBC regulations, the Metro stations of Ahmedabad have tactile pathways, ticket booths designed with a lower height, rails for gripping, call buttons for those with a visual impairment with braille text, wheelchair facilities, and hygienic restrooms. Also, surveillance cameras have been installed at every Ahmedabad Metro station.
Ahmedabad Metro: Estimated Cost Of Completion:
Completing the East-West Corridor, including taxes and land costs, is estimated to be Rs 6,681 crores. Likewise, the North-South Corridor will amount to Rs 3,994 crores, and the entire cost of construction is expected to reach Rs 10,773 crores, including Rs 98 crores for interest incurred during the process.
Ahmedabad Metro Mobile Application:
With the launch of the metro system in Ahmedabad, a third party has developed a mobile app named "Ahmedabad Metro." It provides users various services, such as finding a route, knowing route fare, viewing a route map, and even contacting a help desk.
Those looking to use the app can download it free from the Play Store for Android devices and the Apple App Store for iPhones. However, be advised that this is not a government-approved app and may have the risk of loss of data. So use it with caution.
Ahmedabad Metro Latest News:
The department is taking proactive steps to create an action plan to facilitate metro connectivity to outer parts of the city. Prime Minister Narendra Modi instructed the responsible personnel to commence a survey and map all potential locations in Ahmedabad's east and west sides, with key places like SG Road and SP Road as likely candidates.
On the 30th of September 2022, PM Modi marked the completion of Phase-1 with a ride in the brand-new Vande Bharat Express 2.0 from Gandhinagar to the Kalupur Station. He joined Chief Minister Bhupendra Patel and MPs Kirit Solanki and C. R. Patil in a special Metro Rail exhibition to celebrate.
The people of Gujarat celebrated on 6th October 2022 as the commercial operations of the Gujarat Metro, or the North-South corridor, officially began. This line was fully elevated and measured around 18.87 Km in length. This addition meant that India had finally overtaken Japan regarding the operational length of metro networks, amounting to 810 Km. Additionally, another 982 Km of metro rails was being constructed, pushing India to exceed the rail network lengths of South Korea and the USA when complete.
On 2nd October, the Ahmedabad Metro project that connects Thaltej to Vastral was opened to the public with 17 stations over a distance of 21 Km. Furthermore, 6.6 Km was underground with four stations, and in 2019, the PM inaugurated 6.5 Km of Phase 1 from Vastral to Apparel Park. This entire Metro Rail project was sanctioned in 2014.
The Gujarat Metro Rail Corporation (GMRC) has announced ticket prices for Phase 2 of the metro project that will connect Gandhinagar and Ahmedabad. It is an expansion of Phase 1 and is expected to consist of two corridors – from Motera Stadium to Mahatma Mandir (22.8 km with 20 stations) and from Gujarat National Law University to GIFT City (5.4 km with two stations). All of the Phase 2 routes will be constructed on an elevated track. Prices for the tickets range from Rs 5 to Rs 15.
Ahmedabad Metro Customer Care (Helpline) Number:
If you have any inquiries or suggestions about the Ahmedabad metro, you can get in touch using the following address and phone number:
Registered office: Block No.1, First Floor, Karmayogi Bhavan, Behind Nirman Bhavan, Sector 10/A, Gandhinagar: 382010
803 8th Floor, GNFC Info Tower, Sarkhej-Gandhinagar Highway,
Bodakdev, Ahmedabad – 380054, Gujarat.
Conclusion:
The metro route in Ahmedabad has connected multiple parts of the area, allowing commuters to move between areas with no stress. Furthermore, with budget-friendly fares and accommodating hours, Ahmedabad Metro has become the favored transportation for city residents.
Frequently Asked Questions:
Is a metro train available in Ahmedabad?
The 12th metro system in India is our Ahmedabad Metro. It was built and handled by the Gujarat Metro Rail Corporation Limited.
Is Ahemdabad a metro city?
The Metropolitan Cities in India are Mumbai, Delhi, Kolkata, Chennai, Bangalore, Hyderabad, Ahmedabad, Pune, and Surat.