As we know, properties near the metro networks always attract the population, and people prefer housing complexes and residential societies close to the metro station because it provides them with better connections and communications with other parts of the city.
The metro rail projects have always been very demanding among real estate agents as the prices of these societies are also hampered due to the metro system. However, the prices of these real estate lands also get affected once the construction of a metro begins. The inception of the metro railway in India's metro cities has not only enhanced the standard of living for people but also impacted real estate growth in a big way.
The land value near metro rail corridors or stations has drastically increased, owing to the convenience and reduced commuting costs. Proximity to the Metro system has always attracted home buyers, developers, and investors, and these areas are expected to undergo significant appreciation in the future as well.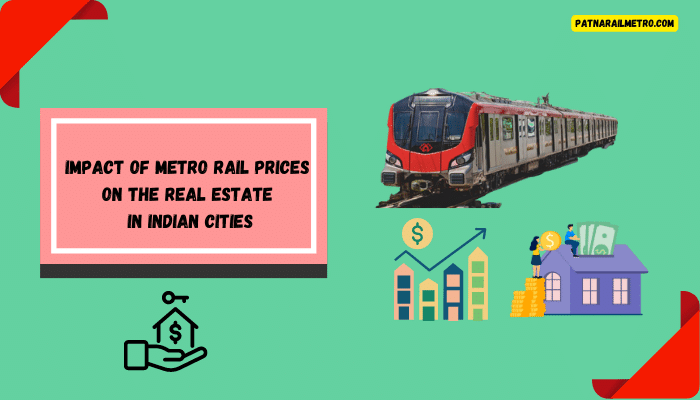 In this article, we will learn about the impact of Metro Rail Prices on Real Estate in Indian Cities, so stay tuned for this interesting topic.
How Has Metro Catapulted The Real Estate Scenario Near Metro Corridors?
There has been proper growth in the real estate market along the metro rail corridors because of major developments along metro routes. According to the last five years, the value of land near metro corridors has seen an immense increase of 15% to 20% in different cities of India. For example, in Pune, the upcoming metro corridors are expected to increase the land value by 10% to 15%.
Therefore, commercial and retail store rates along the metro corridors have also witnessed a 20%-25% rise due to the generation of job opportunities, easy accessibility, and affordable travel costs. As the metro is a Mass Rapid Transport System (MRTS), the metro railway significantly reduces road congestion, such as traffic jams, benefiting the projects planned along the metro corridors.
Locations at a distance of 4-5 kilometres from the metro stations have also witnessed a surge in land prices and housing demands as the metro covers all the prime places and landmarks, which gives good facilities to its citizens.
Rates Of Appreciation For Plots Before And After The Announcement Of Metro:
This portion covers the affection of prices before and after the announcement of metro rail projects in those cities and the areas where they will be implemented. The land value has been observed to rise considerably post metro operations, with an annual increase of 2% to 5% recorded in different locations, as opposed to the planning and construction phases.
However, many cities in India have witnessed a sudden demand, change and rise in land prices once the metro rail project was announced. Some upcoming metro projects in India include Pune Phase-I Line 3, Chennai Metrolite, Nashik Metro Neo, Bangalore Metrolite, Kozhikode Metrolite, and Trivandrum Metro.
Now we will learn and know how pre- and post-metro rail project announcements impacted the land prices in different cities. Here are the different cities of India mentioned below whose price of land has been affected due to metro projects.
Kochi:
Before 2016, when Kochi metro Phase-I was just in the planning and proposing stage, the property rates on the Aluva-Tripunithura stretch (25 km) shot up by 20%-30%, and realtors or buyers received numerous inquiries (from residents and non-residents) for buying land along the metro corridor.
The prime areas of Kochi, like Edapally, Vytilla, Aluva, Palarivattom, Panampilly Nagar, Kakkanad, and Companypady, witnessed an increase in the number of upcoming residential/commercial projects. Once Kochi metro began operations in 2017, the city's real estate prices greatly increased in different areas, with a further rise of 40% to 50% post-2017.
Chennai:
Before the construction of the Chennai Metro in 2015, the housing prices were around Rs. 3,600/sqft, which raised to Rs. 7,000/sq ft in areas along the metro corridors, such as Ashok Nagar, Saidapet, Guindy, Washermenpet, Arumbakkam, and Perungudi, the prime areas of Chennai post the commencement of metro operations.
Apart from other factors, easy accessibility offered by the metro played a major role in the price surge. Many areas of Chennai close to the metro stations saw a 15% to 35% increase in land prices post-metro Phase-I which started its operations in 2019. Additionally, the retail and commercial rental prices along the 100 feet road or Jawaharlal Nehru Road witnessed around a 50%-70% increase. Some property rates witnessed even a 100% increase in prices.
The Metro has also improved the popularity of micro markets like Anna Salai and increased real estate prices in various parts of the city.
Nagpur:
Nagpur, Maharashtra's third-largest city, saw a depreciation in land prices from 2016 to 2019, reaching approximately Rs. 1,900/sqft from Rs. 2,800/sqft. However,Nagpur Metro's north-south route was launched in 2019. The Outer Ring Road (ORR) and Multi-modal International Passenger and Cargo Hub Airport at Nagpur (MIHAN) SEZ projects are expected to expedite land rates in the city greatly.
Pune:
In 2016, permission was given to start constructing the Pune Phase-I metro project. Pune's real estate market, transport, and accessibility faced many problems before the launch of the metro network services.
However, when the metro services began, the three main corridors/Routes from Pimpri-Chinchwad to Swargate, Vanaz Corner to Ramwadi, and Hinjewadi Phase-III to Shivaji Nagar gave a ray of hope to the city. Pune witnessed a substantial increase in investment in plots along metro corridors.
The land value in the vicinity of Pune's metro routes and the extended areas has improved significantly as the demand for residential and commercial plots in and around the metro corridors went up, and areas like Sant Tukaram Nagar, Pimpri-Chinchwad, Shivaji Nagar, Swargate, Ramwadi, and Vanaz along the metro corridors which greatly benefited from the connectivity and appreciation in land prices.
Property prices increased approximately 38% between 2013 and 2020, respectively, due to various factors, of which the metro project is a major contributor.
Ahmedabad:
The property rates in Ahmedabad remained stagnant and decreased by about 3 % during 2013, showing a minimal increase of 2 % in 2014. Once the announcement and construction of the metro were announced, the demand for purchasing land along the metro network increased by huge proportions, which led to massive real estate appreciation.
Areas of Ahmedabad such as Vasna and Paldi have witnessed high demand for properties and residences from 2017 to 2019. Before the launch of Metro, the property prices in these areas were somewhere between Rs. 5,000/sqft to Rs. 6,000/sqft. Post the beginning of metro operations, the prices have increased from Rs. 9500/sq ft to Rs 10,000 per sqft.
Bangalore:
Bangalore's supreme locations, such as Indiranagar, Jayanagar, Malleswaram, Rajajinagar, Yeshwanthpur, CMH Road, and others, have witnessed a price increment of 8% to 10% since then the North-South and East-West metro routes opened for the public.
With the upcoming metro rail projects being announced and the launch of the Mysore Road-Kengeri Route, nearby land prices are expected to witness substantial appreciation. Post the launch of the Bengaluru Metro, within 12-18 months, a price surge of around 25% was witnessed in these areas near the metro corridors.
Mumbai:
Goregaon East's locality is between Andheri and Borivali, close to the Mumbai airport, film city, IT hubs, schools, restaurants, and hospitals. Therefore the property prices in this locality stand up at Rs. 17,250/sqft.
However, Metro Line 2A is expected to be fully operational by January 2022, post which the appreciation rate would be approximately 10-15%.
The Versova–Andheri–Ghatkopar metro line was inaugurated in 2014, and since then, it has been actively covering prime parts of Mumbai. Also, these areas have witnessed a 10%-20% appreciation in land value.
In Malad (West), the ongoing metro construction is slated to increase commercial and residential demands and land prices after the project's completion in 2021. The land prices at Kanjurmarg are also expected to increase by 10% to 12% post the completion of the metro route.
Gurgaon:
Gurgaon's Rapid Metro offers connectivity between HUDA City Centre, Cyber City, and the remote corners of Gurgaon, which also provides a connection between Delhi and Gurgaon ( now Gurugram), including Sectors 55 and 56, Golf Course Road, and so on.
This has positively impacted the surrounding areas, and land values have risen considerably along the metro routes.
Currently, the average prices of plots in areas near the metro are between Rs. 6,000/sq ft and Rs. 10,000/sqft. Experts predict that with the upcoming expansion plans of the Rapid Metro, land prices might see a 10%-15% appreciation shortly.
Jaipur:
Once the announcement of the metro in Jaipur was announced, the appreciation in the land prices remained within the range of Rs. 2,500/sqft to Rs. 3,500/sqft. Once Jaipur Metro began operations in 2015, the property costs of land appreciated by approximately 15% to 25%, making it ideal for investing in land in Jaipur.
Jaipur Metro Rail expedited its connectivity across the city. In return, it boosted land rates along the metro lines from Mansarovar to Chandpole Phase–I Part A (East-West corridor) and Mansarovar to Badi Chaupar Phase-I Part B (East-West corridor). The Metro Phase-I covers posh localities such as Shyam Nagar, Mansarovar, Civil Lines, New Aatish Market, and Sindhi Camp.
Owing to metro rail connectivity, the popularity of areas such as Mansarovar, Tonk Road, Bani Park, Jagatpura, and Civil Lines has increased substantially. Investing in land in these areas guarantees excellent returns as they're in high demand and are expected to witness high appreciation in the future.
Delhi:
Delhi Metro has been operational for over 15 years and is India's second-oldest and largest metro network. As the Delhi metro is the busiest and most popular, people prefer residences near metro stations for more connectivity to other parts of the capital city of India. Significantly impacting the real estate market prices in the region.
In 2009, the average property rate in Dwarka Sectors was Rs. 5,000/sqft. The prices appreciated in the subsequent years and rose to Rs. 9,500/sqft in 2018, owing to its proximity to metro stations.
The Nirman Vihar Metro network in Delhi started operations in 2010. Along this route, the metro witnessed a significant surge in land prices (a 15% to 20% surge) from Rs. 16,667/sq ft to as high as Rs. 22,222/sq ft – Rs. 22,778/sq ft.
Hyderabad:
Land prices in localities of Hyderabad, like Kukatpally, LB Nagar, and Miyapur along the metro line stretch, were around Rs. 2,433/sq ft before 2017. The metro operations in Hyderabad began in 2017, after which the costs in these areas increased to approximately Rs. 6,753/sq ft. However, the small market areas of Corridor-I and Corridor-III saw substantial price growth of about 15% to 20% from 2018 to 2021.
Land Pricing Along The Corridor And In The Rest Of The City:
While most land buyers go for properties or residences along the metro network and their vicinity, thus homebuyers tend to look at properties or residences a few Kilometers away from the metro corridor. One of the main reasons is that traffic and noise pollution is less in these areas without affecting any communications and connectivity with the rest of the city.
Plots or properties along the metro routes have witnessed increased demands by commercial/ housing projects because of better connectivity and accessibility. The result led to an increase in property costs as well.
Factors Other Than Metro Connectivity Influencing Popularity Of Plots:
The ongoing and upcoming metro projects in India have caused housing demands and property prices to increase tremendously. Apart from the convenience and benefits offered by the Metro projects, additional factors that affect the popularity of plots include are mentioned below:
Infrastructure development
Existing and upcoming amenities
Proximity to IT parks and offices
Ease of commuting
Proximity to recreational centres and markets
Clean environment
Lesser traffic and noise
Good civic amenities
Proximity to hospitals, parks, and shops
These are the influencing factors that are positively impacting the properties near the metro rail projects.
Conclusively, the Metro Rail network is a boon to these metro cities of India that suffers from road congestion issues like road accidents and traffic jams as well as to tier 2 cities in terms of their growth. With the announcement of upcoming metro services, cities witness a growing demand for mixed-use land in and around the metro corridors. It leads to a good percentage of appreciation of land rates, thus boosting the growth of the real estate sector in the city.
Thus it is true that metro rail projects greatly impact the prices of real estate which are close to these metro projects in Indian cities, keep looking forward to more updates regarding prices of the lands and residence projects near the metro as many upcoming projects will be soon released.
Frequently Asked Questions:
How does the metro rail impact real estate prices in Indian cities?
The metro rail significantly impacts real estate prices in Indian cities. As the metro rail network expands, the areas serviced by it become more accessible, leading to increased demand for properties in those areas. This, in turn, leads to an increase in real estate prices in those areas.
Are there any particular areas that are more affected by metro rail prices in Indian cities?
Yes, certain areas are more affected by metro rail prices in Indian cities. Typically, areas serviced by a metro station or located near a metro station tend to see the most significant increase in real estate prices. However, the impact of metro rail prices on real estate prices in Indian cities can vary depending on various factors such as the property's location, the amenities offered, and the overall demand for properties in the area.