Delhi Metro is the most famous and busiest metro system among the other metro cities. It serves the whole capital city of India. Delhi metro has 8 lines of various colours such as pink, violet, blue, red, magenta, orange, and grey, etc., with 255 active stations. All these lines are interchangeable at some stations, which is the main reason the Delhi Metro network covers the whole capital city of India.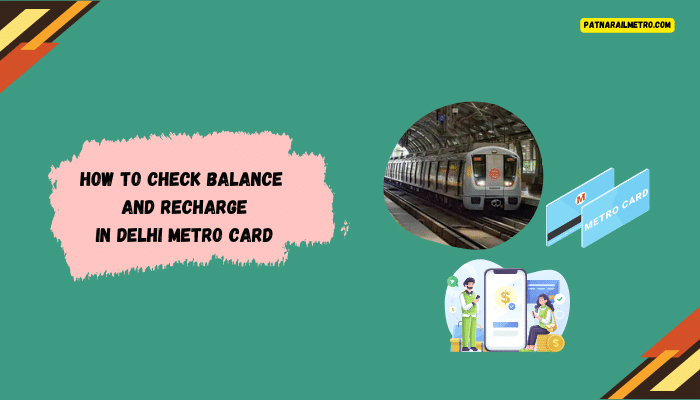 The Delhi Metro is providing world-class service to its citizens. It has many technological advancement features installed for passengers to travel without any hurdles easily. Delhi Metro is a Mass Rapid Transit System (MRTS) also connected to other cities of different states of India, such as Noida, Ghaziabad, and Gurgaon, which is located in Uttar Pradesh and Haryana.
The length of the Delhi Metro is 348.12 km (216.31 mi). Therefore, it's the largest metro rail system in India and the second oldest after Kolkata Metro. The system of Delhi metro has a mix of Underground, at-grade level, and elevated stations using both broad-gauge and standard-gauge track structures.
Delhi Metro is operated by the Delhi Metro Rail Corporation (DMRC) it was launched on 3rd May 1995 as DMRC is a Center State Public Sector Company that operates three rail projects in India ie. Delhi Metro, Monorail, and High-Speed Rail projects in the country.
In partnership with the Indian Institute of Technology, Delhi Metro Operates a course that is known as Post Graduate Diploma in Metro Technology, and in 2011, DMRC became the first ever rail service based on a transit system on the Earth to get carbon credits given by the United Nations (UN).
Delhi metro has many facilities, such as TVM/AVM machines which give automatic ticketing options as well you don't need to visit the ticket counter as you can get yours by the Token Vending machines on your own. Delhi Metro also has a smart card facility which is the most convenient way to travel in the metro where you can avoid long queues and very time-consuming.
In this article, we will learn about the Delhi metro card that DMRC has launched as an online recharge facility and how you can check your MetroCard balance. Besides the existing ticket reader cum add-value machine.
Here we will discuss how you can check your balance and recharge your metro card online and offline.
Therefore, Delhi Metro has also partnered with Paytm to recharge the metro card online, and before boarding the train, this can be done directly through Paytm's digital wallet.
The arrangement has been ruled out. Thus the need to wait in long queues during peak hours to buy the ticket provides an easy way to check your balance online, and to do this, you will have to enter 12 digit card number, which is imprinted on the card.
We will now go through all the steps to recharge and check the balance of your metro card step by step.
How To Recharge Your Delhi Metro Card?
Here are the steps of how to recharge your Delhi metro card both Online and Offline
The steps for the online recharge of your metro card are mentioned below. Take a look at these steps to learn and follow them when the balance is low on your Delhi metro card:
As Delhi Metro has collab with the Paytm online recharge benefit, you must first install the Paytm app on your smartphone.
After installing the mobile application, which is a digital wallet, go to the app and create an account on it
There will be a search option to click on, and it shows you so many other options, such as mobile recharge, train tickets, movie tickets, and Delhi Metro.
Click on the Delhi metro, which it will show you 'choose an option to travel' where you can see metro recharge is available.
Click on the metro card recharge, enter your 8-12 digit number, and click to proceed.
Then on the next page, you will be payment options pops up along with the amount of money to recharge the card ie. Rs. 100, Rs. 200, and Rs. 500, where you can choose your amount off recharge and a way of payment ie. through net banking, debit/credit cards, or directly from the Paytm wallet.
You can choose payment according to your preference and then wait for the transaction to complete, as you will be notified about your recharge status on the SMS of your registered mobile number.
Once you get notified that your transaction is complete and your recharge is done
Visit your nearby metro station and go to the add value machine to top–up your metro card, which you recharged online it will also show you your total balance on the metro card.
And now if you want to recharge your card offline:
Visit your nearest metro station
Go to the TVM machine
Swipe your metro card inside
Then the display will show you your card details, such as the remaining balance.
Click on the metro card recharge button.
Select your preferred amount, shown in the list on the display screen.
Then enter your card details and proceed with the payment option
Choose your mode of payment and wait for the transaction and card to get recharged once done, you are good to travel easily.
How To Check The Balance On Your Delhi Metro Card?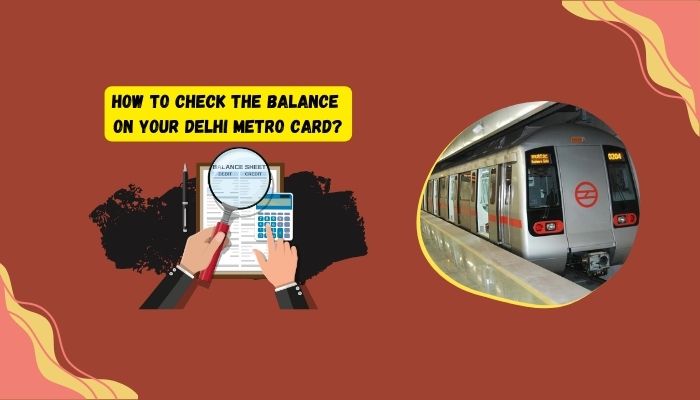 Here are some steps to check the balance off your metro card:
Visit your nearest metro station
There are Token Vending Machines and Add value machine
You can go to any of these machines
Swipe your metro card inside
Then enter your metro card details, such as the 12-digit card number that is carved on the metro card
Then click to proceed
Then it will automatically display your metro card balance on the screen that is how you check your metro card balance but in an offline way
Or you can ask the ticket counter staff to check your remaining balance, who can also recharge your metro card, the initial card recharge should be Rs. 150, where Rs. 50 is a security deposit, and the maximum recharge balance is Rs. 3000.
Therefore Delhi Metro Does not provide an online balance check option for the metro card.
Above mentioned are the steps to check and recharge your metro card. If you are new in the city and planning to travel through the metro, then go get your metro card soon to enjoy all the facilities Delhi metro card offers.
Frequently Asked Questions:
Q: How to check the balance in the Delhi Metro card?
A: To check the balance in the Delhi Metro card, you can visit any ticket vending machine available at the metro station, select the "Metro Card Recharge" option, and then choose the "Balance Enquiry" option.
Q: How to recharge the Delhi Metro card?
A: There are several ways to recharge the Delhi Metro card, including through online portals, mobile applications, and ticket vending machines available at metro stations. You can also recharge your card at any DMRC Customer Care Centre or authorized recharge outlet.