You might have access to the Metro Smart Card if you are a daily metro passenger. It is the easiest way to travel without hassle, and you don't need to stand in long queues to get your Journey ticket. But do you know how to check your metro card balance online? A metro card always helps you travel seamlessly and avoid long lines at the ticket vending machine during rush hours.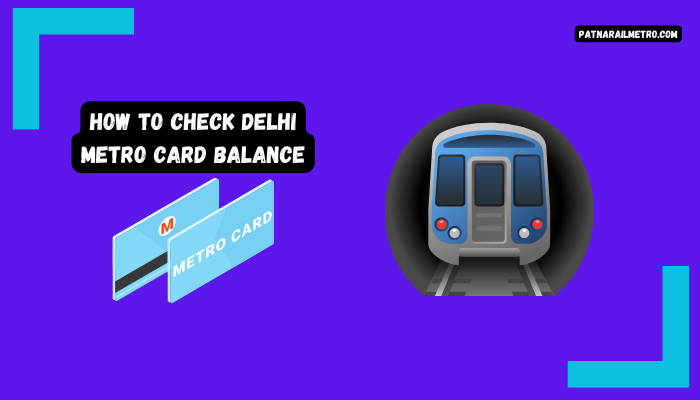 In this article, we will follow some steps to learn how to check your metro card balance online and other ways.
Check Delhi Metro Card Balance Using Ticket Vending Machine:
You can check your metro card balance via TVM, i.e., the Ticket Vending Machine in metro stations. Here are some steps on how to check the balance through TVM bellow:
Go to any metro station near you.
And go to the TVM or AVM
Put your Metro Card inside and tap on the balance check.
Then it will automatically show your balance. You can also recharge it from the TVM machine if it is low.
And carry on with your journey without any problem.
Check Your Delhi Metro Card Balance Via The Automatic Vending Machine:
To check the balance of your Metro Smart Card, you need to visit the Metro station where these machines are available. You must enter your card and follow the onscreen instructions to check your balance.
It also follows the same process as TVM, so you must follow the steps according to the AVM machines. But you can only recharge your card in Top Up machines for balance checking and topping up the balance, which you recharge online via Paytm.
Check Delhi Metro Card Balance Online Via Paytm: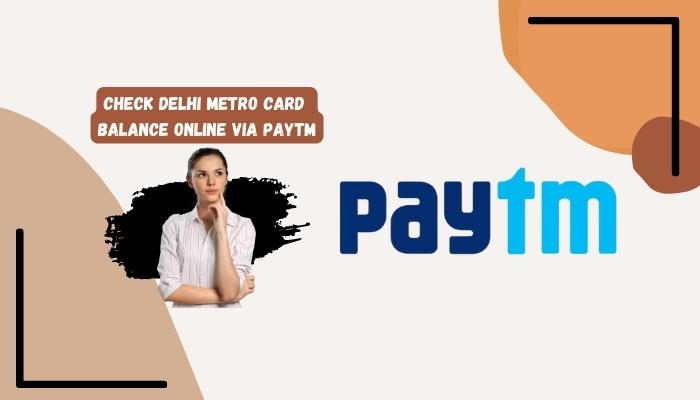 By following these simple steps, you can check the balance of the Delhi Metro Card online through the Paytm app:
First, download the application on your smartphone.
If you are a new user, then first create a Paytm account
Then login into the account using the required details.
Then click on the "Metro."
Select a city according to your specific preference, e.g., Delhi Metro
Now enter the engraved 12-digit number on the card
Then you click on the ' check balance' option
Then your metro card balance results will be displayed on your screen.
Recharge Your Delhi Metro Card:
Metro Card recharge can also be easily done online from Paytm, and you can recharge from the official Metro Rail Corporations website without any hurdles.
As India is part of Digitalism, everything will be smooth for commuters traveling in the metro, as checking balance is only available in some state metro only a few have these facilities. All major metro lines are expected to have this feature soon for checking balances online. Thus this will also make a change in the Metro Smart Card and will be easy to access
How To Check Balance Metro Card In Other Cities?
Bangalore:
Bangalore doesn't offer the facility to check the balance of the Namma metro card online, as the metro card balance is checked through AVM or TVM machines by visiting the metro stations. Passengers can also recharge it online and get it topped up from the Add value machines.
Chennai:
As of now, the Chennai metro card does not offer an online balance check option for passengers who are commuting, but it contains an offline mode to check the balance of the metro card from the nearest metro station's TVM or AVM machine by installing your card into it and provide details of the card. Your balance will be displayed on the screen of the machines.
Hyderabad:
Currently, Hyderabad metro also doesn't have an online balance checking option as the passengers can only recharge online, and to check the balance, they have to visit the metro station after two hours of recharging, and through TVM or AVM can know their remaining balance.
Kolkata:
In other cities, Kolkata also doesn't have an online balance-checking option. Passengers must touch their cards through the TVM or AVM machines to check the balance.
Lucknow / Kanpur:
Users of the GoSmartCard of Kanpur/Lucknow metro also don't have an online balance check option it also has an offline mode of balance checking option by AVM or TVM that are present at the exit gate while leaving the platform.
Delhi:
The same for Delhi metro users cannot check their balance online, just like in other metro cities, they have to check their balance by adding value or from token wedding machines.
Mumbai:
Only Mumbai can check the metro card balance online, as the passenger needs to visit the Mumbai Metro Instacharge portal. They have to enter the Smart Card Number (CSC) imprinted on the card, re-enter again to confirm, enter the captcha code and submit then, it will display the balance remaining on the card.
Therefore, we read that only Mumbai has an online balance-checking facility among the other cities with metros. Still, in the future, authorities might add online balance-checking facilities in the other cities mentioned above.
Frequently Asked Questions:
How can I check the balance on my Delhi Metro Card?
You can check the balance on your Delhi Metro Card at any ticket counter or Customer Care Center at any Delhi Metro station. You can also check your balance using the Metro stations' Automatic Fare Collection (AFC) gates. Simply tap your card on the reader, and the remaining balance will be displayed on the screen.
Is it possible to check my Delhi Metro Card balance online?
Yes, it is possible to check your Delhi Metro Card balance online. You can visit the official website of the Delhi Metro Rail Corporation (DMRC) and click on the "Metro Card" section. From there, you will be able to see your card balance and your transaction history. However, you must register your card on the website before you can access this information.