Hyderabad metro was first opened to the public on 29th November 2017, five years ago, and was inaugurated on 28th November 2017. Since then, it has been serving the city with many daily passengers. It is a Rapid Transit System serving the city of Hyderabad, Telangana, India. It is considered the country's second-longest operational metro network after the Delhi metro system.
Hyderabad metro has a total of 57 active stations and three lines ie. Red, Blue, and Green lines are arranged in a secant model. The Hyderabad metro system is operated by the Hyderabad Metro Rail Corporation Limited (HMRC) and developed by the Public-Private Partnership (PPP).
The government holds a minor equity stake, whereas the L&T Metro Rail Hyderabad Ltd. (LTMRHL). Was the one to develop the Hyderabad Metro Rail Project.
The central government approved this metro rail project in 2003 as Hyderabad is a fast-developing city and home to IT companies and many MNCs. This city provides many golden opportunities to people who relocate from across the country i.e. businessmen, job seekers, and Students for higher education. Hyderabad is also considered as one of the safest cities in the nation.
Hyderabad is also famous for its historical monuments such as Charminar and many more, as well as many popular restaurants, eateries and housing properties available in Hyderabad, very close to some of the prominent metro stations.
Metro rail was introduced in Hyderabad to provide benefits to its citizens. As road congestion was also happening a lot to prevent traffic jams, the metro was the best public transport for its citizens.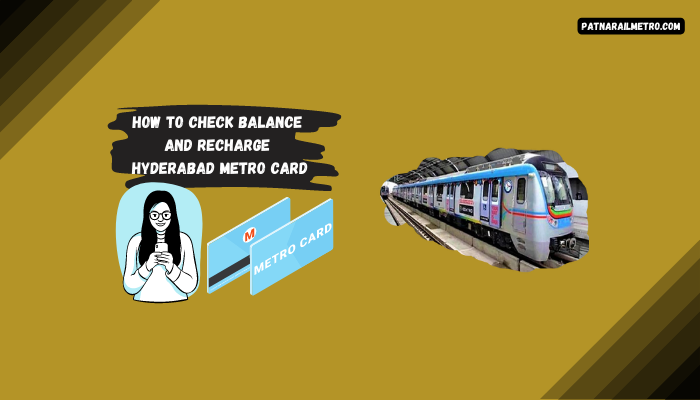 Hyderabad metro rail corporation has included many features in the metro station, such as TVM/AVM machines and lifts and escalators available inside the metro station. Hyderabad metro station is all elevated in structure and has very well maintained infrastructure which is also disabled friendly.
Hyderabad metro has Token vending machines as well as smart card facilities are also available.
As the metro card is a very time-consuming journey, passengers must avoid long queues and continue their travel without facing any problems.
It is an electronic card used as a virtual ticket or wallet to pay for your trip. It charges approx. Rs. 50, maximum of Rs. 3000. The metro card also discounts your every trip.
In this article, we will discuss how to recharge and check the balance on your Hyderabad Metro smart card, so keep looking forward to this article to learn about every step of the process.
How To Recharge Your Hyderabad Metro Card?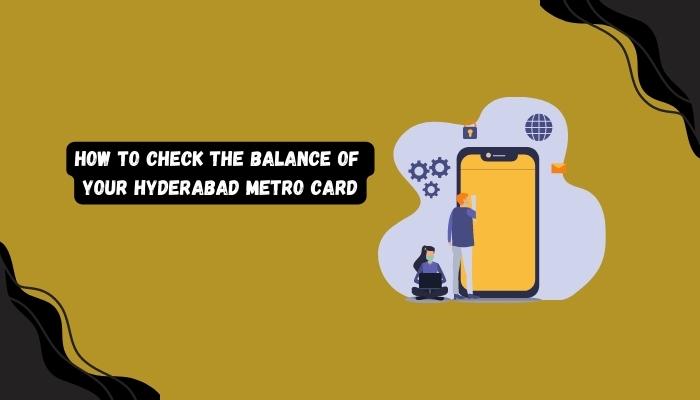 If you are new to this city and just purchased your metro card but don't know how to recharge your Hyderabad metro smart card, then the following step to recharge your metro card will help you.
Here are the steps to Recharge your Hyderabad Metro card online:
To recharge your HMRC metro smart card online then, you need to download the Hyderabad metro rail smart card application on your mobile as it is available in the Google play store only for Android users as Apple users have to wait till the app comes in the IOS store.
After installing the application, create an account by putting the details that are asked for
Then after creating the account, go to the recharge option.
Then enter your Hyderabad metro card number, which is engraved on the metro card (8-12 digits)
Then click to proceed.
Then it will show you the recharge amount on your display screen; select it according to your preference.
Then the next step is payment; choose your way of payment, either by net banking, credit card or debit card, etc.
You will be asked for details such as Name, Address, Email ID, phone number, and aadhar card.
After completing your details enter your metro card details once again.
Now your transaction will be completed finally.
After two hours, you can get your metro card top-up from the Add value machine in the metro station.
Now for Paytm, also you have to install the Paytm app and create an account and go for the Hyderabad metro card recharge option, where you can also choose your amount and pay online by choosing various payment options like debit card, credit card, net banking, UPI or Paytm wallet as well once it is done wait for the transaction to get complete and after it is finished from your side by online mode then get your card topped up from the AVM in the metro station after two hours. Paytm provides an online payment gateway in India where you can also get cashback on your recharge.
Therefore online recharge made your life easier as you now don't have to stand in queues to recharge your Hyderabad metro card.
How To Check The Balance Of Your Hyderabad Metro Card?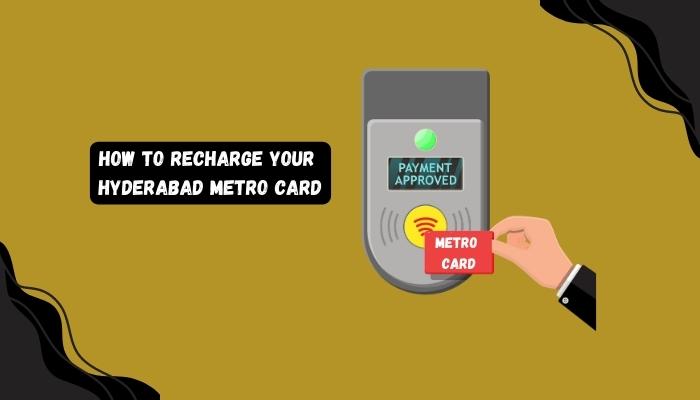 Here are some ways to check your MetroCard balance online as well as offline, which are mentioned below:
Online Balance Check of the Metro Card in Hyderabad: to check your MetroCard balance online, you have to visit the official portal and then register yourself in the official portal of the Hyderabad metro rail corporation. After the registration, you will use your login ID and password, enter those on the official portal to log in, and search for the balance check option where you need to put your smart card details. Once you enter to proceed, it will automatically generate your metro card balance details on your screen with their validity. Through that, you will know about your balance online.
Offline Balance Check of the Metrocard in Hyderabad: you can visit your nearest metro station, swipe your card inside the TVM or AVM machines, and enter your card details. It will generate your remaining balance on the display screen.
These steps are to check and recharge your metro card online and offline. If you haven't got your metro card, visit to get your Hyderabad metro card to enjoy all the benefits of a MetroCard.
Frequently Asked Questions:
How do I check my Hyderabad Metro Card balance?
To check your Hyderabad Metro Card balance, visit any Ticket Vending Machines (TVMs) available at the metro stations or the Customer Care Counters. You can also check the balance by logging in to your account on the Hyderabad Metro Rail website or using the TSavaari app.
How do I recharge my Hyderabad Metro Card?
To recharge your Hyderabad Metro Card, you can visit any Ticket Vending Machines (TVMs) available at the metro stations or the Customer Care Counters. You can also recharge the card online through the Hyderabad Metro Rail website or the TSavaari app.