Govindpuri Metro Station is located in Govindpuri, in the southeast of Delhi. This place is recreated on top of an old graveyard, and it is surrounded by the Kalkaji, Chittaranjan Park (CR. Park), and Tughlakabad. Govindpuri is a residential place that consists of many private houses, and it is considered a good area for living as it is close to some prime areas of Delhi, which come under south Delhi, the posh colonies such as Greater Kailash, Kalkajji, and CR. Park.
The Govindpuri locality has the availability of necessities and is surrounded by many shops, houses for rent, and many more amenities. Now as we know, Delhi has the best connectivity of Metro Network as it connects half of the cities, and Govindpuri is also one of the places which have metro Connectivity passing from this area.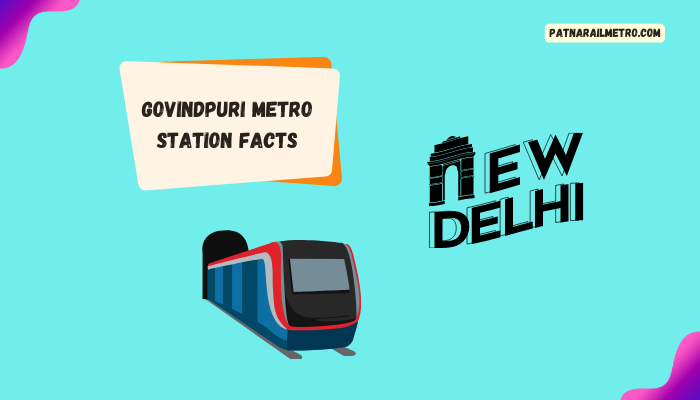 The Violet Line Metro Route of the Delhi Metro system passes through this area and has a metro station by the name of Govindpuri Metro Station. Govindpuri is supposedly reformed on a small hill, which was previously part of a cemetery as we discussed above that this area was rebuilt.
The construction of the metro station has given the people of this area many facilities as many opportunities near this metro station have been established, which we will discuss further. The establishment of the Govindpuri Metro station, which falls on the Violet Line of The Delhi Metro Network, has connected other parts of the city with this place.
In this article, we will go through some significant details regarding the Govindpuri Metro Station a station in the Violet Line metro route of the Delhi metro, which is operated by the Delhi Metro Rail Corporation (DMRC) step by step so keep looking forward to a better understanding about the Govindpuri Metro Station, New Delhi.
Quick Facts About The Govindpuri Metro Station:
It is important to do some quick facts about a metro station, so here are some fact checks about the Govindpuri Metro Station, a station of the Violet line route of the Delhi Metro. It is mentioned below:
This Metro was operated and opened to the public on 3rd October 2010. It's been 12 years since this metro station is still active and providing peaceful journeys to commuters daily till date.

It has street-level entry and exit.

The mezzanine floor is where Fare control machines, station agents, MetroCard vending machines, and Crossovers are available.

Under proper CCTV surveillance and tight security, measures are taken seriously for its commuters' safety.

It is a side platform, and the metro train doors open on the left.

Elevators, escalators, and many more are available for the benefit of commuters.

Disabled Friendly such as assistance is provided braille buttons on Lifts and wheelchairs.

There are two platforms: Platform 1 towards Raja Nahar Singh and Platform 2 towards Kashmiri Gate.

The next station is Harkesh Nagar, and the previous station is Kalkaji Mandir which is an interchangeable line towards Magenta Line.

Electrified: 25 kV 50 Hz AC through overhead catenary.

Status is Staffed and Operational

The station code is GDPI.

The station structure type is elevated and Double track.
Therefore, above mentioned are some significant details about the Govindpuri Metro Station, Delhi, which operates on the Violet Line metro route.
Location Of The Govindpuri Metro station:
The address of the Govindpuri Metro Station is Ma Anandmayee Marg, NSIC Estate, Kalkaji, New Delhi, 110019. The address is provided for much better accessibility.
You can also locate this metro station on Digital maps such as Google maps by providing the proper address, which is mentioned above.
List Of Stations:
Here is the list of the stations that fall under the Violet line of the Delhi metro and stations that connect with Govindpuri Metro Station, Delhi. There are a total of 35 active stations in the Violet Line with seven interchangeable stations such as silver, Red, yellow, blue, pink, and magenta.
It is a rapid transit system with a length of 46.34 km (28.79 mi). The stations are:
Kashmere Gate

Lal Qila

Jama Masjid

Delhi Gate

ITO

Janpath

Central Secretariat

Khan Market

JLN Stadium

Jangpura

Lajpat Nagar

Moolchand

Kailash Colony

Kalkaji Mandir

Govind Puri

Harkesh Nagar

Jasola Apollo

Mohan Estate

Tughlakabad

Badarpur

NHPC Chowk

Mewla Maharajpur

Sector 288

Badkhal Mor

Faridabad Old

Neelam Chowk

Escorts Mujesar

Sant Surdas Sihi

Raja Nahar Singh Ballabgarh
These are the 35 active stations that take more than a thousand passengers daily from each station in the Violet Line of the Delhi Metro System where Govind Puri is also a part of this route.
Fare And Timings Of The Govindpuri Metro Station:
While traveling on a metro rail in Delhi, it is important to know about the costs of tickets and the timings of the metro train so that you reach your destination on time and spend money accordingly on traveling. It is affordable to take journeys on a metro train as it is worth it because it is a fast mode of transportation, which reduces your maximum time travel.
The fate of the GovindPuri Metro Station costs about Rs. 10 to Rs. 50, as it totally depends on the distance it covers at each station of the Violet Line metro route of the Delhi metro.
The metro smart card facility is also available as it comes with many benefits such as giving Discounts on each trip and recharge, avoiding long queues, and an Online recharge option is also available via the DMRC website or Paytm mobile application.
Timings of the Govindpuri Metro Station, Delhi metro on the Violet Line: it starts at 5:23 am and ends at midnight.
Follow the timings above, so you can traverse on time and not miss the train if you are in Hurry.
Popular Landmarks Near The Govindpuri Metro Station:
Any landmark near the Metro station is also very beneficial as it attracts people as well it is considered very convenient for them to travel via metro train.
Here are some popular landmarks near the Govind Puri Metro Station of the Violet line metro, Delhi.
Kalka Ji Mandir- 0.61 km

Lotus temple- 1.05 km

ISKCON Temple- 1.55 km

Fortis Escorts Heart Institute- 1.95 km

Indraprastha Apollo Hospital- 1.98 km

National Heart Institute- 2.22 km

Humayun Tomb- 5.51 km

Lal qila

Safdarjung Tomb-7.14 km

Qutub Minar- 7.97 km

Akshardham Temple Delhi- 7.64 km

Lodhi Garden- 6.48 km

India Gate- 8.25 km

Sansad Bhawan (Parliament of India)- 9.68 km

Rashtrapati Bhawan (President of India's Residence)- 9.92 km

Eros Hotel- 1.51 km

The Surya Hotel- 1.92 km

Nuo by JuSta Greater Kailash- 2.21 km

Hilton Inn Hotel- 4.79 km

The Imperial Hotel- 9.9 km

The Hyatt Regency, New Delhi
These historic sites, important Hospitals, and hotels near the GovindPuri Metro station with their respective distance also provide easy access to these landmarks.
Restaurants Near Govindpuri Metro Station:
If you are visiting the GovindPuri area of Delhi via metro by boarding the Metro towards the Kashmerer gate then, you can check out these eateries which are near the Govindpuri Metro station, which falls under the Violet Line of the Delhi Metro.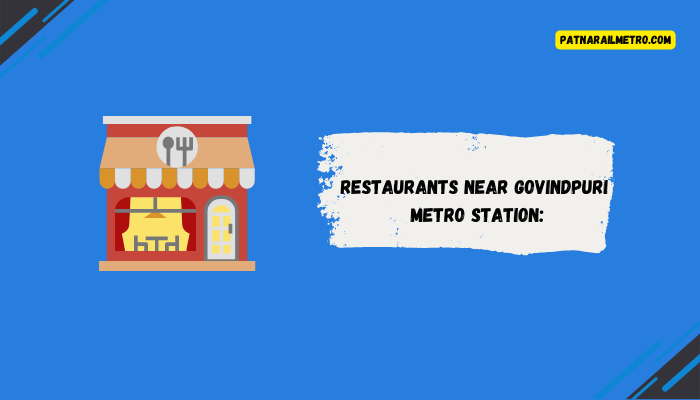 The following restaurants and eateries are mentioned below:
Sakley's the Mountain Cafe- 0.2 km

Moti Mahal Delux 2- 0.1 km

Roadhouse Cafe- 0.2 km

Starbucks- 0.1 km

Cafe Culture- 0.1 km

Coffee Bond- 0.1 km

Cafe Brown Sugar- 0.1 km

Barista GK1 M block Greater Kailash-1- 0.1 km

Prince's paan and Chaat Corner- 0.1 km

Sir John's Bakery cafe- 0.1 km

Londoners Bistro and Pub- 0.2 km

Junglee Billee- 0.2 km

Dessert Wala- 0.1 km

My HQ- 0.2 km

Music and Mountains- 0.2 km

Getafix- 0.2 km

House of Tigers- 0.2 km

Red Chilli- 0.2 km

Desert Fox- 0.3 km

Anupam Sweets and Restaurants- 0.3 km
Therefore, above mentioned are some very popular eateries which are very close and easily accessible from the Govind Puri Metro station and the Violet Line of the Delhi Metro system.
Passengers can easily visit these food joints for quick snacks while traveling via metro as their distance is not much from the Govind Puri Metro station. That is why their respective distance is given from the metro station so that people can commute easily to these restaurants and eateries.
Residences, PGs, And Commercial Complexes Near the Govindpuri Metro Station:
As we know that the Govindpuri metro station on the Violet Line of the Delhi Metro falls under a residential area and since the metro station has operated in this Southeast area of Delhi, there are many residential opportunities along with Complexes and PGs for students available.
We will discuss the residential and commercial facilities that are available near the Govindpuri there are lots of 2BHKs and 3BHKs available near the Govind puri Metro station interested home buyers can look on the internet by entering the proper location and search for properties or flats that are up the sale, rent or ready to move status.
There are many complexes near the Govindpuri area, such as Local Shopping Complex, DDA Shopping Center, and many more.
Govind Puri is an area where many students and young bachelors live. It has lots of PG and hostel options as it is close to the Govind Puri Metro Station of the Violet Line of the Delhi Metro. Some of the PGs are: JK PG, Aggarwal Paying guest, Gia PG and many more, are available for both boys and girls who relate from other cities in terms of college, higher education, or even work as Delhi is a hub for opportunities and people relocate to the capital of India for opportunities.
However, these are the options you can find regarding the housing, commercial complexes, and paying Guest availability near the Govind Puri Metro station, Delhi. Because people look for better communication with other parts of the city so they prefer a livelihood where they have metro connectivity, soon, more property projects will come in this area so stay tuned for those updates.
Parking Availability In Govindpuri Metro Station:
Yes, parking is available in the Govind Puri metro station of the Violet Line of the Delhi metro route. Parking provided in the metro station is another beneficial feature of a metro station as so many people love to park their respective vehicles in the parking zone and then continue their remaining journey from the metro, and Govind Puri Metro station has added this facility for its daily commuters and other travelers.
It is paid to park. The charges depend upon the hour of parking your vehicles and the cost according to that. A parking fare chart is also provided at the metro station, and people can park any vehicle, such as Four Wheelers and Two Wheelers.
Thus, if you are visiting Govind Puri Metro Station and through your vehicle, then you can park your vehicle and continue your peaceful journey from the metro.
Latest Update On Govindpuri Metro Station:
As for now Govind Puri Metro Station is still running active, it is a well-structured metro station with lots of technological facilities presented at the metro station. Over the years it has progressed a lot and has more and more daily commuters. In the future, more lines or stations might be added to the Violet line so it can connect to other parts without metro connectivity.
Conclusively, Govind Puri Metro Station in the Southeast of Delhi, which runs on the Violet Line of the Delhi metro network, has been very beneficial for the people residing in that area because it has connected them to other prime places and given them access easily. It is an elevated station with various facilities, as mentioned above. Therefore, more updates will come in the future regarding the Govind Puri Metro of the Violet Line of The Delhi Metro Route.