Metro Station of Noida Sector 62 is one of the metro stations on the Blue Line located on the metro line of New Delhi Metro. As the metro station name suggests, it is located in Noida, Uttar Pradesh, India. The station is situated in Sector-62 of the Electronic City Noida. This metro station is also near to National Highway, which is NH24.
The metro station, named after the famous and populated area sector 62, is considered an important hub for people who travel regularly. A lot of people travel because of their jobs in this area. Because of its importance and densely populated region, this station and its location are very well connected with public transport, such as govt buses, auto-rickshaws, etc.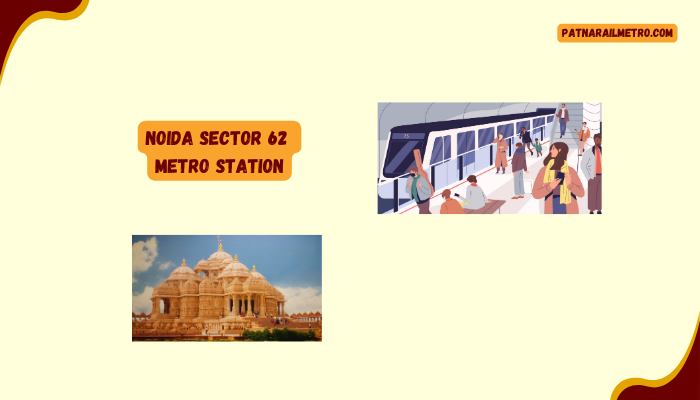 Noida is a planned city, meaning the authorities properly planned the municipality before construction. Noida has a diverse population, and people come to work from different parts of the country. With the emerging jobs and technology in the IT sector, Noida has become a booming hub for the corporate world. Therefore, the main aim was to plan the city of Noida.
Noida Sector 62 Metro Station Location:
Noida Sector 62 metro station is located on the Blue Line of the Delhi Metro network. It is situated in Sector 62 of Noida, Uttar Pradesh, India. The station is located near the Fortis Hospital in Sector 62 and is easily accessible from different parts of Noida and the National Capital Region (NCR).
Design And Structure Of Noida 62 Metro Station:
This is one of the important stations of a planned city which itself suggests that the station has a very well-planned and maintained design and structure. Noida 62 Metro Station has a modern facility with modular designs. The method of the Noida 62 metro station is simple yet classic. It is a combination of glass and steel designs.
The artwork on the station's walls is described using pictures, paintings, and sceneries. The artwork is based on the theme of water, which gives us the message of saving water and tell us the importance of water. Like all other metro stations, this station also has different exit points, making it easier to manage many people. Different areas of sector 62 Noida are easily accessible for daily commuters.
The design and structure of these metro stations help commuters and travellers by saving their effort and time as this station is well-equipped with staircases, escalators, and lifts that the general public can easily use.
The entry points of this station have ticket counters and a customer care centre which helps a passenger who faces any difficulty while travelling. The metro station has a very kind and gentle staff who will help the commuters at any point. There is also excellent and efficient security at the station, so it is safe for anyone to travel across. The station also has hygienic washrooms for men and women and comfortable seating areas with pure water drinking facilities.
Quick Facts About Noida 62 Metro Station:
The primary and significant fact about this station is that this connects different regions of NCR. As we all learnt about the booming jobs in the city of Noida and how sector 62 is a working hub for different kinds of people, this station helps all the working-class people to travel to their destination quickly. This station proved to be very comfortable for the daily commuters as it saves them time.
The station is one of the important stations of the Blue line and has a good and quick service for public and private transportation. One of Noida's significant landmarks is The Fortis Hospital, near Sector 62 Metro Station. This station has different platform levels.
Noida Sector 62 Route Of Blue Line:
The blue line of the Delhi metro goes through the Noida Sector 62 Metro Station. Here is the route of the Blue Line that includes the Noida Sector 62 station:
Starting from Dwarka Sector 21 in West Delhi, the Blue Line goes through the following stations:
Dwarka Sector 21 – Dwarka Sec 19 – Dwarka Sec 18 – Dwarka Sec 16 – Dwarka Sec 14 – Dwarka – Dwarka Mor – Nawada – Uttam Nagar West – Uttam Nagar East – Janakpuri West – Janakpuri East – Tilak Nagar – Subhash Nagar – Tagore Garden – Rajouri Garden – Ramesh Nagar – Moti Nagar – Kirti Nagar – Shadipur – Patel Nagar – Rajendra Place – Karol Bagh – Jhandewalan – RK Ashram Marg – Rajiv Chowk – Barakhamba Road – Mandi House – Pragati Maidan – Indraprastha – Yamuna Bank – Akshardham – Mayur Vihar Phase-I – Mayur Vihar Extension – New Ashok Nagar – Noida Sector 15 – Noida Sector 16 – Noida Sector 18 – Botanical Garden – Golf Course – Noida City Centre – Noida Electronic City – Sector 62
After passing through the Noida Sector 62 station, the Blue Line continues towards Vaishali in Ghaziabad.
Food Court And Eating Facilities At Noida Sector 62 Metro Station:
Noida Sector 62 Metro Station also provides us with the facility of eatables at the station. This station has a food court for its passengers. The station includes restaurants serving North Indian, South Indian, Chinese, and Continental cuisine. The food court at the station provides the passengers with comfortable seating arrangements where they can rest and spend time while having great meals.
Different food outlets serve a wide variety of food to the people. The outlets include Subway, McDonald's, and Domino's Pizza. In addition, some cafes provide comfort and luxury to the people travelling. For example, Cafe Coffee Day and Costa Coffee serve a range of beverages, sandwiches, and snacks.
The station also has vending machines at various spots where people can dispense many snacks and beverages. One can also find many street vendors outside the station that can offer you street food, and it also has a lot of options to choose from at relatively affordable prices. In addition, many restaurants are available near the station, which we will discuss in later sections of this article.
Noida Sector 62 Distance To Popular Places:
Here are the approximate distances from Noida Sector 62 to some popular places:
Noida Sector 18: 4 km
Akshardham Temple: 11 km
India Gate: 16 km
Connaught Place: 17 km
Red Fort: 18 km
Lotus Temple: 20 km
Qutub Minar: 25 km
Gurugram (formerly Gurgaon): 29 km
Indira Gandhi International Airport: 37 km
Agra (Taj Mahal): 200 km
Landmarks Near Noida Sector 62 Metro Station:
There are a lot many landmarks near this metro station:
Fortis Hospithas has located about 1.3km from Noida Sector 62 Metro Station.
The Noida electronic city is just 1km away from the metro station.
Noida Special Economic Zone is approximately 1.8km from the station.
The famous place, the Logix Cyber Park, is 2.5 km away from Sector 62 Metro Station Noida.
JSS Academy of Technical Education is about 2.8 km from the metro station.
HCL Technologies: It is located approximately 4 km from the metro station.
The Great India Place Mall is about 5 km from the metro station.
Worlds of Wonder Amusement Park has found about 5 km from the metro station.
Akshardham Temple: It is located about 11 km from the metro station.
India Expo Centre and Mart have located approximately 15 km from the metro station.
Parking At Noida 62 Sector Metro Station:
Yes, Noida Sector 62 Metro station has a prescribed parking place available for the ease of daily commuters. The parking place made is easy and safe for the people who go up and down daily and use this metro station regularly. This parking area is outside the metro station and is not maintained by the government or metro authority.
A third-party vendor facilitates the parking for this metro station. Parking is available for two-wheelers and four-wheelers for different charges. The vehicles are charged according to the time the car was parked. The parking facility is open from 6:00 am to 10:00 pm.
Conclusion:
Noida Sector 62 Metro Station is a well-maintained, well-structured metro station spread across an enormous area. This metro station is designed systematically with proper maintenance and has a robust security system. This metro system offers connectivity to various destinations in the city and thus sees a huge footfall, especially during the weekdays.
Many housing societies, apartments, commercial complexes, eateries, famous destinations of Noida and retail shops are close to the Metro Station, which is another beneficial point for daily passengers. This Metro Station is also disabled-friendly, and more facilities are available in this metro station. In addition, customer care centres or help desks are in this metro station for queries or information.
In the future, more innovations and facilities will be added to the Sector 62 Metro Station, and the commuters will have more comfort in their journey. However, this metro station has lessened the burden on all these people because of its connectivity with the Blue Line of the Delhi Metro.