India is a diverse country with a vast population and a fast-developing nation worldwide.
As we have plenty of resources and just like that we have numerous public vehicles which provide service to the commuters traversing daily by using these common public vehicles, these vehicles are available in every city and every part of the nation.
We now have a rapid transit system known as the metro in India, considered the fastest, environment friendly, and connects all the major parts of the city. The metro nowadays has more ridership, but other public vehicles, such as buses, auto rickshaws, and Taxis/cabs, are also very popular and widely used.
However, the metro provides some world-class services and other modes of facilities whereas the other public transport is only reaching to your destination.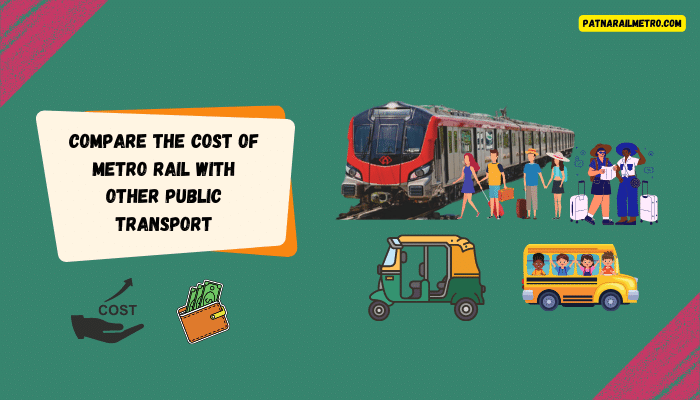 As the metro train is the fastest mode of public transport, many foreign investments have been made to build the metro network in the country, and lots of money has been utilized to construct the Metro Rail Project throughout the country. Thus the fare of traveling in the metro is relatively expensive as compared to other public transport. However, it still has yet to affect the traveling of the daily passengers who use these public transports to regularly visit their workplaces, Schools, colleges, and other significant places.
Now in some places in India where there is no metro availability, people of those places utilize public transport widely, such as autos, rickshaws, or buses to reach other parts of the city as metro projects still haven't reached these places yet.
Therefore in this article, we will see the comparison between the travel costs of the Metro train and other most common public transport which are highly used in India apart from the use of metro trains, so keep looking forward to more information regarding this topic so that you can also choose your way of public transport to commute to your destination and which will be better for you as well in terms of fare price.
Metro Rail And Other Public Transport Options In The Country:
As we discussed above, India's most commonly used public transport is utilized regularly, such as Buses, taxis/cabs, and auto rickshaws along metro trains, which mainly provide good services to its daily passengers.
India has a vast population. It also has many types of other public transport which are also widely used in terms of traveling because there are some places where there is no availability of metro trains, so in these places sometimes other public vehicles like electric Rickshaws and so on are accessible there.
Transportation in India consists of types of transport such as land, water, air, and, most importantly, road transportation. However, road transport is the prime mode of transport for Indian citizens. India's road networking system is the world's second-largest road networking system after the United States of America (USA) and is also one of the busiest.
We have followed traditional transportation throughout history. People have been traveling through different modes of way, be it walking to bullock carts in the villages which take them from one place to another, now the country is growing so fast that it has numerous accessibility to public vehicles. Therefore throughout history, India has been using public vehicles to relocate passengers.
However, all types of public transportation are available in every part of the country.
Purpose Of Comparison:
In this portion, we will cover the comparison purpose between metro trains and other public transport. Apart from the metro, we have three main and common public transport which are also widely used by the passengers, they are also very popular among citizens ie. Buses, cabs/taxis, and auto-rickshaws.
Now the comparison is between which one of the public transport among them is affordable so that the commuters can travel daily without spending too much on public transport.
This comparison is based on those passengers traveling daily like their proper experience via the above-mentioned public transport: the Metro train, buses, taxis, and auto-rickshaws. Its accessibility in their area is also important, as well as the ticket pricing among them. Availability of these public vehicles also plays an important role so that more commuters will use that vehicle. The fate of public transport also might be affected due to high demand and increment in their daily ridership
Now that we know the purpose of comparison between the rapid transit system metro train or the other public vehicles is. Let's read further about it.
Metro Train vs Other Public Transport: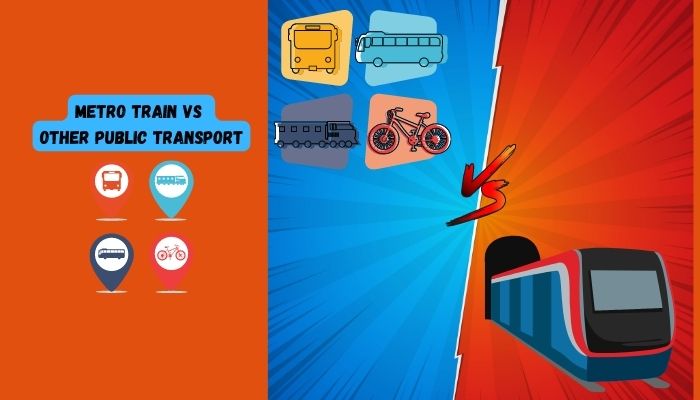 Metro train versus the Other public transportation in the nation as we have already discussed the transport that is available in the whole country, we will discuss all the main transportation of India with the Rapid Transit System Metro train.
Metro Train is a rapid transit system that connects the prime locations of a city and is the fastest public transport to date. The Metro train system provides you high-class experience and benefits enjoyed by lakhs of people daily, it has token vending machines, add-value machines that passengers can access easily, smart card options which also give the metro commuters discount on each trip, providing good infrastructure and mostly disabled-friendly.
However, in peak hours, the metro might have a slight delay, and long queues can also happen during the rush hour. Metro project is a joint venture between the private sector and the Government, it also has funding from foreign investors, and therefore a large amount of money was spent on its establishments still many upcoming projects are under construction, which is why the fare is a bit expensive as compared to buses and auto-rickshaws, but if you are not a daily passenger in metro or if you have metro card access then it is affordable to travel.
The fate of the metro depends on the distance covered from station to station, so you can easily understand the metro fare system.
Bus- Buses are the most popular type of public transport in the nation; it is very common and available everywhere. It also connects state to state as bus roadways run between states, towns, and villages.
Bus also provides good traveling facilities, it reaches places where sometimes the metro is also unavailable, buses have the cheapest ticket which is very affordable to all the citizens. Recently in Delhi buses, women were free to travel anywhere by bus. So many types of buses are available, like the normal ones without ac and air-conditioned ones. Double-decker buses were very popular in the past; now, it is very rare to see them.
But as we know the bus is a famous road public transport which cannot avoid road congestion like the traffic jams, and sometimes it can break down anywhere which can take a lot of time as well, therefore u can also travel to the metro station by metro feeder bus as well as you can purchase bus tickets through the metro card.
Taxis/Cabs- this type of public transport is also available and can take you to your exact location, nowadays, cabs are booked online, and payment options are also available in cabs and taxis. Compared to Buses and the Metro network, cabs or taxis can be expensive as some daily passengers cannot afford cabs/taxis regularly, and the fare depends on the distance covered from the starting location to the end. Therefore people do not prefer more of these transports, although sometimes it gives you a private feeling, unlike buses and the metro, which give ridership to so many people.
Auto-Rickshaws- auto-rickshaws are another most available public transport with moderate fare prices, which is also very affordable. Still, it is not as fast as the metro. Still, people also prefer auto-rickshaws because some places do not have metro trains. So this public transport is very accessible daily to passengers from many remote areas or where they do not have metro or cabs, or buses.
Convenience And Accessibility:
People prefer those public transports which are easy to access and convenient for them, therefore traveling through the metro is very convenient because of its world-class experiences and easy accessibility.
But some parts of the country still do not have metro connections as more metro projects are under construction some are yet to introduce, but what about the remote areas, the villages, and most importantly, people who live in the mountainous region they also communicate from one place to another, but through buses, auto-rickshaws and cabs/taxis only this is available in those areas.
Therefore the metro is the only accessible and convenient in urban regions, and other public transport is available everywhere in the country and connects every place.
Travel Time:
Traveling on the metro train reduces time, and you can reach your destination on time. You have to be aware of the metro timings of your nearest metro station. During peak hours or any technical problem metro can take time, after all, it is also a machine, but this is very rare in the case of the metro as everything is handled properly, which is why it is very well-maintained when compared to other public vehicles.
However, other public transport, besides the metro, takes much time to travel because it is a road transport with many other vehicles. Road congestion like traffic or road. Accidents create nuisances; thus, time exceeds for those who want to reach their destination on time. People prefer the metro because of its fast access to locations.
Affordability:
Public transport is designed so that people can travel daily without spending much on their traveling. As so many people relocate from one place to another through public transport and they prefer affordability and easy access from these public transport.
Metro Rail– is affordable as it consists of daily ridership on a large scale than any other public transport its costs depend upon the distance of the journey traveled, and if you have a smart card, then it becomes more affordable because it does not require daily recharge only when it's needed and has it the maximum and minimum amount of recharge criteria. Metro train fare: Rs 30 to 60 etc.
Bus– the bus is a very affordable mode of transport it costs up to Rs 5 to 20 etc.
Auto-Rickshaw is also very affordable depending upon the distance covered that Rs. 30 to 150 approx.
Cab/Taxis– this is relatively expensive compared to other modes of transport it is also dependent upon location and distance covered. Its charges are approx Rs. 100 to 500.
Comfort And Safety:
While traveling via public transport, every passenger thinks about safety and comfort, as it is also one of the prime things in traveling through public vehicles.
Metro trains provide good comfort and are safer than other public transport forms. Metro network has proper security checks at the entrance, medical rooms, fire alarms, and CCTV surveillance, making it ten times safer than any other public transport.
Buses, taxis/cabs, and auto–rickshaws do not have this sense of security as safety in these transports is in your hands. It is not as comfortable as the metro. It is advised to keep your luggage, purse, and other important kinds of stuff safe when traveling by public transport apart from metro trains.
Environmental Impact:
Environmental issues are a very high topic nowadays as every nation is worried about the environment. So when it comes to public transport, the amount of pollution it can cause can be stated like this.
Metro Trains are built to release less pollution than other public transport, which is why many people in the nation appreciate it. Other public transport is running on the road and on fuels like petrol and diesel, which are considered harmful to the environment.
Therefore, to prevent environmental issues, the government and metro authorities are encouraging citizens to travel more in the metro than other public transport, so they are installing world-class features in the metro system.
Conclusively, we compared the metro and other public transport and discussed each of these vehicles' pros and cons as we know metro train connections are not available in some remote areas where people travel by other vehicles. Also, the metro connecting to all the prime locations benefits people living in urban areas.
Therefore accessibility to public transport is very important as India is a fast-growing country. It sees a large number of passengers traveling from one place to another daily, soon many changes in public transport will be introduced to make it more convenient for people along with connectivity will improve and safety as well, more metro connections are comings so stay tuned for more updates.
Freqeuntly Asked Questions:
Q: Is Metro Rail travel more expensive than other public transport?
A: Metro Rail travel may be slightly more expensive than other public transport forms, such as buses, but it is often cheaper than taxis or private cars. Additionally, Metro Rail is generally faster and more reliable, making it a preferred choice for many commuters.
Q: Can I save money on Metro Rail travel with passes or discounts?
A: Many Metro Rail systems offer discounted fares for regular commuters or travelers who purchase passes. For example, some systems offer daily or monthly passes, saving commuters money compared to buying individual tickets. Some systems also offer discounts for senior citizens, students, or other groups.