The Delhi Metro is a lifeline of India's public transportation system, connecting the capital and neighboring cities. No route goes unaccounted for, as the station stops cover the city's significant landmarks, markets, and business centers.
This hub of transit activity is currently reaching new heights; as of October 2021, 28 million passengers ride the metro daily. With excellent service comes significant revenue, making DMRC – Delhi Metro Rail Corporation – one of India's few profitable government enterprises.
Construction is a continuous process with several routes underway. A good example is SaketMetro Station, one of the major stations located in Delhi. It attracts large crowds due to its proximity to prominent landmarks and is also part of an ambitious growth plan in India.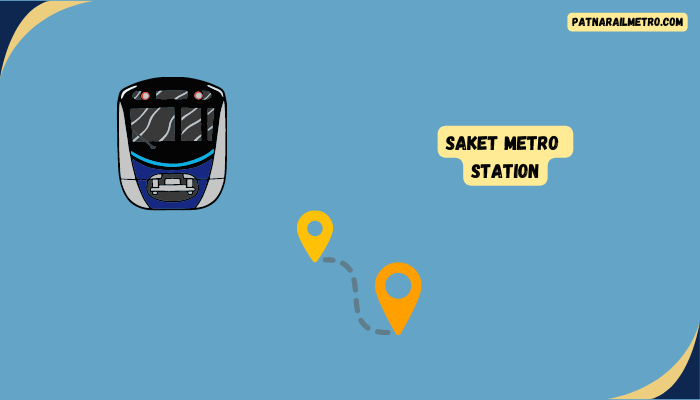 About Saket Metro Station:
In South Delhi, Saket is a high-end residential and retail neighborhood boasting several luxury retail complexes. From DLF South Court and DLF Place to the popular Select Citywalk, it is a premier shopping destination among the residents of Delhi.
Most of the real estate infrastructure in Saket consists of independent homes, DDA flats, and builder floors, catering to the needs of people from all walks of life. In addition, Saket is well-connected via road and metro; the Yellow Line Metro route of Delhi Metro Rail Corporation provides services through the Saket Metro Station, linking the locality to several important regions of North, Central, and South Delhi, as well as Gurgaon.
Similarly, Hauz Khas Metro Station on the Magenta Line is also nearby, allowing easy connectivity to the Indira Gandhi International Airport and Noida. Neighboring areas include Sainik Farm, Pushp Vihar, Malviya Nagar, Hauz Khas, and Qutub Institutional Area.
Saket Metro Station-At A Glance:
Station Name: Saket
स्टेशन नेम: साकेत
Line: Yellow Line
लाइन: पीली लाइन
Layout: Underground Station
लेआउट: अंडरग्राउंड स्टेशन
Platform Type: Side Platform
प्लेटफॉर्म का प्रकार: साइड प्लेटफॉर्म
Location: Delhi Region
स्थान: दिल्ली क्षेत्र
Contact No.: 8800793144
संपर्क नंबर: 8800793144
ATMs at Station: HDFC Bank, State Bank of India, Yes Bank
स्टेशन पर एटीएम: एचडीएफसी बैंक, स्टेट बैंक ऑफ इंडिया, यस बैंक
Saket Metro Station-Location And Route Map:
Saket Metro Station is at coordinates 28.5205465°N 77.2003645°E and was inaugurated on September 3, 2010. It is the final underground station on the Yellow Line of the Delhi Metro and is located on Mehrauli-Badarpur Road in Saidul Ajaib near Saket. The station is positioned on the Yellow Line between Qutub Minar and Malviya Nagar stations. To travel towards Samaypur Badli, Hauz Khas is the next station from Saket, where commuters can conveniently transfer to the Magenta Line for connectivity to various parts of Noida and Janakpuri West.
Saket Metro Station-Train Timings & Platform:
Saket Metro Station provides train services towards Samaypur Badli and HUDA City Centre. The first train towards Samaypur Badli departs from Platform 2 at 05:23 AM, and the last train leaves at 11:28 PM. For commuters traveling towards HUDA City Centre, the first train departs from Platform 1 at 05:46 AM, and the last departs at 11:52 PM.
Saket Metro Station-Train Fares:
In 2023, the Delhi Metro Rail fares are expected to change to be even more convenient for passengers. According to reports, the minimum fare decreased to 10 Rupees from the previous 20 Rupees. In contrast, the maximum fare is expected to remain at Rs. 50. Furthermore, the fare between 2 and 20 kilometers has been revised to a flat fare of 20 Rupees for both ordinary and AC Metro.
Apart from that, the Metro has announced some extra benefits like concessional tickets for students, senior citizens, and persons with disabilities, with fares ranging from 10-30 Rupees and discounts of 10-25% depending on the distance traveled.
Passengers also can enjoy flexible fare options through a weekly pass and monthly pass, which is an economical and pocket-friendly solution for commuters. With these new changes, Delhi Metro hopes to offer passengers more convenience in traveling and spur the public transportation sector in India.
Saket Metro Station Entry & Exit Gates:
Saket Metro Station has three Entry / Exit gates to enable passengers to enter and exit the station conveniently.
Gate No. 1 is near Vidya Niketan School, while Gate No. 2 is near SAI-UL-Azaib. Gate No. 3 is positioned near the CISF Northern Regional Headquarters. Passengers can use any of these gates to access the station, depending on their preferred entry or exit point.
Saket Metro Station-Facilities:
Saket metro station provides several facilities to ensure a convenient commuting experience for metro passengers. These include lifts, escalators, DMRC-authorized parking, etc.
1. Escalators and Lifts:
The station is designed to be Divyang-friendly and has three lifts and five escalators to assist passengers. One charge and three escalators outside the station connect the ground to the concourse level and vice versa. Additionally, two lifts and two escalators are available inside the station to access the platforms after entry through a metro card or token.
2. Parking Facility:
Saket metro station has DMRC-authorized parking that can accommodate over 970 vehicles, including around 900 two-wheelers and 70 four-wheelers. The parking is available on a paid basis and charges by the hour. Passengers can park their cars here while commuting on the metro.
3. Station Facilities:
There are three public restrooms at Saket Metro station, with two located on the North and South Concourses and one near Gate no-2, Gramin Sewa Terminal.
4. Shops/Restaurants:
The station has a WH Smith store inside the paid concourse area for passengers looking to buy food, beverages, magazines, books, and more. Additionally, an AVA MUNCH outlet in the unpaid concourse area near the north customer care centre offers food options to commuters.
5. Automatic Vending Machine for Token:
To purchase a token for a single journey or recharge their Smart Cards issued by the DMRC, passengers can use the token vending machines located near the frisking point. These machines are convenient for quick and hassle-free entry into the station.
Saket Metro Station-Nearby Landmarks:
Saket Metro Station is located in the Saket neighborhood of Delhi and is surrounded by several landmarks and popular destinations. Some of the nearby landmarks include:
Select CITYWALK: It is a famous shopping mall just a few meters from the station.
Max Super Speciality Hospital: It is a multi-specialty hospital located about 1.5 km from the station.
Qutub Minar: It is a UNESCO World Heritage Site located about 6 km from the station.
Garden of Five Senses: A landscaped park about 4 km from the station.
DLF Place Mall is another famous shopping mall about 2 km from the station.
Lotus Temple: A Bahá'í House of Worship located about 11 km from the station.
Saket Metro Station-Nearby Real Estate Scenario:
Saket has a well-developed road network, including Sri Aurobindo Marg, MB Road, and Press Enclave Marg. The area is accessible by auto-rickshaws, buses, and taxis. Living here is a blessing, as the locality is self-contained and well-equipped with necessary social and retail amenities.
There are renowned educational institutions nearby, like New Green Field School, Gyan Bharti School, Amity International School, and Sri Aurobindo College, among others. Similarly, Apeejay School and Max Super Speciality Hospital are close-by. In addition, people in this locality can take advantage of premium retail destinations, including Select Citywalk, DLF Place, DLF South Court, and Saket Community Center.
Overall, Saket is an ideal location for investing in property. It is one of Delhi's most in-demand residential areas, with ever-increasing prices. In addition, its prime location in south Delhi offers convenient access to different parts of the city.
Saket Metro Station-Nearby Major Residential Projects
Saket Metro Station, Delhi, is located at 550 meters, and its surrounding area is home to some remarkable residential projects.
1. RWA Flats:
RWA Flats are the biggest amongst them, sprawling across a 20-acre area. It offers two configurations – 3 BHK and 4 BHK – of luxurious living spaces ranging from 1800 to 2700 square feet; each unit has a cost per square foot of Rs. 18056 – 18519.
Moreover, it provides essential amenities like a lift, security, park, reserved parking, water storage, firefighting equipment, and maintenance staff, making it a desirable choice for luxury-seekers. Moreover, the flats are being built per the latest urban planning and design regulations, promising all the residents a beautiful and convenient abode.
2. Anupam Enclave:
Anupam Enclave is located just 700 meters away from Saket Metro Station, Delhi, and spread across an area of one acre. This residential property has been designed with a luxurious lifestyle and the comfort of the people in mind.
This residential complex comprises 100 units in 2 and 3-BHK configurations, ranging from 1000 to 1100 sq. ft for 2-BHK flats and 1410 to 1535 sq. ft for 3-BHK apartments—prices for the same start at Rs. 22.0 Lakhs Onwards.
Anupam Enclave is well equipped with various amenities and services such as power backup, a swimming pool, a lift, reserved parking, visitor parking, a gymnasium, piped gas, rainwater harvesting, Vaastu compliance, internet/wi-fi connectivity, waste disposal, and firefighting equipment. Thus, this complex is a perfect place to experience modern amenities in the lap of a luxurious lifestyle.
3. Neb Valley Society:
Just 1.5 kilometers from Saket Metro Station lies a sprawling property spread across 20 acres of land, ready to cater to your luxurious lifestyle needs. The property comprises 3 BHK flats ranging from 15 lakhs to 7 crores.
This residential development not only boasts a great location but also is filled with various amenities such as firefighting equipment, security and maintenance staff to ensure the utmost safety of residents, a beautiful park and garden, lift facilities, complete Vaastu compliance, hi-speed internet/wi-fi connectivity, a well-equipped gymnasium, and a dedicated visitor parking area.
Adding to the above, the project is equipped with piped gas, so you won't have to worry about refilling or handling hazardous gas cylinders ever again. In addition, the gas supply and quality are regularly monitored and approved.
4. DDA Gaurav Apartments:
The stunning new project, DDA Gaurav Apartments, located just 1.2 km from Saket Metro Station, is the perfect abode for your family. The apartment complex is spread over a sprawling 4 acres and consists of 7 Towers with 375 two and three-BHK configurations ranging in size from 691 – 1165 sq ft.
Families can own their dream home with prices ranging from Rs. 2.40 to 2.80 Crores. And you'll enjoy various premium amenities at DDA Gaurav Apartments, such as power backup, lifts, security, reserved parking, visitor parking, DTH television facility, maintenance staff, laundry service, rainwater harvesting, recreational pool, water storage, waste disposal, and fire fighting equipment.
5. DDA Freedom Fighter Enclave:
Situated a mere 1.6 kilometers away from Saket Metro Station in Delhi, DDA Freedom Fighter Enclave is a new residential development spanning one acre. It includes 2500 apartments in various configurations, including two, three, and four BHK builder floors, and three BHK flats. The two BHK builder floor spans 850 to 1200 square feet, three BHK builder floors span 1250 to 2000 sq ft., four BHK builder floor are 1800 sq ft., and three BHK flat is sized 1800 to 2000 sq ft. The price per square foot of these residential units varies between Rs 3500 to 6111.
The project has numerous amenities, such as power backup, security, a park, visitor parking, maintenance staff, a DTH television facility, laundry service, rainwater harvesting, and a retail boulevard comprising retail shops, water storage, and waste disposal. Furthermore, the enclave's residents have easy access to major facilities and landmarks of the city.
Conclusion:
Saket District Centre is an essential business complex in the vicinity, containing several big corporate offices. The ideal location of Saket puts it close to the prime commercial center. It enables people to commute to and from employment opportunities in Noida in merely an hour via both road and metro.
Additionally, the locality surrounding the Saket metro station comprises excellent social and commercial infrastructure. This outstanding amenity has raised the overall standard of the area's real estate, encouraging many investors to consider it.