The ever-growing reliance of urban India on the Metro is unparalleled. In streets so crowded with cars, rickshaws, and bicycles, it is the fastest, most reliable, and safe mode of transportation. People, both daily commuters and leisure travellers alike, find respite in its modern convenience.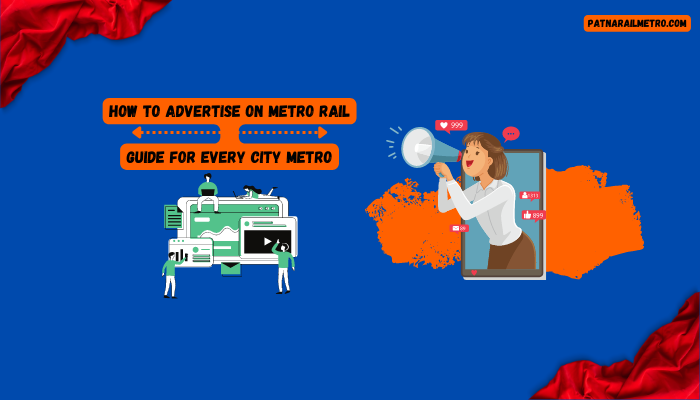 This revolution of transportation has been particularly helpful in saving people valuable time. It has made a long, difficult journey turn into an easily manageable one. Additionally, for the Indian business landscape, Metro stations have provided advertisers with an amazing opportunity for brand promotion.
Metro's widespread network and popularity have allowed it to carry an impressive ridership of 30 lac people daily. As such, it has become a highly lucrative business promotion and marketing hub, helping brands gain increased exposure.
This dependency of urban India on the Metro will only continue to rise. Not only is it proving to be a cost-effective, efficient, and safe method of transport, but it is also unlocking exciting prospects for businesses to grow.
Why Metro Branding?
The Metro framework is one of the most effective approaches for engaging mass audiences. It includes the working class, earning members of society, students, and travellers – highly captivated and attentive people. As these people are often active on social media, this is a great way for brands to build their outreach.
The unique thing about Metro Advertising is that it gives commuters much idle time to view your messages. Usually around 20 to 40 minutes. This longer exposure is beneficial as Out of Home (OOH) advertising is generally considered a "seven seconds media." It gets around thirty minutes of viewing time per passenger.
What's more, the Metro environment is much less crowded and cluttered than other media types. This provides ample space and time for your message to be read.
Types Of Metro Advertisements:
When it comes to Metro Branding, there are several ad placement options available, such as:
Advertising on the Metro Station: Metro Stations provide ample space for setting up posters, banners, billboards, and digital screens, making it an effective way to grab the attention of commuters.
Metro Wraps: This involves running the ad along the whole length of the Metro Train, making it an effective way to attract the attention of travelers during landing or stay times. This method has been used successfully by Brands like Pepsi, Amazon, India Mart, Ola, Airtel, etc.
Inside the Train: Panel Advertising: The side panels of the Metro Train can be used for advertising, grabbing the attention of commuters while standing outside or sitting inside the Metro.
Metro Doors: Ads can be placed on both sides of the train doors, avoiding the viewing glasses and providing an excellent opportunity to reach a large audience.
Metro Train Holders: Advertisers can put their ads on the holders of Metro Trains, making it nearly impossible for commuters to miss the advertisement, as they either hold them for support or can be easily seen when seated.
Digital Screens: In addition to traditional strategies, modern digital screens are installed inside Metro Trains to connect with the target audience directly.
Metro Radio: Metro authorities are also introducing new services like Metro Radio, providing an excellent opportunity for Advertisers to promote their brands.
Metro TV: Advertisers can place their brands on the Metro TV screens installed at the Metro Stations and inside the Metro, offering an opportunity to showcase video and animation ads and traditional advertising techniques.
Metro Card Branding: Another great option for Metro Branding is placing ads on the back of Metro cards. Advertisers can either brand the entire card or place their ads on the backside of the card. This method ensures that the ad will attract attention every time the consumer travels.
How Is Advertising On Metro Stations Beneficial For Your Brand?
Advertising on metro stations provides a unique platform to promote your product. Due to the bustling crowd, the ads capture the attention of consumers who have different lifestyles and spending habits. Moreover, commuters are likely to view these ads repeatedly, making your product stand out in their minds.
As people increasingly rely on their phones for daily purchases, advertising your product in these spaces can drive immediate online sales. Utilizing this platform ensures that you can reach different types of audiences and build recognition for your brand. By effectively leveraging this strategy, you can gain a competitive edge and significantly boost your business.
Indian Cities Which Provide Metro Station Branding:
Here are some Indian cities that provide Metro Station Branding along with their approximate daily traveller count:
Delhi – 2,76,000
Mumbai – 150,000
Kolkata – 700,000+
Kochi – 30,000+
Chennai – 55,000+
Hyderabad – 200,000+
Bangalore – 440,000+
Gurugram – 75,000+
Jaipur – 20,000+
Lucknow – 10,000+
How To Advertise On Metros?
Advertising in metros can be a highly effective way to reach a large audience in major cities. To advertise in metros, follow these steps:
1, Choose your Metro City:
For any effective advertisement campaign on metros, you must first identify the city which most aligns with your target demographic. India offers many metropolitan systems, such as Delhi, Mumbai, Kolkata, Bengaluru, Hyderabad, Chennai, Kochi, and Jaipur. Each of these has its own particular set of audiences, making the selection of a city especially critical for the success of your campaign.
2. Decide on the Type of Advertisement:
When selecting the city to advertise in, it's time to pick which type of ad you want. Several options are available – digital displays, static displays, and audio announcements. Digital displays are vivid video ads that display on screens in the metro, easily drawing people's attention. Static displays are cheaper but no less effective posters posted in stations and trains for the same purpose. And audio announcements are best for relaying brief announcements and deals that don't require as much attention. Each type of ad has its advantages, but it's up to you to decide which best fits your needs.
3. Choose the Ad Placement
Strategic ad placement is critical to creating an effective advertising campaign. In metro systems, there are numerous placement options available to reach passengers. Platform ads provide high visibility, making them a great choice for introducing your product or service. Inside the train, passengers can be exposed to train ads, which can draw attention to a specific product or service tailored to their commute.
Wall wraps take advertising a step further, using the power of design to leave a lasting impression. No matter the method, with a carefully planned campaign, you can ensure your message reaches its audience.
4. Set a Budget:
Creating a budget for your metro advertisement is essential for successful promotion. The expense of advertising on a metro depends on various factors, like the size of your intended market and the format of your campaign. The cost will vary whether you choose digital, static, wall wraps or train ads.
Plan accordingly by identifying your advertising objectives and establishing a budget to ensure your marketing capital is well-spent. With a proper budget, you can approach an advertising agency to create a campaign tailored to your needs.
5. Work with a Metro Advertising Agency:
Working with a metro advertising agency can be extremely beneficial for those looking to advertise in metros. They possess extensive experience with crafting advertisements tailored to captivate and resonate with commuters, as well as aiding with navigating the process of securing ad space and accurately evaluating your ad's success.
When choosing a metro advertising agency, there are several factors to consider. Ensure the agency has a proven track record of successful metro advertisements, can work within your allocated budget, and has familiarity with the metro system in the area you intend to advertise in.
6. Create a Compelling Advertisement:
For effective advertising in metros, a captivating ad is key. Create an ad that catches commuters' eyes and conveys your message clearly and succinctly. Incorporate visually stimulating images and graphics while highlighting your brand and keeping the design tailored to the space in which it will be displayed. When considering your target audience and advertising goals, be sure to communicate your message in an instant.
7. Measure the Success of Your Campaign:
Analyzing the performance of your metro advertisement campaign is vital in knowing its influence and crafting wise choices for future campaigns. Several options can be used to measure the success of your advertisement, including assessing website traffic, surveying customers, and tracking social media participation.
It's important to track the number of people exposed to your advertisement, the click-through rate, and the total return on investment as well. Evaluating the success of your advertisement campaign can assist in determining changes to implement and refine your tactics for the future.
Frequently Asked Questions:
How To Advertise On Metro Rail- Guide For Every City Metro
As seen in metro stations vary depending on the advertisement, intended message, and placement. Ads commonly utilize vinyl, PVC, backlit flex, or foam board materials. Choosing the right material will depend on the duration and exact location of the ad campaign.
How much does Metro station advertising cost?
When looking to advertise at metro stations, there is no set price tag due to a variety of factors. Depending on the specifics, such as where the advertisement is located, its size, its form, how long it's run, and the demand for space, it can cost anywhere from a few thousand to multiple lakhs of rupees per month.
What is the duration of Metro station advertising?
The length of advertising on a metro station can be tailored to suit the advertiser's objectives. Campaigns can last for anywhere from a couple of weeks to multiple months, depending on the particular requirements of the advertiser and their allocated budget.
In which locations can Metro Station advertising be done?
Metro station advertising provides an array of opportunities to catch the attention of potential customers. Inside the trains, platforms, concourses, and even on the outside of the station – all are areas for advertisers to select when it comes to their ad placement. Targeting a specific demographic and taking advantage of maximum visibility can prove advantageous for any advertisement's success.
Do we require any special permission for Metro station advertising?
To successfully launch an advertising campaign in a metro station, advertisers need to secure the necessary permissions from the relevant authorities or the advertising agency in charge of the station's advertisement space. Depending on the type of advertisement and its location, the specific requirements for obtaining the necessary permits and following regulations can differ. Therefore, advertisers should always double-check with the appropriate entities to ensure they abide by the necessary rules and regulations.
What is the process for advertising on metro rail in different cities?
The process for advertising on metro rail may vary slightly depending on the city. Generally, interested advertisers can approach the advertising agency authorized by the metro rail corporation. The agency can guide them through advertising options, prices, and other requirements. Once the ad is created and approved, it can be displayed at the desired metro stations or on the trains.
Conclusion:
Metro advertising offers an excellent way to capture people's attention and elevate your brand. For it to be successful, crafting a message that stands out and appeals to your target audience is critical. Time is of the essence in this regard, as you only have a few moments to catch people's attention on the metro. By planning and executing strategically, metro advertising can drive brand awareness, product and service promotion, and, ultimately, business growth.