The Delhi Metro is a lifeline of India's public transportation system, connecting the capital and neighboring cities. No route goes unaccounted for, as the station stops cover the city's significant landmarks, markets, and business centers.
This hub of transit activity is currently reaching new heights; as of October 2021, 28 million passengers ride the metro daily. With excellent service comes significant revenue, making DMRC – Delhi Metro Rail Corporation – one of India's few profitable government enterprises.
Construction is a continuous process with several routes underway. A good example is Chattarpur metro station, one of the stations located in Delhi. It attracts large crowds due to its proximity to prominent landmarks and is also part of an ambitious growth plan in India.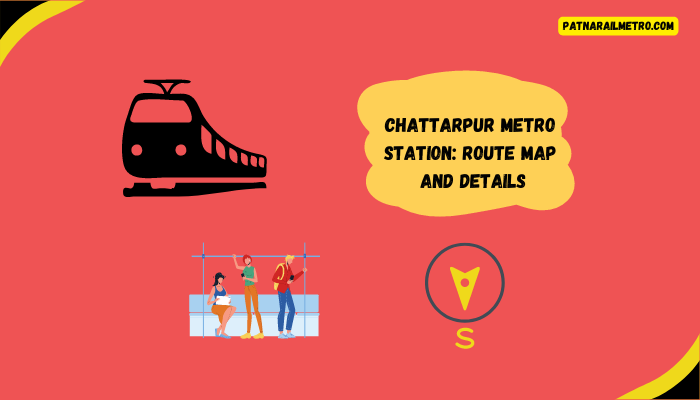 Chattarpur Metro Station-Details:
The bustling neighborhood of Chattarpur in South Delhi has made great strides in modernizing and adapting to urban needs, courtesy of the Delhi Metro. Spanning an area of 26,000 sq. m., Chattarpur Metro Station was built in just nine months, proving the compelling power of pre-fabrication.
This remarkable station has been operational since 2010, connecting Chattarpur and its surroundings to the rest of Delhi and nearby cities, giving commuters access to a much larger and varied area.
In 2019, Chattarpur Metro station was upgraded to facilitate multimodal integration (MMI) to further its service quality and transportation benefits for local citizens. This renovation project involved the construction of new walkways, parking spots, and a theatre – giving Chattarpur a one-of-a-kind Metro station that is the envy of many others in the city.
Today, Chattarpur has come a long way in adapting to urban needs and is firmly established as an integral part of the Delhi Metro's lifeline. Its existence has provided people with a reliable, comfortable, and accessible public transportation mode, which is essential in any urban city.
Chattarpur Metro Station-At A Glance:
Station Name: Chhatarpur (छत्तरपुर)
Station Layout: Elevated Station
Platform Type: Side Platform
Contact Number: 8800793146
ATMs at Station: HDFC Bank, State Bank of India, Canara Bank, Ratnakar Bank, Punjab National Bank
Chattarpur Metro Station-Location:
Chattarpur Metro Station is an elevated station on the Delhi Metro's Yellow Line, located at 28°30′24′′N, 77°10′30′′E. It is the third largest route on the metro network, situated between Qutub Minar and Sultanpur. This metro station serves excellent convenience to the devotees of Chattarpur temple and the locals from Chattarpur, Kishangarh Village, Mehrauli village, and Vasant Kunj.
The station has three entrances, and exit gates; gates one and three open towards the MG road, and gate two opens towards South West Delhi. It facilitates easy commutation to the devotees and locals for daily needs and other destinations as per their convenience. This metro station is a great respite to the locals and visitors to make the daily commutes easy and timely.
Chattarpur Metro Station-Route Map:
Chattarpur Metro Station is set to become a critical junction in the upcoming Silver Line route (Line 11) of the Delhi Metro. The Silver Line will extend from Delhi Aerocity to Tuglaqabad, creating a new transport network.
To facilitate this new line, an underground interchange station has been proposed to be built at Chattarpur, allowing travelers to switch between the Silver Line and Yellow Line easily. The metro platform, concourse, and roof levels will be made 18 meters below ground to construct the station.
The new route will make Chattarpur a more desirable real estate location, as the journey time from this area to the Indira Gandhi International Airport is set to be reduced drastically. The new route is sure to offer many benefits to locals, businesses, and commuters alike.
Chattarpur Metro Station-Train Timings & Platform:
Chattarpur Metro Station has train timings and platform information available for commuters. The station offers service towards Samaypur Badli, with the first train departing at 5:17 AM and the last departing at 11:22 PM from Platform 2.
Additionally, service towards HUDA City Centre is available, with the first train leaving at 5:52 AM and the last departing at 11:58 PM from Platform 1.
Chattarpur Metro Station-Train Fares:
Delhi Metro Rail is expected to offer more convenience to its passengers come 2023, with the minimum fare set to decrease to Rs. 10. Maximum food, on the other hand, will remain the same at Rs. 50. The fare between 2 and 20 kilometers has also been revised to a flat fare of Rs. 20 for both ordinary and AC Metro.
Students, senior citizens, and persons with disabilities will benefit from discounted fares, ranging from Rs. 10-30, depending on the distance travelled. Furthermore, 10-25% discounts on travel will be offered, thus proving economical to passengers.
Metro also offers the option of weekly and monthly passes, offering a pocket-friendly solution to commuters. It is believed that with these changes, Delhi Metro hopes to spur the public transportation sector in India and make it even more accessible.
Chattarpur Metro Station-Entry & Exit Gates:
Chattarpur Metro Station has two entry/exit gates for passengers. The first entry point is at Gate No. 1, accessible from Vasant Kunj Sector-D. The second entry point is located at Gate No. 2, which can be accessed from Andheriya Mor.
Chattarpur Metro Station-Facilities:
Chattarpur metro station offers several amenities to facilitate the commute of passengers. Among these facilities are lifts, escalators, and DMRC-authorized parking.
1. Lifts & Escalators:
The station features three lifts and three escalators to aid passengers, with a particular emphasis on accommodating Divyang individuals. A lift and an escalator outside the station provide access between the ground and concourse levels. After the paid entry via metro card or token, two lifts and two escalators inside the station connect the concourse to the platforms and vice versa.
2. Parking Facility:
Chattarpur Metro Station is one of India's best-equipped and modernly designed metro stations. It offers DMRC-authorized parking spaces for more than 950 vehicles. In addition, there is space for 800 two-wheelers and 80 four-wheelers, with charges applicable per hour.
3. Shops/ Food:
Commuters can use five public toilets, one of which is located on the Unpaid Concourse and the other two at Gates 1 and 2, with the remaining two in the MMI area. Those in a hurry or who wish to shop for groceries, books, magazines, and more, can do so at the WH Smith store. Moreover, there is also a Burger King outlet near Gate 1 for food items.
4. Automatic Vending Machine/ Tokens & ATMs:
There are token vending machines available at the frisking point for purchasing tickets or for recharging the Smart Cards issued by the DMRC. In addition, to fulfill the cash requirements of the metro commuters, the station has various bank ATMs. These include the State Bank of India, HDFC Bank, Punjab National Bank, and Canara Bank.
Chattarpur Metro Station-Nearby Landmarks:
Located in south Delhi, Chattarpur Metro station is surrounded by numerous historic and picturesque landmarks. With its easy connectivity to other parts of the city, the station provides convenient access to these attractions.
A mere 500 meters away, Chattarpur Temple stands in glory. Also known as the "cathedral of south Delhi," this temple complex contains four temples devoted to Durga, Lakshmi, Saraswati, and Shiv Parvati. People from around come here to offer prayers and participate in religious festivals, adding a vibrant vibe to the entire area.
Also within close reach are the iconic Jahaz Mahal, Ahinsa Sthal, Azim Khan Tomb, and Zafar Mahal, all built by the rulers of the Mughal era. Jahaz Mahal, located 2.4 kilometers from Chattarpur Metro station, is believed to have been constructed as a pleasure palace for the royals of that time.
Take advantage of the incredible Qutub Minar, only 4 kilometers away. This 72.5 meters tall minaret has stood the test of time and is now declared a UNESCO world heritage site. Its five stories and intricate carvings showcase a distinct fusion of Persian and Indian architectural styles.
At 4.8 kilometers from the station, Garden of Five Senses is another stunning destination, its stunning landscape filled with fountains, terraces, artwork, and sculptures. These diverse and majestic sites promise a pleasant journey for all visitors.
Chattarpur Metro Station-Nearby Real Estate Scenario:
Chattarpur Enclave is one of the closest residential areas to Chattarpur Metro Station, located in the centre of the bustling employment hubs of Mehrauli-Gurgaon Road and Saket. This has driven high real estate demand for the locality. Those looking for residential property can choose between luxurious builder-floor apartments and mid-to-low-rise apartment buildings.
Chattarpur Enclave residents benefit from being close to some of the area's top educational institutions. This includes St. Surya Public School, Creative Institute of Management & Technology, Shemrock Lion Hearts and Mahatma Gandhi Education College.
Regarding health care, Chattarpur Enclave is served by Apex Hospital, J B Meditech LLP, Yogmaya Multispeciality Hospital, Balhara's Le Cure Hospital, Dr. Shalini Jain Gynae Clinic, and K.R. Hospitals. As for shopping needs, residents can enjoy the famous Dilli Haat, located just 10 kilometers from the locality.
Chattarpur Metro Station-Nearby Major Residential Projects:
1. JVTS Gardens:
Just 2.4 km from the Chattarpur Metro Station lies JVTS Gardens, one of the most significant residential projects in the area. Spread across a generous 35 acres of land, this prestigious development comprises 22 towers with 528 units in the form of 1, 2, and 3 BHK configurations, with a total area ranging from 550 sq ft to 1300 sq ft.
To ensure complete comfort and convenience, JVTS Gardens offers all modern amenities like a secure and ample parking space, Maintenance staff, firefighting equipment, 24*7 security, a park, and a well-equipped kids' play area. What's more, the units are available at prices ranging from Rs. 2909 – 3846 per square foot.
If you're looking for a place that ticks all the boxes, this is for you. With its fantastic range of services, secure environment, and prime location close to the Metro station, this residential project truly is a great investment opportunity.
2. Aravali Tower:
The magnificent Aravali Tower has located a mere 2.4 km from the Chattarpur Metro Station. Boasting eight separate units of two and three-bedroom BHK configurations, the size of these units ranges from 720 to 1170 square feet for two bedrooms and 1125 to 1350 square feet for three bedrooms. The flats are priced between 40.0 to 55.0 lakhs per flat.
Furthermore, this fantastic development has an array of state-of-the-art amenities such as a private terrace/garden, a lift, Vaastu compliance, earthquake resistance, and CCTV cameras. Thus, it is an excellent destination for prospective buyers looking for an optimum combination of luxurious comfort and modern convenience.
In short, the Aravali Tower project provides exciting opportunities to reside near Delhi in grandeur and style.
3. Build Wick Iconic Homes:
Wick Iconic Homes are in a thriving residential neighbourhood and offer luxurious builder floors that redefine comfort.
At a mere 2.4km distance from Chattarpur Metro Station, this iconic project features four tower units with three bedroom builder floors of 1200-1250 sqft.
It has all modern amenities and branded fittings, including a lift, security system, and luxurious inventories like seven-layer heat & waterproofing and a modular kitchen.
Not only is the project stylish, but it is also budget-friendly, with prices per square foot ranging from Rs.5167-5750.
Overall, Wick Iconic Homes have redefined residential real estate with its excellent elegance and affordability.
Conclusion:
Chattarpur Metro Station is located on one of the most well-known metro routes in the city. It's set to be even more connected to the surrounding area with plans to join the station to Delhi Aerocity with the Silver Line Metro. This further bolsters the transportation connections to the Indira Gandhi International Airport, thus making this spot highly sought after in the real estate sector.
This location offers the perfect balance of affordability and luxury for any buyer or investor interested in taking a plunge into the market. Moreover, with the metro station conveniently situated, you can be sure of access to easy transportation in this locality.