Urbanisation and traffic congestion have caused more and more people to turn to public transportation as their primary form of transport. In India, the metro system is one of the most reliable and affordable modes of transportation. Moreover, its expansive network ensures that a metro station will always be nearby no matter where you are in India.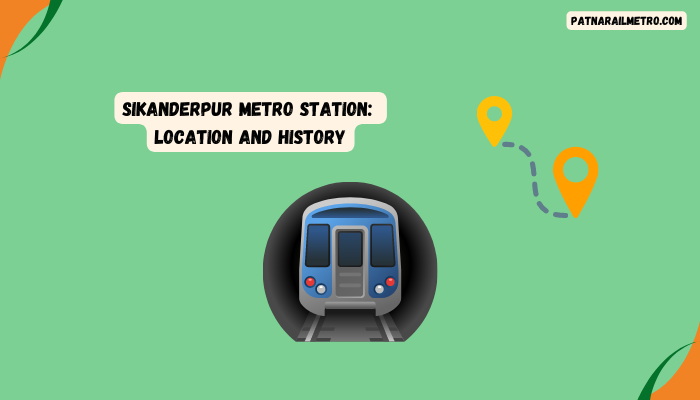 About Delhi Metro:
The Delhi Metro has come a long way since it began operating. Connecting the capital of India and its neighbouring cities, it has become a lifeline of the country's public transportation system. However, stations span the entire city, making every landmark and area inaccessible to the riders.
This form of transportation has become highly profitable, bringing in considerable revenue to DMRC – Delhi Metro Rail Corporation, making it one of the few government enterprises that make money. Moreover, such popularity among commuters has led to 28 million people boarding the train daily, which makes for quite a crowd! 
However, DMRC is constantly expanding and updating its network to reach even further, considering its riders' comfort. For example, Chattarpur metro station is located near several significant landmarks, making it the perfect stop for many travellers. Furthermore, it has also been included in Delhi's ambitious plan for further expansion. 
Sikanderpur Metro Station-Overview:
Sikanderpur Metro Station is situated in the vibrant city of Gurgaon in the Indian state of Haryana. It is part of the Yellow Line of the Delhi Metro and is known to be one of the network's busiest stations.  
For its commuters, Sikanderpur Metro Station has been a vital transportation hub. Located in the Sikanderpur area, it connects many residential, corporate, and business hubs in and around Gurgaon. It is an ideal entry point to the city and is extremely popular with travellers.   
The station was first opened to the public in 2005, and since then, it has been making it easy for thousands of people to access Gurgaon. Many amenities are present at the station, such as automated ticket counters, escalators, wheelchairs, and a spacious waiting area with seating. It also provides easy access to the auto and cab stand.
Sikanderpur Metro Station-At A Glance:
Station Name: Sikandarpur (सिकन्दरपुर)

Station on Lines: Yellow Line, Rapid Line

Station Layout: Elevated Station

Platform Type: Side Platform

Located In: Gurgaon Region

Contact No.: 8800793151

ATM at Station

: HDFC Bank, State Bank of India, Canara Bank, Ratnakar Bank
Sikanderpur Metro Station-History And Background:
In 2001, the Delhi Metro Rail Corporation (DMRC) embarked on the monumental task of connecting the cities of Delhi and Gurgaon with the construction of the Yellow Line. In December 2004, the first section of the line between Vishwavidyalaya and Kashmere Gate was opened for public use, allowing citizens to travel from the North to the South of Delhi in one journey.
Over the following years, the Metro Line was gradually expanded with successive openings in both directions. In July 2009, Sikanderpur Metro Station was opened for commuters to use as one of the original stations. The Line was finally completed in June 2010 with the opening of the Gurgaon section. 
The opening of the Yellow Line marked an unprecedented milestone in Indian transportation. It revolutionised public transport in Delhi by enabling easy access to neighbouring cities. Since its establishment, it has provided thousands of commuters with a seamless daily travelling experience.
Sikanderpur Metro Station-Location And Accessibility:
Sikanderpur Metro Station, located in the bustling metropolis of Gurgaon, is at a pivotal point. Situated on MG Road, it is at the intersection of Delhi and Gurgaon. 
Several popular destinations are within walking distance from the station, including DLF Cyber City, the Ambience Mall, and the Gurgaon District Court. Commuters have a choice of travelling to the station either by road or public transport. The National Highway 48 connects the station to Delhi, and local buses and auto-rickshaws provide easy access to nearby areas.
The proximity to so many landmarks makes Sikanderpur Metro Station one of the most sought-after locations in Gurgaon. Not only is it the starting point of one's journey, but it is also the destination.
Sikanderpur Metro Station-Facilities And Amenities:
Sikanderpur Metro Station is a well-designed transportation hub that is situated in Gurgaon. It is considered the most convenient commuting place with many services and amenities. 
The station features an immense concourse that is bright and open and is equipped with ticket counters, information kiosks and sitting areas for the convenience of commuters. 

Besides this, several shops and fast food joints are available, allowing commuters to grab a bite or shop quickly.

In addition to all the other facilities, the station offers ample parking spaces. Therefore, commuters can immediately find a place to park their cars. 
All these facilities and amenities make the Sikanderpur Metro Station the most popular commuting spot in Gurgaon.
Sikanderpur Metro Station-Train Timings & Platform:
Sikandarpur Metro Station has train timings and platform information for different destinations. 
The first train towards Sector 55-56 departs at 5:50 AM, and the last train leaves at 10:17 PM from Platform 1. 

The trains towards Phase 3 operate from Platform 2, and the first train departs at 06:00 AM, while the last train departs at midnight. 

Similarly, the trains towards Samaypur Badli also operate from Platform 2, with the first train departing at 05:53 AM and the last at 11:08 PM. 

The trains towards HUDA City Centre operate from Platform 1, with the first train departing at 05:52 AM and the last at 12:14 AM.
Sikanderpur Metro Station-Entry & Exit Gates:
There are two entry/exit gates at the Sikandarpur Metro Station. The first gate, Gate No. 1, provides access to DLF Phase II and III. The second gate, Gate No. 2, allows entry to Ambience Mall.
Sikanderpur Metro Station Fares:
Delhi Metro Rail is expected to offer more convenience to its passengers come 2023, with the minimum fare set to decrease to Rs. 10. Maximum food, on the other hand, will remain the same at Rs. 50. The fare between 2 and 20 kilometres has also been revised to a flat fare of Rs. 20 for both ordinary and AC Metro.
Students, senior citizens, and persons with disabilities will benefit from discounted fares, ranging from Rs. 10-30, depending on the distance travelled. Furthermore, 10-25% discounts on travel will be offered, thus proving economical to passengers. 
Metro also offers the option of weekly and monthly passes, offering a pocket-friendly solution to commuters. It is believed that with these changes, Delhi Metro hopes to spur the public transportation sector in India and make it even more accessible.
Sikanderpur Metro Station-Nearby Attractions:
Located in Gurgaon, Sikanderpur Metro Station is a great place to explore nearby attractions.
DLF Cyber City:

Situated close to Sikanderpur Metro Station, DLF Cyber City is an excellent destination for people of all ages. This vibrant commercial hub is the ideal place for a shopping spree. Apart from its buzzing retail stores, DLF Cyber City also houses corporate offices, malls, restaurants and other attractions. 

Kingdom of Dreams:

If you want a fun day, head to Kingdom of Dreams. It is located near Sikanderpur Metro Station and is a vibrant mix of culture, art and cuisine. So whether you want to experience traditional Indian theatre, Bollywood-style music shows, or indulge in lip-smacking local delicacies, Kingdom of Dreams is a must-visit spot. 

Leisure Valley Park:

If you're in search of some peace and tranquillity, take a stroll through the picturesque Leisure Valley Park. It is close to the Sikanderpur Metro Station and is a great place to enjoy a relaxed walk, bird watching and some delightful picnics. The park also features a lovely lake and a beautifully landscaped promenade. 

Damdama Lake:

A short distance from Sikanderpur Metro Station, you can find Damdama Lake – a perfect spot for a weekend getaway from the hustle and bustle of city life. Here, you can indulge in boating, bird watching and trekking. 

Sultanpur Bird Sanctuary:

If bird watching is your cup of tea, go to Sultanpur Bird Sanctuary. It is located around 20 km from Sikanderpur Metro Station and is an excellent spot to spot various species of birds. You can also capture captivating bird visuals by watching bird-watching tours and taking incredible photos. 
No matter your interests and tastes, the vicinity of Sikanderpur Metro Station is home to some of the best tourist destinations in Gurgaon. These places will make your day worthwhile and leave you with beautiful memories.
Sikanderpur Metro Station-Nearby Properties:
The Sikanderpur Metro Station area offers its residents various residential options. 
DLF Phase 1:

DLF Phase 1 is a few kilometres from the metro station. It offers a range of housing options, from apartments to independent houses and villas.

Sushant Lok 1:

Sushant Lok 1, located within a 5-kilometre radius of the Sikanderpur Metro Station, is well known for its extensive selection of apartments and villas.

South City 1:

South City 1 is a high-end residential area that is approximately 6 kilometres away from the Sikanderpur Metro Station. Its premium apartments and villas are located near the best schools and hospitals in the city.

Golf Course Road:

Golf Course Road is a prime residential area just a 10-minute drive from the metro station. It houses some of the area's most luxurious apartments, villas, and penthouses.

MG Road:

MG Road is another popular residential area a few kilometres from the Sikanderpur Metro Station. This locality provides affordable and mid-range apartments and some premium housing options. 
Overall, residents of Sikanderpur Metro Station are offered a great selection of housing options, which makes living in the area quite convenient.
Delhi Metro-Safety Tips And Guidelines:
Delhi Metro is a safe and convenient way of transportation in Delhi and its adjoining areas. However, a few tips and rules should be followed to make the journey safer:
Valid tokens or smart cards are a must to enter the station, and in case of not having either, a fine of Rs.50/- will be imposed. 

No smoking, drinking or eating is allowed inside station premises, trains and metro areas; the fine is Rs.200/-. 

A minimum charge of Rs.100/- for buying a smart card has to be done, of which Rs.50/- is non-refundable, and the rest is fare. 

Carrying flammable materials, firearms and explosives is strictly prohibited, and it can result in a four-year imprisonment and Rs.5000/- fine. 

Pets are also prohibited in the metro; the maximum baggage weight should not exceed 15kg. 

Moreover, seats are reserved for women, children and the elderly, so one should always offer their seat in need. 
Delhi Metro passengers can ensure their safe and comfortable journey by following the mentioned safety tips and rules.
Conclusion:
The Sikanderpur Metro Station is a crucial component of the transportation system in Gurgaon, Haryana, India. Located in the city centre, it allows easy access to some of the most popular destinations in Gurgaon. These include Ambience Mall, Cyber City and MG Road. 
The station features two entry and exit gates, making it easier for commuters and visitors to get in and out. Furthermore, there are many residential buildings located near the metro station, which cater to various preferences and budgets.
Overall, the Sikanderpur Metro Station plays an essential role in the city. Its convenient transport links and prime location make it the destination for commuters and tourists. The station truly symbolises the modern face of Gurgaon and its ability to accommodate all forms of transport.