The rapidly increasing urbanisation in India has led to many problems, including traffic congestion. As a result, people are turning to public transportation for commuting, which is far more convenient than relying on their vehicles.   
The Indian metro is a preferred choice for this due to its convenience and affordability. Across India, several metro networks can be used to get around cities and connect different regions. From smaller towns to larger cities, these metro systems have helped make travel a much smoother experience.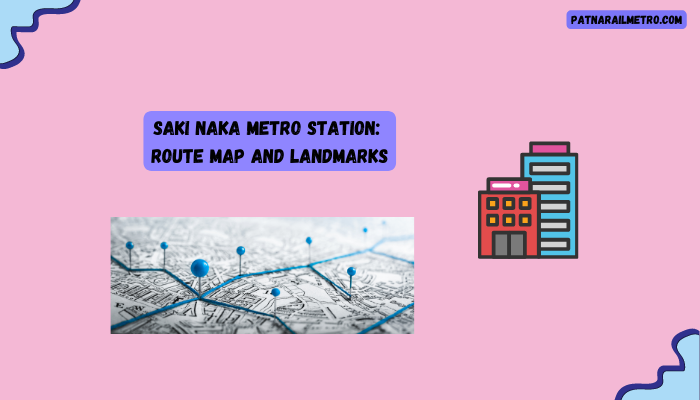 About Mumbai Metro:
The Mumbai metro project is the Maharashtra government's ambitious and extensive infrastructure initiative to provide affordable and comprehensive connectivity solutions to its citizens.
The Mumbai Metropolitan Development Authority (MMRDA) is overseeing the project, except for the completely underground Mumbai Metro Line 3 (MML-3), which is under the purview of the Mumbai Metro Rail Corporation Limited (MMRCL).
The Mumbai metro project was launched in 2006 to alleviate the problem of overcrowding in Mumbai's local train system. Unfortunately, the project has suffered delays due to land acquisition issues, environmental clearances, and other approvals.
Nevertheless, the Versova-Andheri-Ghatkopar line has been operational since June 2014, and Metro 2A and Metro line 7 are currently undergoing safety trials and nearing completion. The remaining Mumbai metro lines are in various stages of construction.
Saki Naka Metro Station-Overview:
Saki Naka Metro Station, located on Blue Line 1, is Mumbai's first elevated metro station. It is owned and operated by the Mumbai Metro One Pvt Ltd (MMOPL). The Blue Line is a part of the 11.40 km long Versova-Andheri-Ghatkopar Line (Line 1 of Mumbai Metro). 
This line connects Mumbai's eastern and western suburbs, and Saki Naka Metro Station is a significant junction. It was opened for public use on 8 June 2014, and its passenger density has made it one of the busiest metro lines in the world. 
The Blue Line has the most curves out of all metro lines in India (64 in total) and has the steepest curve among all the other lines, 107 metres. All other stations from this line are easily accessible from Saki Naka Metro Station, such as Jagruti Nagar Metro Station, Ghatkopar Metro Station, Marol Naka Metro Station, and Asalpha Metro Station.
Saki Naka Metro Station-At A Glance:
Station Name: Saki Naka (साकी नाका)
Station on Line: Blue Line
Station Layout: Elevated Station
Platform Type: Side Platform
Located In: Mumbai Region
Saki Naka Metro Station-Location:
The Saki Naka Metro Station can be found in the bustling locality of Saki Naka in Mumbai, Maharashtra. Its address is Andheri-Ghatkopar Road, Bandi Bazaar, Nair Wadi, 400072. Saki Naka is a highly sought-after residential area in Andheri East due to its prime location and convenience.
The station provides excellent connectivity to several popular destinations, including the international airport, Ghatkopar, Andheri Station, Powai, and Hiranandani Gardens.
This metro station is easily accessible through various public transportation options such as taxis, buses, and other modes of transport, as well as a well-developed road network. To locate SakiNaka Metro Station on a digital map, one can use its coordinates at 19.103528°N 72.887962°E.
Saki Naka Metro Station-More Details:
Saki Naka Metro Station, which operates on Blue Line 1, primarily serves the Saki Naka neighbourhood of Andheri, Mumbai. The station opened on June 8, 2014, with two tracks served by a side platform. It is an elevated station, so there is plenty of room for people to sit and wait for their trains. 
The Saki Naka Metro Station has been designed to make sure commuters can access all the necessary amenities they require. There is a street-level entry and exit, a fare control, a MetroCard vending machine, a crossover and a station agent on the mezzanine floor.
The two platforms connect eastbound and westbound lines. In addition, there are special left-side exits available to the disabled and four general doors at the station.  The first exit at the Saki Naka Metro Station opens towards Powai, the third exit leads towards Andheri Kurla Road, while the fifth and sixth gates connect to a 90-foot road and Ghatkopar.
Six intermediate metro stations are located between Saki Naka and Andheri, taking about one minute to travel through. The Saki Naka Metro Station is open from 5:34 am to 11:51 pm daily, with the fare charged based on the distance travelled and varying from Rs. 20 to Rs. 40. This ensures that commuters have enough time to travel and reach their destination at a fare that fits within their budget.
Saki Naka Metro Station-Train Timings & Platform:
The train timings and platforms for Saki Naka Metro Station are as follows. The first train towards Versova departs at 06:42 AM, and the last train leaves at 11:06 PM, both operating from Platform 1. On the other hand, the first train towards Ghatkopar departs at 07:02 AM, and the last departs at 11:02 PM, working from Platform 2.
Saki Naka Metro Station-Facilities:
The Saki Naka Metro Station is well equipped with various basic yet essential facilities to ensure a comfortable journey for commuters. 
For those who need it, the station has ramps, disabled access and lifts, enabling ease of movement to the upper and lower levels. An escalator also offers smooth and convenient transit to different areas.

Safety is prioritised in the station, as CCTV cameras have been installed to monitor activity in the area. Fire alarm systems and fire safety devices are in place to ensure the utmost security of travellers. In addition, there is an X-ray scanner to inspect all the luggage to ensure no illegal items are smuggled into the station. 

Moreover, polycarbonate roofs are present to shield travellers from unfavourable weather conditions. 

Additionally, Wi-Fi connectivity is available within the premises for added comfort, allowing users to remain connected at all times. 
In short, the Saki Naka Metro Station offers comprehensive and practical facilities that provide commuters with a secure and comfortable experience.
Saki Naka Metro Station-Route Map:
The Blue Line 1 Metro, which runs from Versova to Ghatkopar, is a 15 Km long journey, with 12 intermediate stations in between. The two closest stations to Saki Naka Metro Station are Marol Naka, located at a distance of 1.6 Km, and Jagruti Nagar, just 1.9 Km away. 
The Saki Naka Metro Station has three interchange points- D N Nagar, on the Yellow Line 2; WEH, on Line 7; and Marol Naka, on the Aqua Line 3. 
The station map of the Blue Line 1 Metro line consists of the following stations and their associated interconnecting points, as follows:
Versova- No connection 

D N Nagar- Yellow Line 2 

Azad Nagar- No connection 

Andheri- No connection 

WEH- Line 7 

Chakala- No connection 

Airport- No connection 

Marol Naka- Aqua Line 3 

Saki Naka- No connection 

Asalpha- No connection 

Jagruti Nagar- No connection 

Ghatkopar- No connection
Saki Naka Metro Station-Distance To Popular Places:
Located in a prime area of Central Mumbai, Saki Naka Metro Station provides reliable and convenient access to many of the city's famous landmarks. This station runs 10.8 kilometres east-west and has 12 stations along its line.
One of this metro station's most significant benefits is its proximity to the Mumbai International Airport. At just 2 kilometres away, the SakiNaka Metro Station is the perfect choice for travellers who need easy transport from the airport to their destinations.

In addition to its accessibility to the airport, the SakiNaka Metro Station also has several other prime locations within a short distance. For example, it is 3.7 kilometres from Andheri East, 5.6 kilometres from the Mumbai Domestic Airport, and 2.3 kilometres from Chakala Metro Station. 

Other destinations within a reasonable range of the metro station include J B Nagar (2.6 kilometres away), Marol (2.4 kilometres away), Vile Parle East (5.6 kilometres away), and Powai Lake (5.7 kilometres away). 

Furthermore, this metro station is also conveniently located to various public transportation points such as the Airport Road (1.5 kilometres away), Andheri (2.5 kilometres away), the SakiNaka Bus Stop (260 metres away) and the Kurla Bus Depot (2.3 kilometres away). 
The Saki Naka Metro Station is ideal for those seeking a convenient transportation option with quick access to major attractions and points of interest.
Saki Naka Metro Station-Distance to Nearby Landmarks:
Saki Naka Metro Station is located near some of the most prominent landmarks in Mumbai. These landmarks and their distances from Saki Naka Metro Station are given below.
Holy Cross High School: 1.2 Km

Nahar International School: 1.6 Km

Wardhaman Hospital: 0.07 Km

Reborn Hospital: 0.14 Km 

Asalfa Municipal School: 0.78 Km

BMC School Mohili: 0.81 Km

Dr. A C Tiwari Hospital: 0.42 Km 

Nilkanth Times Square: 1.49 Km

Star Hub: 2.25 Km

Equinox Business Park: 2.88 Km

Supreme Business Park: 2.89 Km 

Phoenix Marketcity Mall: 0.98 Km

Maxus Mall: 0.34 Km 

Abhipraay Hospital: 0.18 Km

Westside Mall: 3.12 Km

Sahar Business Centre: 3 Km
Saki Naka Metro Station-Nearby Restaurants And Famous Hotels:
Saki Naka Metro Station, home to numerous well-known hotels and eateries, offers visitors great options for their lodging and dining needs.
Pop Tate's Sakinaka is just 150 meters from the Metro station for quick and easy food. Another convenient option, Curry Twist, is a mere 220 meters away. 

Suppose you're looking to satisfy your appetite. In that case, The Studs – Sports Bar & Grill, Asia Kitchen by Mainland China and Foody Naka, located 170 meters, 140 meters and 88 meters away, can offer some fantastic meals.

For the discerning traveller, some more upscale options lie within a 1.6 Km to 2.4 Km radius of the SakiNaka Metro Station. These include The Lalit Mumbai, Hyatt Regency, The Leela Mumbai, ITC Maratha and Hotel Grand Heritage.
Saki Naka Metro Station-Nearby Residential Projects:
Located in the western suburb of Andheri, Saki Naka has earned a prestigious name as a premier locality for those looking for residential properties in the city. Offering proximity to social amenities and convenient connectivity to the rest of the town, SakiNaka is a popular destination for home buyers and renters.
The real estate market in the area offers residential properties at varying prices. For example, buying a property here can cost Rs. 12500 to Rs. 18500 per square foot, while rentals range between Rs. 36 to Rs. 55 per square foot.
What makes the locality attractive is that it is already ready for occupancy with multiple housing projects and business centres such as Sagar Heritage, Crescent Solitaire, Kanakia Sevens, Paramount, Gundecha Asta, Business Bay Lokhandwala, and Sagar Tech Plaza situated in close vicinity of the SakiNaka Metro Station, Mumbai.
Saki Naka Metro Station-Nearby Commercial Complex: 
The Saki Naka Metro route has drastically improved the city, offering excellent connectivity. As a result, business activity has exploded, with several new office buildings and business complexes appearing nearby.
550 metres away lies Trade Square, an integral part of the SakiNaka hub, bustling with workers and full of office complexes. The success of this development has attracted further projects such as NIBR 1 Aerocity, only a kilometre away. Mirchandani Business Park is near the hub's centre, only 190 metres from the Metro. Finally, for those looking to set up shop a little further away, Crescent Business Square is just 450 metres away.
The Saki Naka Metro route has improved the commercial and business possibilities within the city, allowing the potential for expansion, with these new developments being a testament to that. In addition, the accessibility provided by the Metro has allowed for easy access for anyone wishing to pursue their business dreams.
Summary:
Since its opening, the SakiNaka metro station in Mumbai has undergone major changes and improvements to become one of the most popular spots in the city. Its maintenance and services have ensured a safe and sound travel experience for city dwellers and an affordable fare. 
Aside from these advantages, the SakiNaka metro station also offers unparalleled convenience and proximity to the various hotspots of the city. Commuters can find multiple shops, restaurants, malls and public places such as schools, hospitals, and more here. In addition, its position allows easy access to major landmarks and business parks in the city. 
The convenience of the SakiNaka metro station for daily travel has benefited Mumbai locals, offering a fast and affordable option to traverse the city. So it is no wonder why the SakiNaka metro station has been an increasingly popular transportation choice among city dwellers.