Indian metro is a developing metro system as even today, the metro system has been developing in various cities of the country. The Kolkata Metro was India's first metro, which began operation in 1984. Kolkata has an underground metro rail system. Many cities in our country have under-construction metro services.
The government is taking up this construction of the metro in a planned way. With the emerging needs of the country and its citizens, the Indian government is planning and making decisions based on that.
The main challenge for our country is to provide a basic and efficient way to the transportation system; hence, developing the Indian Metro Rail system in a planned way is a good move on behalf of the country.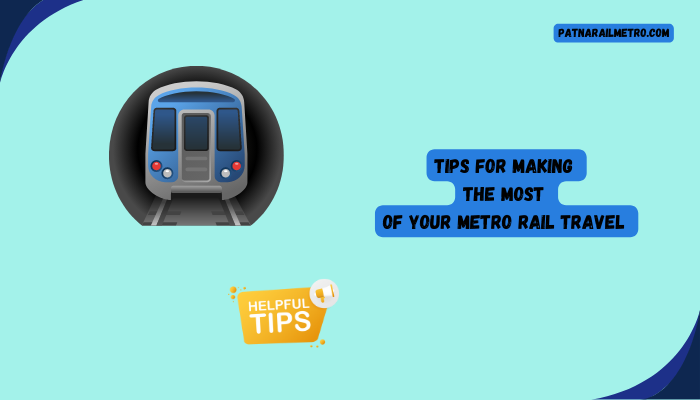 The metro rail system provides its passengers with a very great service of using smart metro cards. Smart metro cards are a type of card through which passengers can make contactless payments and buy tickets for their respective routes. These cards are designed to make the process of paying for travel more convenient, efficient, and secure than traditional ticketing methods.
Travelling In Metro:
Travelling in a metro can be a convenient and cost-effective way to get around a city, especially during rush hour when traffic can be heavy. It can also allow you to see different parts of the city that you may not have explored otherwise. Depending on the city, the metro system may consist of underground or above-ground trains that run on designated tracks. Metro stations are typically located throughout the city, and trains arrive regularly.
Once on the platform, you must wait for the train to arrive. When the train does arrive, you'll need to find an available seat or standing area. Many metros have designated seating areas for elderly or disabled passengers. You'll typically experience a smooth and comfortable journey during the ride, with stops at various stations.
Many metro systems have maps inside the train cars that show the route and upcoming stops, which can be helpful if you need to familiarize yourself with the area. When you reach your destination, you'll need to exit the train and exit the metro station. Depending on the system, you may need to tap your ticket or pass again to exit.
Categories Of Passengers You Can Find Travelling In The Metro:
People from all working or studying background uses the service of the metro. Whether a person is a businessman or a corporate working person, they use metro services equally. Metro has provided convenience to all people.
Students have found a lot of easiness in their travelling from different places. Women have said the metro services are a safe mode of transport for them. The metro services provided by the Indian government provide its users with many facilities, including cost-cutting, saving time, etc.
Nearby Attractions And Landmarks:
If you are planning to travel by metro rail, there are several tips you can follow to get the most out of your experience, including exploring nearby attractions and landmarks. Here are some tips to consider: We suggest our travellers plan before they travel to some place; planning in advance would include knowing the routes they want to travel and looking for the places they want to visit.
They will also be required to look at the weather they will visit somewhere. This will ensure that the person visiting or travelling is clear during the visit. The visitor has a lot in hand while he is going to travel to some un similar places, for this the most helpful thing one can do for themselves is that they can buy tickets for themselves in advance so that there is no problem related to reservation for them at the time of boarding any mode of transport they are using, for example, metro services.
When travelling with Metro Rail, the person is advised to use a metro smart card to ensure a quick and time saving visit. As we have informed the travellers or passengers about the smart metro cards, we would also like to tell them about a new feature that is available on various metro stations and metro services; this service is called tourist metro passes which are recharged for some specific time period and are provided with information regarding the best tourist attractions.
The leading service with this card will be the service of discounted fares. In these new times of internet facilities, we would like to advise the visitors to explore the area around the city which they want to visit, and with the help of this, they can also make a to-do list which will help them cover most of the places while saving time.
The Internet can provide a lot of information to visitors; hence, it is advisable for travellers to explore nearby areas. Travellers are also requested to be and behave in a manner so that the people they travel with do not experience any problems with them.