Sealdah is a place located in Kolkata, West Bengal. Sealdah Metro functions on Line 2 of the Kolkata Metro, also known as the east-west Metro or Green Line. Kolkata metro Line 2 is 32.11 km long and is a fast transit route between Salt Lake and Sealdah. It is the deepest metro shaft, and India's first underwater metro tunnel is on Line 2
The green line of the Kolkata Metro is divided Into four Phases, where two phases are under construction, and the remaining three and four are proposed. The commercial operation of the first phase of the Sealdah metro between Salt Lake to Sector V and Salt Lake Stadium started on 14th February 2020.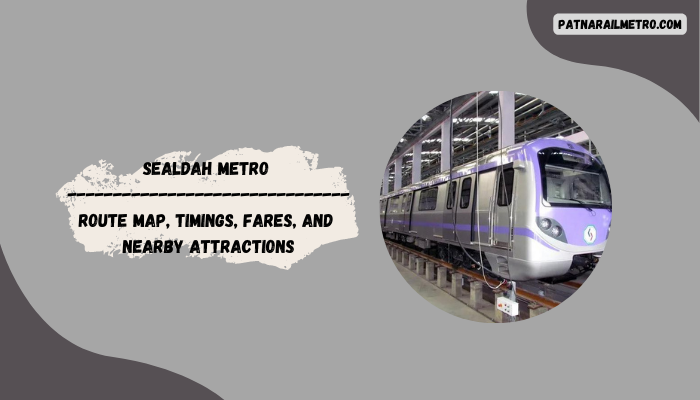 Sealdah Metro is owned and operated by the Kolkata Metro Rail Corporation Limited, with underground stations that connect some parts of Kolkata.
Another interesting fact is that the Sealdah metro runs along the Indian Railway Station on the eastern side. Therefore you can spot Sealdah Court on the west side, while Vidyapati Setu is, also known as Sealdah Setu on the north side of the Sealdah Metro. The metro station, along with the train station, is found on the pedestrian subway also. Now the metro route is between the city's IT sector, ie. Sector V and Phoolbagan.
The Commissioner of Railway Safety approved the beginning of commercial operations at this station on March 2022, but due to some reasons, the deadline was missed, and then it was finally opened on 11th July 2022 by the union minister Ms. Smiti Irani. The commercial operation finally begins on 14th July 2022, and the metro assists more than 35,000 passengers daily.
Sealdah Metro Station Location:
As we read that Sealdah is situated on the Green Line of the Kolkata Metro, assisting loads of passengers daily. The metro is 16 m deep and directly connects with Sealdah Railway Station. Sealdah is the 7th stop in the green line metro network, with an interchange facility for passengers to move between the Metro and Railway station.
The basic fare for the Sealdha metro is Rs.10, which is affordable for commuters and can travel up to 10 km in 20 minutes from Sealdah to Salt Lake City Sector V. Sealdah Metro Station is much larger than Phoolbagan Station. It also has an Island Platform that helps passengers get off the metro coach.
The station has four platforms, including both side platforms and one Island platform, along with three tracks so that passengers have to enter and exit with great ease because of the infrastructure of the Sealdah Metro. The entrance and exit gates are at street level.
The mezzanine floor has fire control, a station agent, a ticket vending machine, and some shops. The train going toward the Salt Lake City Sector V is heading to the east, and trains heading west will come to Howrah and Maidan in the future.
The station is Differently-abled i.e., disabled people can enter the station from any part of the entrance and have access from the island platform, which opens at the right. The traveling time required to cover the distance between two locations is about 30 minutes.
Sealdah Metro Station Facilities:
Sealdah metro is planned with proper management and has facilitated the essentials, so the features and facilities available on the Sealdah metro are mentioned below.
Shops
Lifts
The artwork showcases the rich culture of West Bengal.
Concourse Area
Automatic Ticket Vending Machine
Escalators
Access for the Disabled
Parking lot
Fire Alarm Systems
And Fire Safety Doors.
Sealdah Metro Station Route Map
The train covers stations between Sealdah to Salt Lake Sector V and vice versa. The total number of stations is 7 in the Sealdah metro route, and it is spread across a distance of 17 km Phoolbagan ( Green Line), it is the previous station on the Sealdah Metro Station Route, and the upcoming station is Esplanade, Kolkata which has interchange on Blue Line.
Stations along the route of the green line of the Kolkata metro are mentioned below:
| | |
| --- | --- |
| Station Name | Sealdah |
| Salt Lake Sector-V | Orange Line (upcoming) |
| Karunamoyee | None |
| Central Park depot | None |
| City Center | None |
| Bengal Chemical | None |
| Salt Lake Stadium | None |
| Phoolbagan | None |
| Sealdah | Blue Line |
Above the table is the information about the route of Sealdah Metro Station.
Distance From Sealdah Metro Station To Popular Locations:
This route is connected to some famous spots and areas in Kolkata because it is in a centrally located neighborhood and has a good road network. The Sealdah Railway Station is just 300 m adjacent to the metro station, and the Kolkata Airport Netaji Subash Chandra Bose Airport is 15.5 km from the Sealdah Metro Station.
Some famous areas connected by the Sealdah Metro are mentioned below, along with the distance.
8.5 Km from Salt Lake Sector-V metro station
4.4 Km from Howrah bridge
4.1 Km from Tour de Sundarbans
3.8 Km from Indian Museum
4 Km from Jorasanko Thakurbari
2.8 Km from Thanthania Kalibari
3.1 Km from Shaheed Minar
2.9 Km from New Market
4 Km from Rabindra Bharati Museum
3.3 Km from Raj Bhawan
Sealdah Metro Station Distance To Nearby Landmarks:
Some well-known landmarks situated around the Sealdah metro station within the short range such as:
750m from St. Paul's Mission School
800m from St John's Church
2 Km from St Laetitia's School
1.2 Km from St. Paul's Mission School
1.2 Km from Baptist Girls Higher Secondary School
1.4 Km from Lady Dufferin Victoria Hospital
2.8 Km from Mercy Hospital
2.7 Km from North City Hospital
3.4 Km from All One In Christ Church
3.8 Km from Quest Mall
8.1 Km from P S Srijan Corporate Park
8.7 Km from It Lagoon
8.2 Km from Ambuja Neotia Ecocenter
8.3 Km from Bengal Intelligent Park
Sealdah Restaurants Around Sealdah Metro Station Route:
While traveling with the Sealdah metro, numerous restaurants, cafes, and other eateries shop within a short range of the metro.
Here are some food joints near the Sealdah Metro Station where you can grab anything.
500m from BBQ Restaurant
900m from Aahar Restaurant
900m from The Dragon House
1 Km from Turmeric Restaurant
1.8 Km from Zaid Food Dot Com
1 Km from Oh My Kebab
1.3 Km from Sonali Chinese Restaurant
1.9 Km from Taj Restaurant
1 Km from A. J. Spice Restaurant
Residential Projects Near Sealdah Metro Station Route:
Metro projects have attracted many people, and they are ready to buy land near the metro station because of good communication. Sealdah Metro also attracts job seekers due to its proximity to the Metro Station. It is accessible to social amenities and other parts of the city, making it a great place to settle down.
Residential homes in this area are priced between Rs.60 lac to 1.60 crores. The rental price ranges from around Rs. 35,000.
Here is a housing complex near the Sealdah Metro Station:
Convent Corner
KGC La Casa Greens
Ekta Oleander
Ideal Heights
Parkside Residency
KGC Solitaire 20
Ecoprime Highrise Eco Primavera
Orion Residency
Commercial Complex Near Sealdah Metro Station:
Several large and small commercial complexes are close to the Sealdah Metro station. Some of them have offices, while others contain shops and showrooms. Here are some examples of these commercial buildings.
1.7 Km from Siddhart City Center
2.4 Km from Ruchi Active Business Park
2.2 Km from Diamond Prestige
Latest News On Sealdah Metro Station:
On the way, the metro Line will reach Howrah by crossing the Hooghly River with an extension towards the eastern side to Teghoria. The extension will be 2.33 km.
Further, part of the route runs under the Hoogly River, which is the first in India with a distance of a total of 22 km, the Line will include 17 stations in the east, and Howrah and Maidan will be west 11 stations are elevated, and remaining 6 will be underground.
Since it will connect India's two main commercial cities with its two largest trains and long-distance railway terminals, Sealdah and Howrah, it is estimated to have a high amount of ridership daily. It will be very convenient for the passengers to travel fast and affordable. The extension of the metro will bring more connectivity and reduce time travel.
Wrapping Up Sealdah Metro Station:
Sealdah Metro Station is built well and has the perfect infrastructure for an underground metro station that opened in July 2022.
This metro will help people easily move to other parts of the city. It has linked with areas of central Kolkata, and the metro station has some great facilities and services for the passengers to enjoy, it will also help disabled people.
Therefore it is all set to serve a massive number of commuters daily. The tickets are affordable and easy to access, and many cafes and shops surround the station. More innovative plans will be added to the Sealdah metro route, so keep looking forward to it.
Frequently Asked Questions:
Where is the Sealdah metro station located?
If you're looking for the Sealdah metro station in Kolkata, its complete address is Acharya Prafulla Chandra Road, Sealdah, Rajabazar, Kolkata – 700009. The station is next to the railway station on Acharya Prafulla Chandra Road.
Is the metro available from Sealdah to Howrah?
In 2022, a section of the metro line from Sealdah to Salt Lake Sector-V began commercial operation. Although the 4.8-kilometer Esplanade-Howrah Maidan section is complete, the Rs 9000 project faces subsidence problems between Sealdah and Esplanade.