As we all know, board exams are the most important exams in a student's life. Students learn the amount of hard work they put in throughout the academic year.
Maharastra HSC board Exam 2023 will start on 21st February. The board has issued Maharastra HSC admit card 2023 on their official website. They released their official website's final 12th timetable for the 2023 Maharashtra board on 30th December 2022. Students were advised to check the website of the Maharashtra board thoroughly for more updates and information.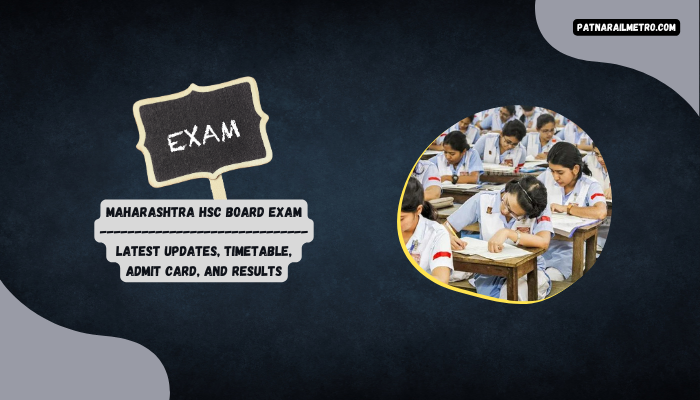 In this article, we will cover all the details regarding the Maharashtra HSC board exam 2023, like the date sheet of the exams, timetable, and so on.
ABOUT MAHARASHTRA HSC BOARD:
Maharashtra state board of Education conducts the Maharashtra HSC Board examination every year. It sets the exam paper pattern and designs the syllabus of the 12th standard. Therefore, students should prepare according to that. They must also follow the previous question and sample paper well for the exams. The MSBSHSE conducts the HSC and SSC exams in the state through nine divisional boards in Pune, Mumbai, Aurangabad, Nasik, Kolhapur, Amravati, Latur, Nagpur, and Ratna Giri.
According to the qualifying authorities of the Maharashtra HSC exam board set by the Maharashtra board of examination, students must obtain at least 35% or above in both practical and theoretical exams to pass the 12th board exams. However, if students fail to score at least 35%, they must reappear for the supplementary exams to pass the Maharashtra Board HSC exams 2023.
Maharashtra HSC 2023 Dates:
The dates of board examinations are provided below with the assigned subjects. Students can find according to their exam schedule timetable/ dates given.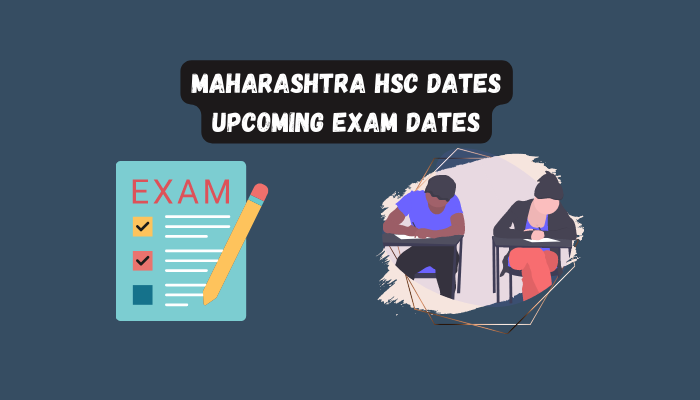 Dates Upcoming Exam Dates 21 -Feb 2023:
Maharashtra HSC Exams 2023-English (01)
21 Feb '23
Maharashtra HSC Exams 2023-Hindi, German, Japanese, Chinese, Persian
22 Feb '23
Maharashtra HSC Exams 2023-Marathi (02), Gujarati (03), Kannada (06), Sindhi(07), Malayalam (08), Tamil (09), Telugu (10), Punjabi (11), Bengali (12) Urdu (5), French (13), Spanish (25), Pali (35)
23 Feb '23
Maharashtra HSC Exams 2023-Maharashtri Prakrut, Sanskrit Ardhamagadhi, Russian, Arabic
24 Feb '23
Maharashtra HSC Exams 2023-Organisation of Commerce and Management
25 Feb '23
Maharashtra HSC Exams 2023-Logic, Physics
27 Feb '23
Maharashtra HSC Exams 2023-Secretarial Practice, Home Management (A/S)
28 Mar '23
Maharashtra HSC Exams 2023-Chemistry Political Science
1 Mar '23
Maharashtra HSC Exams 2023-Mathematics and Statistics (A/S), Mathematics and Statistics (C), Percussion Instruments (A)
3 Mar '23
Maharashtra HSC Exams 2023-Child Development, Agriculture Science and Technology (A/S/C), Animal Science and Technology (A/S/C)
4 Mar '23
Maharashtra HSC Exams 2023-Cooperation (A/C
6 Mar '23
Maharashtra HSC Exams 2023-Biology (S), History & Development of Indian Music (A)
8 Mar '23
Maharashtra HSC Exams 2023-Textiles (A/S) Bookkeeping and Accountancy (A/S/C)
10 Mar '23
Maharashtra HSC Exams 2023-Food Science & Technology (A/S) Philosophy, History of Art and Appreciation (Painting, Sculpture, Architecture)
11 Mar '23
Maharashtra HSC Exams 2023-Geology (S) Economics (A/S/C)
13 Mar '23
Maharashtra HSC Exams 2023-(Vocational) Bifocal Courses Paper-1 Technical Group Paper-1, Commerce Group Paper-1, Agriculture Group Paper-1, Fishery grp ppr 1, Education
14 Mar '23
Maharashtra HSC Exams 2023-Psychology (A/S/C)
15 Mar '23
Maharashtra HSC Exams 2023-(Vocational) Bifocal Courses Paper-II Technical Group Paper-II, Commerce, Agriculture, Fishery ppr 2
16 Mar '23
Maharashtra HSC Exams 2023-Geography (A/S/C)
17 Mar '23
Maharashtra HSC Exams 2023-History (A/S/C)
18 Mar '23
Maharashtra HSC Exams 2023-Defence Studies (A/S/C)
20 Mar '23
Maharashtra HSC Exams 2023-Sociology (A/S/C)
21 Mar '23
Therefore tentative dates of the results have been declared by the Maharashtra Exam Board that is expected to be released on may June 23rd-24th, 2023.
Maharashtra Board Time Table 2023:
The Maharashtra Board of Examinations has uploaded the timetable on its official portal. The candidates appearing for the Maharashtra Board 2023 exams are guided to follow and prepare accordingly as the exams are approaching near.
The board years are crucial in a student's life as they will move to a new future choice in education i.e. higher education. So Students are strictly advised to mark their dates properly so they won't miss any assigned exams. Instead, the Maharashtra board issued the admit cards to all the students before the exams.
Candidates can now download the timetable or date sheets from the provided official link from the website, also available in the article. They can check according to their streams, arts, science, and commerce. The timetable has been uploaded recently for the 2023 exams, but timetables for vocational subjects are provided separately. Maharashtra Board Timetable can be downloaded by the steps available in the article.
How To Download Maharashtra Board Timetable?
Here is how to download the timetable of your Maharashtra board exams 2023. The steps have been provided below this. The HSC and SSC exam candidates must mark their respective dates in the calendar.
After downloading the timetable, it will be displayed on your screen. Take a printout of it and keep it safe for future usage. The following steps for downloading the timetable are given below-
Visit the official page of the Maharashtra Board, which is www.mahasscboard.in.
When you arrive at the homepage, click on the latest notification column to check for the latest notice for the link you appear for, either HSC or SSC.
Click on the link and put your credentials to get access to download the timetable.
For SSC, go to the SSC FEB-2023 timetable tentative link highlighted with a new icon.
Same for HSC as well
Then a new page will show on the screen where the authorities prepare the PDF of the Timetable.
Read the notice carefully of the document as well as the important points.
Then you can download the timetable and take a printout.
It is important to keep checking the official website to see if the authorities upload any new updates regarding the board examinations.
For more information regarding the board examinations, such as admit cards, please visit the Maharashtra Board of Examination website, www.mahasscboards.in.
Maharashtra HSC Board Exam 2023: Overview
| | |
| --- | --- |
| Particulars | Details |
| Exam name | Maharashtra HSC exam |
| Authority name | Maharashtra State Board of Secondary and Higher Secondary Education (MSBSHSE) |
| Exam Dates | 21-Feb-2023 to 20-Mar-2023 |
| Exam duration | 3 hours for most of the exams |
| Number of students | Around 14.5 lakh |
| Maharashtra Board Official Website | www.mahahsscboard.in |
| 12th result 2023 Maharashtra board date | May 2023* |
Maharashtra HSC Board Exam 2023 Syllabus:
The Maharashtra HSC board authorities have released the syllabus of the 2023 examinations on their official portal. Thus the syllabus of every subject has been provided, and they have properly mentioned the chapters and topics to be covered while preparing for examinations.
It is important to know the complete syllabus so that the students should waste less time on chapters or topics which are not included and keep their full focus on the syllabus.
To know the full syllabus, students are advised to visit the website www.mahasscboards.in.
Maharashtra HSC Exam Pattern 2023:
The exam pattern includes the marking scheme, types of questions that can come, duration of examinations, and so on. This ensures that the students get familiar with the exam pattern before appearing and somewhere gives a strategy for the exams. Students can solve the previous sample papers to get an exam overview. The paper pattern for the year 2023 is different from various papers.
The examination will be held online. Students will be allocated centers where they will give the examination. Therefore the answers will be like this, i.e., very short, short, long, and essay-type to questions, and the questions are asked from the syllabus of Maharashtra HSC, so students do not have to worry much regarding the syllabus.
Total marks should be 100, 80 for theory and 20 for practical/ oral projects and science-related streams and subject the marks for theory are 70 and practicals is for 30. Therefore it is mandatory to keep 35% or more than that to pass the board exams.
Maharashtra HSC Preparation 2023:
To score well in the examinations, students must keep this in mind, like preparing well while having a proper, thorough study to score well in HSC board examinations. The students should maintain proper notes and solve papers daily as it is really helpful during examinations. Now we will discuss the preparation points below-
Make a proper timetable in which there is a time slot for each subject and study according to the timetable.
Cover the whole syllabus. Include all topics and chapters for the examination. Consult teachers and experts in the faculty in case of any doubts.
Keep a separate time slot each day for practicing sample papers and previous years' question papers.
While studying, make short notes. These come in handy when one is revising what they have already studied. This way, they do not have to go through the entire text again.
Do not overburden yourself. Take short breaks between study time, and all the best for the examinations.
Maharashtra HSC Result 2023:
The results of the Maharashtra Board exams of HSC are expected to be released on May 23-24,2023, on their official website. Students should check from there and calculate their pass percentage. They must enter their examination Roll number and their mother's full name. They can use the SMS option to check the results. The Maharashtra boards give all the basic information to the students along with their assigned subjects. For the previous year's board exams, like 2021, the results were announced on June 8 through a press meeting at 11:15 am.
How To Check The Maharashtra Board Exams Results [2023]:
Go to the official website of the Maharashtra HSC results.
Tap on the link of HSC March exams 2023 results.
Then the login page will appear. Put your login credentials, like exam roll number and mother's name, and submit it
After the page is loaded, your results with marks subject-wise will be displayed on your screen.
Download or screenshot the mark sheet, take a printout for future usage, and keep it safe.
If you are unsatisfied with your marks, you can send your exam papers for revaluation, which also charges a fee. Supplementary exams are held during June or July, and the results of these exams will be released in August or September 2023. The students should properly check every detail in the Maharashtra Board of Examination.
Frequently Asked Questions:
When will Maharashtra HSC result 2023 be announced?
The results of the 12th Maharashtra board exams are expected to be announced in May of 2023.
Where are the passing marks in the 12th board HSC results in 2023?
To successfully pass the Maharashtra HSC result for 2023, students must achieve at least 35% marks in each subject. A minimum score of 35% overall is also required to pass the 12th HSC result for 2023.