Located on the Hyderabad Metro's Blue Line, Raidurg Metro Station offers visitors easy access to many of the city's historical and modern attractions. The station provides a safe and reliable transit service to locals and tourists, with an average daily footfall of 25,000 passengers. It is near Raheja Mindspace Junction and several other sites.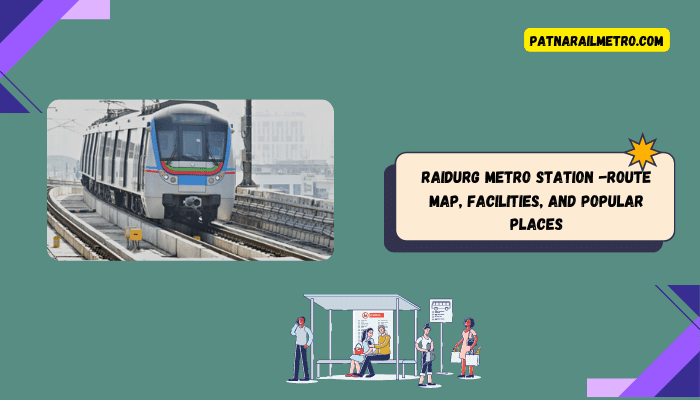 If you want to travel to and from Raidurg Metro Station, the easiest option is the Hyderabad Metro, with various metro lines providing convenient service. Buses are also available to connect commuters with the station. As far as parking facilities go, a dedicated car parking area is nearby.
When visiting Raidurg Metro Station, one can also find restaurants and snack stalls for a quick bite. Other shopping and entertainment options can also be found around the station. All these places remain open from early morning until late night, providing travellers with many amenities to make their trip easier and more convenient.
With its convenient and easily accessible services, Raidurg Metro Station has become an important transportation hub in Hyderabad, helping further to enhance the city's historical and modern attractions.
Raidurg Metro Station- Location:
Raidurg Metro Station can be located at Mindspace, Hitech City Road, Phase 2, HITEC City, Hyderabad, Telangana 500081. It is positioned on Hyderabad Metro's Blue Line, and to pinpoint its location on a digital map, refer to its coordinates at 17°26'31.88″N and 78°22'37.92″E.
Raidurg Metro Station- More Details:
In 2012, a proposal was made to establish a Raidurg Metro Station in Hyderabad, which eventually became the endpoint of the Blue Line Metro Route. When the originally planned Shilparamam endpoint was discovered to be a lake bed, the Hyderabad Metro Blue Line was extended by one kilometre to the designated fifteen-acre site of Raidurg.
Opposite the Raidurg Metro Station are the TCS Deccan Park and the Lemon Tree Hotel. Meanwhile, Hyderabad's Biodiversity Park is only 1.6 km away. In addition, an underpass was built next to the station as part of the Strategic Road Development Programme (SRDP). In April 2022, a 1 km long skywalk was also inaugurated to enable travellers to easily get between the Raidurg Metro Station and areas of the Raheja Mindspace property.
The Raidurg Metro Station is an integral part of the transport system in Hyderabad. The infrastructure around it continues to be improved, making travel more convenient and accessible.
Raidurg Metro Station- In A Nutshell:
Located in the IT hub of the city of Hyderabad, the Raidurg Metro Station is one of the stations of the city's rapid transit network.
Situated at Raheja Mindspace Junction, across the Lemon Tree Hotel, it falls under the Blue Line of the network.
It is an elevated station built on two tracks and two platforms.
Its construction is designed so that its platforms have a depth of 7.07 metres.
In addition, the station has 4 entry/exit gates that enable access to passengers.
Raidurg Metro Rail Station- Route Map:
The Blue Line of the Hyderabad Metro runs for 27 kilometres from east to west, featuring 23 stops connecting several important locations like Secunderabad and HITEC City. It operates reliably due to the 1435 millimetres of a standard gauge of the track, with a 25 kilovolt of alternating current supplied by a catenary above it.
The Blue Line's last stop is the Raidurg Metro Station Hyderabad. The station is well-equipped with four entry and exit gates for the convenience of commuters. Entry and exit points are labelled according to the gates; Gate No. An entry/exit point links to the TCL and ICICI Bank, while Gate No. B has Tata Consultancy Services (TCS). Gate No. C is associated with the Indian Oil Petrol Pump, while Gate No. D serves the Raheja Mindspace Bus Stop.
Raidurg Metro Rail Station- Amenities:
Raidurg Metro Station Hyderabad is a station bustling with travellers day in and day out. From local area maps to help points, it provides its visitors with an array of useful facilities.
One of its most popular features is its Passenger Information Display Boards, which details upcoming trains and delays/disruptions. It is also fitted with an escalator to help ease the rush of commuters. On top of that, it also has audio announcements to inform passengers of any important updates or changes in their routes.
This station also prides itself in its convenient amenities like restrooms, help points and Emergency Evacuation Plan (EEP) Signage for any unexpected circumstances. Travellers can even access local area maps to understand the place better.
Ticket Vending Machines and Smart Cards ensure travellers can buy their tickets easily. The station also has Automatic Vending Machines that sell refreshments, food, and beverages to energise people for the long journey ahead. There is a dedicated parking space for travellers driving in, and nearby is a Ratnadeep Supermarket for any last-minute shopping.
With so many useful facilities available, Raidurg Metro Station Hyderabad proves to be the ideal place for anyone travelling via the Metro.
Raidurg Metro Station- Distance To Popular Landmarks:
Located in the bustling city of Hyderabad, the Raidurg Metro Station offers tourists and locals an ideal transit option to many of the area's popular attractions. Travelling to one of these landmarks couldn't be easier, as most are far from the station.
For example, the much-loved Ikea Store is only 1.6 km away, allowing visitors to reach their destination quickly. Cyber Pearl and Inorbit Mall are a mere 2.2 km away, with Cyber Gateway only slightly farther at 2.6 km. And last but not least, Ascendas IT Park is the closest at 1.3 km away.
Overall, no matter where you want to explore in Hyderabad, the Raidurg Metro Station can be your starting point.
Raidurg Metro Station- Nearby Restaurants:
Suppose you're near Raidurg Metro Station in Hyderabad and looking for something delicious. In that case, the options are endless for classic Hyderabadi fares like Biryani, head to Olive Bistro or Jai Ho Multi Cuisine Restaurant, just a few kilometres away.
Alternatively, you can treat yourself to some decadent desserts at Sabrosos — Cakes & More or take in the atmosphere of a rooftop restaurant at The Roof Top Restaurant. Those looking for something heartier could travel to Punjabi Family Dhaba or Aaha Food Village within easy driving distance of Raidurg Metro Station.
No matter your palate, there will surely be something to tantalize your taste buds near Raidurg Metro Station in Hyderabad.
Raidurg Metro Station- Nearby Residential Societies:
The options for those who want to find residential complexes near Raidurg Metro Station, Hyderabad, are plentiful.
Take Sukhii Ubuntu, for instance, which is spread across five acres with 855 units in three towers varying in size from 1315 sq. ft to 2230 sq. ft. Located at 10.2 km from Raidurg Metro Station, this property is ideal for those looking for convenience and access to IT Parks and IT hubs. Prices range from INR 6413 to INR 8257 per square foot, and possession of the apartments will begin on December 1, 2025.
Ambience Courtyard offers 853 residential units across 8 towers, located 5.8 km from Raidurg Metro Station, for those who want to move in sooner. It has 2BHK and 3BHK apartments with prices ranging from INR 7059/sq. ft to INR 7744/sq. ft. Along with a selection of contemporary amenities, these apartments are set to become available to their owners on December 1, 2023.
Ramky Towers is a popular residential complex near the Raidurg Metro Station in Hyderabad. Spanning across 33 acres, the complex has 8 towers and 600 units, with alluring 3 BHK dwellings. Every dwelling unit here has modern amenities suited for a contemporary lifestyle. Moreover, the complex is situated only 1.6 km away from Raidurg Metro Station, providing effortless access to renowned business hubs, malls, schools and hospitals.
ASBL Spectra is another wonderful complex near the Raidurg Metro Station, Hyderabad. Situated at 9.2 km from the metro station, it is an 8-acre residential complex with 4 towers and 1186 units. Each apartment here offers a spacious 3 BHK layout and will be available for possession from December 1, 2025.
All these residential complexes are set in excellent locations and have multiple amenities and options that may be tailored to fit any budgetary requirement. With such an abundance of options, those looking for a residential property near Raidurg Metro Station, Hyderabad, should be able to find one that is perfect for them.
Raidurg Metro Station- Nearby Commercial Space For Rent/Sale:
Looking to rent or buy commercial property close to Raidurg Metro Station in Hyderabad? There are several excellent choices available to you. Galaxy by Aurobindo Realty, for instance, is located just 1.6 km away.
When considering the pricing, remember to factor in the area you want to purchase, lease, or rent and how close the property is to the metro station and other commercial hubs. This can influence the price considerably.
Raidurg Metro Station offers easy access to numerous locations, making it an ideal location for many businesses. It also has multiple business parks in its vicinity, increasing the options to pick from.
So if you're looking for commercial space near Raidurg Metro Station, you can have many choices. Do your research well to find the one that best meets your requirements.
Raidurg Metro Station- Parking Facilities:
Do you own a two-wheeler or four-wheeler and find it difficult to park your vehicle when you take the metro? Then worry not! Near Gate A of Raidurg Metro Station, an exclusive parking area is available just for you!
The tariffs for the parking slots are reasonable and depend on the number of hours you choose to park your vehicle. There is also an option to get a Monthly Pass that lets you park your vehicle at this location without hassle.
By taking advantage of this facility, you can save yourself from the time and stress of finding an empty spot every time you board the metro. So, if you commute often and need to find a safe parking area near the metro, head over to the designated spot near Gate A of Raidurg Metro Station.
Raidurg Metro Station- Latest News:
The Ratnadeep Supermarket opened its doors at the Raidurg Metro Station in September 2022. Located close by, L&T Metro Rail Hyderabad Ltd. is constructing Hyderabad's largest shopping complex that will cover almost 1 million square feet of space.
In response to requests from IT corridor workers, the Telangana State Road Transport Corporation (TSRTC) initiated the running of Vajra AC minibuses between the Raidurg Metro Station and other workplaces in the IT corridor. The commute would previously have involved either a two-kilometre walk or the costly use of a taxi for such a short distance.
The convenient transport now provides employees with an economical option to reach their workplace in IT Parks and other job hubs. Last-mile connectivity has become much easier with the new buses, which has blessed IT employees.
Raidurg Metro Station- (Helpline) Customer Care:
If you have any queries or need further information about the Raidurg metro station, you can reach out to the following contact number or email:
Address: Near Mindspace, Hitech City Road, Phase 2, HITEC City, Hyderabad, Telangana 500081
Contact Number: 040 2338 8587
Email:  customerservice@ltmetro.com
Frequently Asked Questions:
Q: Is there a bus station or stop nearby Raidurg Metro Station?
A: Yes, a bus stop is near Raidurg Metro Station. The bus stop is known as Raidurgam Bus Stop and is just a few hundred meters from the Metro Station. Commuters can easily board buses from this stop to reach several destinations in the city. Several feeder buses are also available from the Metro Station to connect commuters to nearby residential areas.
Q: What are the popular places to visit near Raidurg Metro Station?
A: Raidurg Metro Station is located in the financial district of Hyderabad and is well-connected to several popular places in the city. Some of the nearby landmarks and places to visit include the Gachibowli Stadium, one of India's largest cricket stadiums, the picturesque Durgam Cheruvu Lake, and the serene Qutb Shahi Tombs, which are a testament to the rich cultural heritage of Hyderabad. Commuters can easily reach these places using the Metro or by taking a cab or auto-rickshaw from the station.
Conclusion
Raidurg Metro Station's potential is slowly but surely being tapped into. This modern infrastructure is being taken full advantage of by not just the citizens of Hyderabad but by others visiting the city from other parts of the country. This blue-line metro station will be an essential artery connecting many important Hyderabad points to its inhabitants.
In conclusion, it is clear that Raidurg Metro Station is and will continue to remain an integral part of Hyderabad. It will soon be amongst the busiest metro stations in the city and is bound to be of immense use to all of its citizens. With better connectivity and rapid expansion, this blue-line metro station is bound to make travelling easy, fast, and convenient for its passengers.