With the surge in urbanization and the population of Uttar Pradesh, the demand for efficient public transportation has increased. The government has taken the monumental step of developing a UP Metro Rail system to meet this demand. It is a significant move to develop more than 50 km of metro lines, and consequently, thousands of jobs are set to be created by this project.
The availability of a wide range of jobs in UP Metro makes it an attractive option for those looking to explore different employment opportunities. This article will explain how to obtain a job at UP Metro.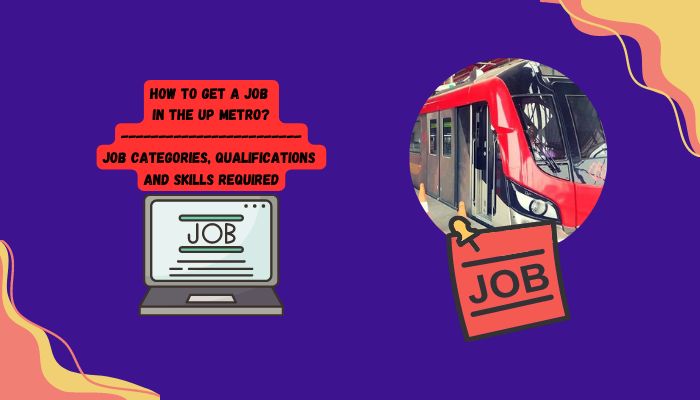 Understanding The UP Metro Project:
The first step to becoming a part of the project is understanding the UP Metro. It is crucial to understand the various aspects of the project, from its objectives and mission to the necessary steps for implementation. It is also important to keep abreast of developments within the project. Moreover, applicants must demonstrate their commitment to the project through proper preparation.
This includes conducting research on the UP Metro, submitting detailed and relevant job applications, and showcasing their abilities during selection. By demonstrating the necessary competency and willingness to be a part of the UP Metro, applicants will have a higher chance of being selected.
The UP Metro project is an ambitious endeavour to offer affordable and accessible public transportation to the people of Uttar Pradesh. This multi-faceted initiative addresses multiple issues, such as reducing traffic congestion on roads and promoting sustainable transportation.
Job Categories In UP Metro:
UP Metro requires skilled professionals to carry out various tasks associated with the project. Here are some of the job categories available:
Engineers: UP Metro requires engineers with knowledge in civil, mechanical, electrical, and electronics engineering. These engineers will design, construct, and maintain the metro infrastructure.
Project Managers: Project managers must manage and oversee the metro line's construction. They must ensure the project is completed within budget and within the set timeframe.
Station Controllers: Station controllers manage and operate the metro stations. Their role is to guarantee the safety of passengers and the seamless running of the trains.
Train Operators: Train operators will be tasked with driving the metro trains. They must ensure that the trains are safe and operate efficiently.
Customer Service Representatives: Customer service representatives will ensure the passengers' journey is a pleasant and comfortable experience. They will need to assist the passengers with any queries or complaints.
Maintenance Staff: Maintenance staff will need to take care of the maintenance and repair of the metro infrastructure and trains. They will be responsible for ensuring the trains are in safe working condition and the infrastructure is properly maintained and safe for passengers to travel.
Qualifications And Skills Required:
You must have the qualifications and skills to get a job at UP Metro. Here are some of the qualifications and skills required for different job categories in UP Metro:
Engineers: If you aspire to become an engineer in UP Metro, you will need a degree in civil, mechanical, electrical, or electronics engineering. You must also have experience in designing and constructing infrastructure projects. Problem-solving skills and the ability to work as a team are key qualifications to be successful in this job.
Project Managers: Project managers at UP Metro require a degree in engineering, project management, or a related field. Experience in managing large-scale infrastructure projects is necessary for this role. This position is essential for effective leadership, strong communication, and working under pressure.
Station Controllers: To become a station controller in UP Metro, you must have a degree in any field. Prior experience in a fast-paced environment is beneficial. This role requires good communication and problem-solving skills and the ability to work in a team.
Train Operators: Train operators must have a high school diploma or equivalent, a valid driving license, and the ability to operate trains safely. Furthermore, they should have strong communication and problem-solving skills and work well under pressure.
Customer Service Representatives: Customer service representatives require a high school diploma or equivalent and must be proficient in the local language. They should also possess excellent communication and interpersonal skills and the ability to remain calm and composed when faced with difficult customer queries.
Maintenance Staff: Maintenance staff must have a degree in engineering or a related field and prior experience with repairing and maintaining infrastructure and equipment. Good technical skills and the ability to work as part of a team are also necessary.
How To Apply For A Job In UP Metro?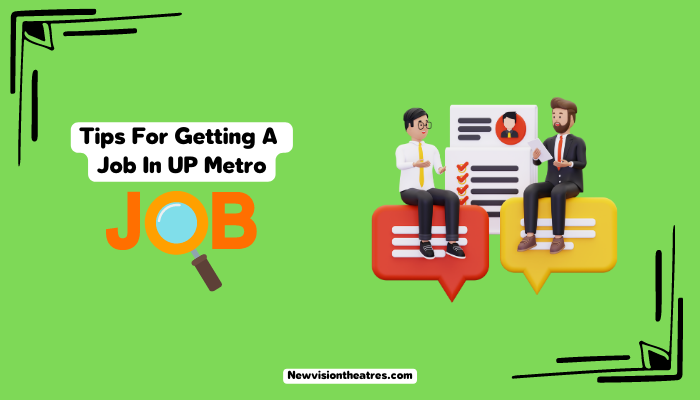 Applying for a job at UP Metro is relatively simple.
The first step is to visit the UP Metro website at https://lmrcl.com/ and create an account to access the job postings. You must fill in your personal and contact information and upload your resume.
Once you have created your account, you can browse the available job postings and apply for suitable ones. All the necessary details and documents have to be filled in and provided as per the job postings.
If you get shortlisted, you will receive an invitation for an interview. The type of interview you will receive will depend on the location and the nature of the job vacancy. There will also be a written exam for some positions as part of the selection process.
The final step is to wait for the selection process to be completed. The UP Metro authorities will inform you if you have been selected for the job.
Therefore, applying for a job at UP Metro is straightforward and should not be too complicated for those seeking employment.
Tips For Getting A Job In UP Metro:
Having a job in UP Metro can be quite challenging, especially when there is a lot of competition for the positions available. However, following the tips mentioned below can increase your chances of success.
Keep yourself updated: Firstly, make sure you are updated with the latest information regarding the UP Metro project and job vacancies. Regularly visit the official website, follow their social media accounts, and sign up for newsletters to keep track of new opportunities.
Improve your skills: Ensure your skills and qualifications are up to scratch. Attend relevant workshops, courses, and conferences to expand your knowledge and enhance your skill set. Doing this will make you more attractive to recruiters.
Network: Networking with the right people in the engineering, project management, and transportation fields will open more doors for you. Attend industry events, introduce yourself to relevant people, and build relationships.
Customize your resume: Customise your resume for the job you're applying for. Highlight your relevant qualifications and skills and demonstrate why you are the best fit for the position.
Prepare for the interview: Take some time to familiarize yourself with the UP Metro project and go through the job description thoroughly. Also, practice answering common interview questions and dress professionally on the day.
Following these tips can make you more attractive to employers and increase your chances of getting a job at UP Metro.
Frequently Asked Questions:
Q: What are the different job positions available in the UP Metro?
A: The Uttar Pradesh Metro Rail Corporation Limited (UPMRC) offers various job opportunities across departments such as engineering, operations, customer service, human resources, and more. Some popular job positions include station controller, train operator, customer relations assistant, manager, assistant manager, and engineer. Interested candidates can visit the official UPMRC website or job portals to find available job positions and submit their applications accordingly.
Q: What is the eligibility criteria to apply for a job in the UP Metro?

A: The eligibility criteria for different job positions in the UP Metro may vary depending on the nature of the job, the level of experience required, and other factors. However, candidates who have graduated or post-graduation in relevant fields such as engineering, finance, management, or any other relevant discipline are eligible to apply. Candidates should also possess the required skills and experience specified by the UPMRC. The selection process usually involves a written exam, interview, and other tests depending on the job position.
Conclusion:
Working at UP Metro could be a great opportunity for those interested in the transportation and infrastructure field. Suppose you want to succeed in applying for a job here. In that case, you should do your research to become well-acquainted with the project, improve your qualifications, and ensure that you meet the eligibility requirements. Overall, taking the initiative to research and understand the project, improving yourself, and preparing for the interview are all important steps that will help you land the job you desire at UP Metro.