The Bharat Gaurav Tourist Train took a new journey as part of the Ek Bharat Shreshtha Bharat programme. Setting off from the Secunderabad Railway Station on 18th March, the train travelled to the sacred sites of the 'Punya Kshetra Yatra: Puri – Kasi – Ayodhya' tour package.
This is the first tourist train to be organised for passengers from Andhra Pradesh and Telangana, making it an occasion to remember. A memorable pilgrimage that unites these two neighbouring states and promotes unity across India, as per the core values of the Ek Bharat Shreshtha Bharat programme.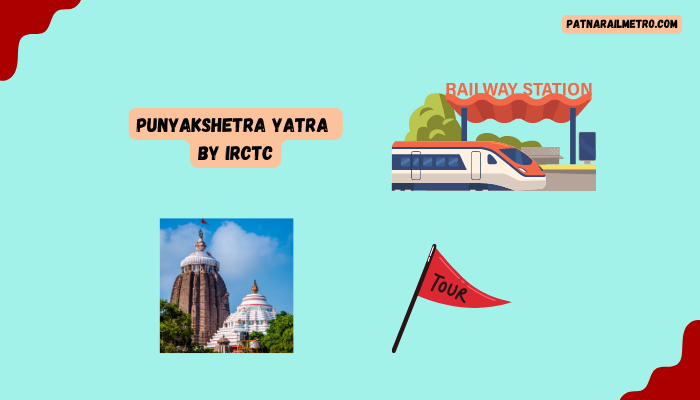 The tour package offers travellers the opportunity to explore these historical locations at an affordable cost. During the five days and four nights long trip, they can immerse themselves in the beauty of the grand monuments and enriching spiritual environment. 
Punya Kshetra Yatra-Overview:
Duration: 7 Nights / 8 Days
Package Code: SCZBG01
Origin: Secunderabad
Destination: Ayodhta / Gaya / Konark / Pragyaraj / Puri / Varanasi
Date Of Journey: 18th March 2023
No. seats: 656 ( SL: 432, 3AC: 180, 2AC: 44)
Boarding / Deboarding Stations: Secunderabad, Kazipet, Khammam, Vijayawada, Eluru, Rajahmundry, Samalkot, Visakhapatnam & Vizianagaram
IRCTC Ltd. is proud to introduce its latest package – Punya Kshetra Yatra: Puri – Kashi – Ayodhya. This tour will be provided by Bharat Gaurav Tourists train, allowing travellers to choose between 2AC, 3AC and SL classes.
Over eight days, the package will take travellers to six destinations, showcasing important pilgrimage and heritage sites of India.
Beginning with the city of Puri, travellers will visit iconic locations such as Konark and Gaya before arriving at Varanasi. The fourth stop of the package is the city of Ayodhya, from where travellers will proceed to Prayagraj. 
The final three locations – Puri, Kashi and Prayagraj – represent the sacred cities of India. By offering this unique and enriching experience, IRCTC Ltd. aims to bridge the gap between spiritual fulfilment and the experience of a lifetime. 
So, if you want to discover and explore India's iconic pilgrimage sites, IRCTC Ltd. is pleased to offer the Punya Kshetra Yatra: Puri – Kashi – Ayodhya package. With its world-class services, this tour will create everlasting memories you can cherish for a lifetime.
Punya Kshetra Yatra-Tour Price:
IRCTC has put together some excellent tour packages at different prices. The per-person price, inclusive of GST, is provided below. 
For single sharing, the price is Rs. 15300/ – and for double/triple sharing, it is Rs. 13955/ -. For children aged 5-11 years, the price is Rs. 13060/ -.
For single sharing, the price is Rs. 24085/ – and for double/triple sharing, it is Rs. 22510/ -. For children aged 5-11 years, the price is Rs. 21460/ -.
For single sharing, the price is Rs. 31510/ – and for double/triple sharing, it is Rs. 29615/ -. For children aged 5-11 years, the price is Rs. 28360/ -.
Note: Indian Railways is dedicated to promoting rail tourism through the Bharat Gaurav Train scheme. A concession of approximately 33% is offered on all applicable rail fares to support this effort. This discounted rate is inclusive of all taxes and fees.
Destinations And Visits Covered:
Puri:

Lord Jagannath Temple.

Konark:

Sun Temple & Beach.

Gaya:

Vishnu Pada Temple.

Varanasi:

Kashi Vishwanath Temple & Corridor, Kashi Vishalakshi, Annapurna Devi temple and Evening Ganga Aarti.

Ayodhya:

Ram Janma Bhoomi, Hanumangarhi and Aarati at Sarayu River.

Pragyaraj:

Triveni Sangam, Hanuman Mandir and Shankar Viman Mandapam.
Note: The final seating plan for the tour will be confirmed 7 days before the date of departure. Please note that a lower berth in advance cannot be guaranteed.
Everyone travelling on this tour must carry a valid COVID-19 vaccination certificate both as a hard copy and on their mobile device throughout the time. Without a vaccination certificate, no one will be permitted to take part in temple darshans and sightseeing at monuments.
Timewise Tour Itinerary:
Day 1: A departure from Secunderabad and boarding of passengers in Kazipet, Khammam, Vijayawada, Eluru, and Rajahmundry takes place. 
Day 2: Passengers board Visakhapatnam, transfer to Puri and check in to hotels. Visitors can also visit Lord Jagannath Temple, have dinner and spend the night in Puri. 
Day 3: They visit the world-famous Sun Temple at Konark and return to Maltipatpur before continuing to Gaya via BBS – CTC – BHC – BLS – TATA. 
Day 4: Arrival in Gaya with a visit to Vishnu Pada Temple and Pinda Pradanam. 
Day 5: After arrival in Varanasi, visitors go to Sarnath, check in to hotels, and visit Kashi Vishwanath Temple, Kashi Vishalakshi, and Annapurna Devi Temple. In the evening, they witness Ganga Aarati before spending the night in Varanasi. 
Day 6: Visitors board the train from Varanasi to Ayodhya, visit Ram Janma Bhoomi, Hanumangarhi, and witness evening Aarati at Sarayu River. 
Day 7: They arrive in Prayagraj and visit Triveni Sangam, Hanuman Mandir and Shankar Viman Mandapam before boarding the train for the return journey via KTE – BSP – R. 
Day 8: Passengers disembark in Vijayanagaram, Visakhapatnam, Samalkot, Rajahmundry, Eluru, Vijayawada, Khammam, Kazipet, and Secunderabad.
Note: The above itinerary is only provisional and may be adjusted to ensure the journey progresses swiftly and efficiently. Ultimately, the trip times will be determined by the sequence of trains assigned by the railway authority.
Package Inclusions:
1. Train Journey:
Travellers can select from a range of options when travelling on the train. For those opting for Economy, a Sleeper Class ticket will be included in the package. Meanwhile, those choosing Standard can benefit from a 3AC train journey, and the Comfort package consists of a 2AC trip.
2. Night Stay:
Depending on the selected package, guests will have the chance to spend the night in budget hotels. For example, economy and Standard offer non-AC rooms with twin or triple sharing. Those opting for Comfort can stay in AC rooms with twin or triple sharing.
3. Wash & Change:
The economy package features non-AC rooms with multi-sharing (maximum 4-5 pax per room). In addition, standard and Comfort offer non-AC rooms with twin or triple sharing, while Comfort also has AC rooms with twin or triple sharing.
4. Transportation:
Non-AC vehicle is included in the Economy and Standard packages. However, comfort travellers will benefit from an AC vehicle.
5. Other Services:
All meals are provided in the package – breakfast, lunch, dinner, and morning tea. Plus, guests will benefit from a tour escort and travel insurance. Security is also on the train, and an IRCTC Tour Manager is for assistance. All applicable taxes are included.
Package Exclusions:
The package does not include entrance fees for monuments, boating, or adventure sports.

Meals will be preset, and you cannot choose from various options.

If you want to request room service, you must pay the extra charges.

It will not include sightseeing costs, entrance to places of interest, or local guides in the itinerary.

You will have to pay any tips to drivers, waitpersons, guides, and representatives and a fuel surcharge.

Personal expenses such as laundry, wine, mineral water, or food and drinks not included in the menu will not be covered.

Lastly, nothing else not explicitly mentioned in the inclusions is included in the package.
Cancellation Policy:
The Cancellation Policy offers flexible and convenient options for customers to modify their bookings.
For any cancellations made up to 15 days before the commencement of the trip, a flat rate of Rs.250/- per passenger will be charged.

When the cancellation is made 8 – 14 days before the commencement of the trip, the charges incurred would be 25% of the total package cost.

Cancellation between 4-7 days before the trip will result in 50% of the total package cost as cancellation fees.

For cancellations made less than 4 days before the start of the trip, 100% of the package cost will be charged.
Plans can change unexpectedly, so flexible cancellation policies are offered to customers.
Terms And Conditions:
The following terms and conditions must be followed before and during your stay. 
All Guests must carry a valid Voter ID or Aadhar Card and proof of having received the final dose of the Covid-19 vaccine.

Please note that some hotels on this tour may need a lift facility. 

The itinerary of this tour is subject to change or modification to ensure that it runs as smoothly and promptly as possible. The final timing of the time will depend on the order received from the railway authorities.

It is mandatory to meet a certain number of passengers booked in order for the Bharat Gaurav Tourist Train to commence operation.

IRCTC holds the right to alter the itinerary due to unavoidable circumstances, and shall not be liable for any natural calamities, strikes, cancellations, delays, or other similar events during the tour period. 

Lastly, it is the responsibility of the passengers to get a complete medical check-up before boarding the train to ensure they are fit to travel. IRCTC shall not be responsible for any incidents such as restlessness, anxiety, asthmatic breathing issues, other physical ailments, or any natural death during the tour.
Do's And Don'ts:
Do's:
Installation & use of the Aarogya Setu App by all (Staff & tourists).

Wear a face mask and hand gloves.

Frequent hand washing with soap (for at least 40 – 60 seconds), even when hands are not visibly dirty.

Use of alcohol–based hand sanitisers (for at least 20 seconds) can be made wherever feasible.

The luggage should be disinfected at the reception/boarding point.

COVID–19 full vaccination certificate is compulsory for temple darshan and sightseeing of monuments.

All passengers should carry vaccination certificates in hard copy or on the phone during the duration of the tour.

Avoid physical contact while greeting each other.
Don'ts:
Do not touch your eyes, nose and mouth with your hands.

Do not use other tourists' phones, water bottles, umbrellas etc.

Do not loiter and crowd in train corridors, gates, cabins, hotels etc.

Do not spit in trains, tourist places, buses, hotels etc.

Do not touch statues/idols / holy books etc., in religious / tourist places.

Do not make physical offerings inside the religious place, like Prasad/distribution or sprinkling of holy water.
Tour Manager:
The Tour Manager is your guide on this journey. Their knowledge must be followed carefully to ensure a safe and successful experience. Pay close attention to the advice of your Tour Manager and enjoy your time on tour.
During The Train Journey:
During a train journey, one must take great caution and adhere to specific regulations for their safety. Pulling the chain while travelling on the train is a punishable offence, so it should be avoided at all costs. Furthermore, it is also important to use water sparingly. One should use the provided foot-over bridges when crossing railway tracks. 
Attire:
Regarding attire, one should always dress appropriately according to the locals/visitors of the places being visited. Moreover, when visiting holy shrines, one may be asked to remove their shoes as part of the sanctity and decorum. 
Decorum:
As such, it is of utmost importance to be courteous to other passengers on the train and respect the locals/visitors at the various shrines and places being visited. Any indecent language is strongly discouraged, and conflicts should immediately be communicated to the Tour Manager.
Furthermore, passengers should travel in groups and strictly follow the timing schedule outlined by the Tour Manager. Photography may also be restricted depending on the place being visited, so one should heed the local regulations. IRCTC reserves the right to remove any passenger from the tour in case of any misconduct or arguments.
Sightseeing
:
While sightseeing, it is possible for the itinerary to change due to certain unforeseen circumstances. In such situations, passengers are expected to obey the instructions of the Tour Manager and abide by the education they provide. As a tour operator, IRCTC is not liable for any mishap or accident caused due to the passenger's negligence.
Safety And Security:
To ensure the safety and security of every passenger, it is essential to always be mindful of personal belongings during the tour. A Photo Identity Card (such as Voter's ID, Passport, PAN Card, etc.) should always be carried along. Furthermore, all passengers should leave their contact details with the Tour Manager in case of an emergency.
Conclusion:
Thus, Bharat Gaurav is an initiative of the Indian Railway Catering and Tourism Corporation to boost domestic tourism by providing unique and economical travel options to the people. These theme-based circuit trains will offer a wholesome experience of India's different cultures and traditions and inspire national pride in the citizens. 
Moreover, this initiative serves as an example of how Indian Railways is modernising its services to keep up with the ever-changing needs of its customers. This flagging-off ceremony for the first train of the series is an indication of better times to come. Currently, several such trips are planned that take you through different destinations across the country.
So, get ready to explore India's vibrant culture, glorious heritage and myriad wonders through these theme-based circuits and make this an unforgettable journey.