Moolchand Metro Station, located between Lajpat Nagar and Kailash Colony in the capital of India – Delhi, is a key station on the Violet Line of the Delhi Metro. On October 3, 2010, this metro station opened its doors to the public, together with the launch of the Commonwealth Games.
Moolchand Metro Station enables quick and easy access to various parts of the metropolis and is home to several schools like Kendriya Vidyalaya and Frank Anthony. Thus, it is a hub for commuters travelling long distances and students seeking education.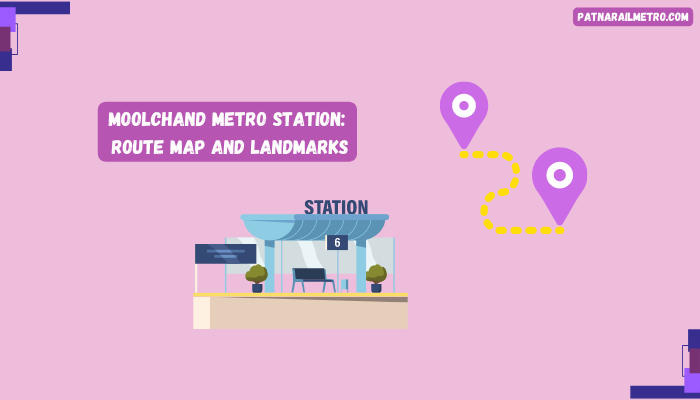 Delhi, home to various iconic monuments and stunning architecture, offers a unique experience. The Mughal-era Red Fort, the vast Jama Masjid Mosque that can accommodate up to 25,000 people in its courtyard, the great shopping malls, and the delicious street food entice visitors with an amalgam of culture, sights, and flavors.
As one of the oldest cities in India, Delhi offers visitors and locals a rich cultural heritage. Moolchand Metro Station allows visitors to travel across the city easily, making it an integral part of the metropolis. Whether for business, pleasure, or simply the adventure of experiencing Delhi's past, present, and future, Moolchand Metro Station is a vital piece of the puzzle.
Moolchand Metro Station-More Details:
The Moolchand Metro Station on the Violet Line of the Delhi Metro Rail Corporation is a bustling hub of activity each day. Thousands of passengers utilize this metro station to reach their desired destinations through this line or the five interchanges with other lines spanning 392 km across 286 stations.
The Violet Line is the specific line that departs from and ends at the Moolchand Metro Station, stretching 46.63 km (28.97 miles) across 34 stations. Passengers traveling from or to the station can do so from either of the two platforms provided. Platform 1 has its first train leaving at 6.13 am and its last train departing at 11.10 pm.
Meanwhile, Platform 2 begins with a train going for Kashmere Gate Metro Station at 5.21 am, and its previous train leaves for the same station at 11.20 pm. Those looking for other means of transport have plenty of options, such as the nearby rickshaws and buses, connecting them to various popular destinations.
Places like Guru Nanak Market, Moolchand Medcity Hospital, Defence Colony, Andrews Ganj, and The Japan Foundation can all be reached within walking distance. The Moolchand Metro Station is a convenient and easily accessible location in Delhi.
Moolchand Metro Station-At A Glance:
Inaugurated: October 3, 2010
Location: Lala Lajpat Rai Marg, Vikram Vihar, Lajpat Nagar IV, Lajpat Nagar, New Delhi, Delhi 110048
Coordinates: 28.564000°N and 77.234096°E
No. of Tracks: 2
No. of Platforms: 2 (Side Platforms)
Levels: Ground/Street Level, L1/Mezzanine, and L2
Structure Type: Elevated
Electrified: 25 kV 50 Hz AC through overhead catenary
Station Code: MLCD
Owned By: Delhi Metro
Operated By: Delhi Metro Rail Corporation Limited (DMRC)
Previous Station: Lajpat Nagar Metro Station
Next Station: Kailash Colony Metro Station
Entry/Exit Gate — Gate 1: Opening Towards — Rajkumari Amrit Kaur Nursing, Kendriya Vidyalaya Andrews Ganj, Vikram Hotel
Moolchand Metro Station-Location:
Lajpat Nagar is the metro station preceding Moolchand Metro Station, while Kailash Colony is the following station.
The physical address of Moolchand Metro Station is Lala Lajpat Rai Marg, Vikram Vihar, Lajpat Nagar IV, and Lajpat Nagar, New Delhi, Delhi 110048. For digital map enthusiasts, the coordinates of this metro station are 28.564000°N and 77.234096°E.
Moolchand Metro Station-Facilities:
The Moolchand Metro Station is one of the finest of its kind, with state-of-the-art facilities and services. To ensure passengers have a pleasant and secure journey, various features make it so. 
To start, there are Metro Card vending machines that help you buy and load your card quickly and conveniently.

Additionally, the station is well equipped to handle passengers with disabilities, providing wheelchair access and elevators. 

There are also parking facilities for cars and motorbikes and two lifts for those needing an alternative route. 

Three escalators facilitate efficient transport within the station, making travel between the levels easy. 

Furthermore, ATMs are from some top banks, including State Bank of India, Punjab National Bank, HDFC Bank and Ratnakar Bank. 

In emergencies, there is a First Aid Room with qualified staff and doctors who can provide timely assistance.

Passengers can take a break between their journeys as clean and comfortable restrooms are available.

For security, CCTV cameras have been installed in all station areas to monitor and observe passengers. 

For added convenience, there is drinking water accessible throughout the premises. 
Overall, the Moolchand Metro Station has various features and services to make the journey a pleasant experience for all its users.
Moolchand Metro Station-Route Map:
The Violet Line of the Delhi Metro (Line 6) has revolutionized how we travel around Delhi, Faridabad, and Ballabhgarh. It begins at the Kashmere Gate station in New Delhi, winding through Faridabad before reaching the Raja Nahar Singh station in Ballabhgarh.
It serves as an alternative route to the famous Yellow Line and is considered a Heritage Line since it is the only one linking these cities. This is undoubtedly a blessing to those living in South and Central Delhi, who are now within easy reach of famous landmarks, commercial districts, and major shopping hubs.
The 34 stations along the route of the Violet Line offer great convenience to those looking for a fast, reliable, and enjoyable travel experience. Noteworthy of these is Moolchand Metro Station, which is the 13th station on the Violet Line route. It is a bustling transit hub in Delhi, providing access to significant spots and businesses, including shops and restaurants.
Moolchand Metro Station-Distance To Landmarks:
Located in South Delhi, Moolchand Metro Station offers visitors a diverse range of landmarks to explore. From spiritual locations to leisure places, one can enjoy an exciting array of activities and areas in this bustling metropolitan city.
The ISKCON Temple is a religious experience that stands only 2.7 km away from the Moolchand Metro Station. The spiritual vibes are overwhelming here, and it has a soothing energy that one must experience.

The Lodhi Gardens, at a 5.4 km distance, is a perfect destination for nature lovers to take a stroll and admire the stunning landscape of gardens and architecture. You can have a wonderful time admiring the vivid colors of the foliage or find some peace at the lake in the center.

Visiting India Gate, 7.1 km from the Moolchand Metro Station, is a must-see destination in Delhi. The structure was designed to remember the soldiers who died in World War 1. So pay your respects and witness the magnificence of the architecture here.

Another unmissable destination is the Qutab Minar, located 8.6 km distance. This iconic 73-meter tower is renowned for its distinctive and exquisite carvings and is a sought-after landmark. 

At a 4.3 km distance, the Lotus Temple is one of the more contemporary tourist destinations. It stands out due to its spectacular design resembling a lotus flower and also houses a beautiful library.

Last but not least, The Supreme Court of India at 6.6 km from Moolchand Metro Station. Its enormous marble dome structure is iconic and will leave you in awe of its beauty and significance.
Moolchand Metro Station thus provides the perfect location for exploring and appreciating Delhi's fascinating sights and landmarks.
Moolchand Metro Station-Nearby Restaurants: 
Moolchand Metro Station is a prime destination for foodies in Delhi. Several restaurants and cafes in the vicinity have something for everyone's tastes. So whether you're looking for a leisurely lunch with family or a quick bite to grab on the go, there is no shortage of choices. 
You could visit Park Inn by Radisson New Delhi Lajpat Nagar for a hearty meal. Located just 65 meters away, the place serves up some mouth-watering delicacies that will surely hit the spot. 

Moolchand Parantha is located just a bit farther at 76 meters away. Its famous paranthas and parmesan cheese dishes make it a great spot to stop for some comforting flavors. 

Anticlock Restaurant is also close to 94 meters, and its innovative twists on classic dishes make it an excellent spot for some exciting fare. 

At 400 meters away is Al Lazeez, which is renowned for its North Indian fare. This place has all your traditional favorites, such as kebabs and biryanis, to make you leave happy. 

And lastly, 1 Oak at a distance of 1 km has something for everyone. From delicious tikkas to traditional South Indian curries, this is the spot for a fun dining experience. 
No matter your tastes, there is a place near Moolchand Metro Station that will satisfy your appetite. So take your pick from the variety of eateries and have a delicious time!
Moolchand Metro Station-Nearby Residential Complexes:
Suppose you are looking for a residential property near Moolchand Metro Station in Delhi. In that case, the list below will help you find the best options for a comfortable home or investing in a residential project. 
Apex D Rio is a residential complex offering 292 units in two towers located 23.9 km from Moolchand Metro Station. You can choose between 3BHK and 4BHK apartments, slated to be ready for possession by December 1, 2023. Prices start at INR 6731 per square foot.

Another residential property situated 23.1 km away from Moolchand Metro Station is Metro Suites Glitz. It comprises 141 apartments, with a possession date of December 1, 2022. The cost of these apartments ranges between INR 96 lakh to INR 1.60 Cr.

M3M Capital is a sprawling residential project comprising 640 apartments in 5 towers and 27.7 km from the Metro Station. It is perfect for those who are looking for modern living. There are 2, 3, and 4 BHK flats available at prices ranging between INR 7257 to INR 49668 per square foot.

The last residential property on the list is Puri The Aravallis. Spread across 10 acres, this project has two towers with 200 units. The possession date is slated to be August 1, 2024. Located 29.7 km from Moolchand Metro Station, prices range between INR 9091 and INR 17600 per square foot.
Moolchand Metro Station-Nearby Commercial Complexes:
An array of commercial complexes for sale or rent surrounds the Moolchand metro station. Different locations vary in rates depending on how close to the metro station they are. Various opportunities await the interested investor, from warehouses to offices and retail shops to any other business enterprise. Those looking for the ideal premises to set up shop must look at the numerous properties near the Moolchand metro station.
Moolchand Metro Station-Parking Facility:
Parking your vehicle at the Delhi Metro Rail Corporation (DMRC) parking space is hassle-free. The parking area has been specially designated and maintained to accommodate four-wheelers, two-wheelers, and bicycles. It is open from 6 am to midnight, seven days a week. Rates vary according to the duration of the parking. The charges are designed to suit everyone's pocket. 
So if you're looking for a safe and reliable place to park your vehicle, the DMRC parking area is a great option. Its convenient timing and pocket-friendly charges make it the perfect place for your car. In addition, with a secure parking lot, you don't have to worry about the safety of your car and can enjoy a stress-free experience.
Conclusion:
The bustling city of Delhi is notorious for its horrendous traffic. Rush hours and weekends can be particularly challenging when navigating through congested streets. Fortunately, there is an oasis amidst the traffic chaos; Moolchand Metro Station. 
Moolchand Metro Station provides hundreds of commuters with a fast and efficient way to reach their destination on time. Its accessible transportation options include buses, yellow and green taxis, and auto rickshaws. You can also find plenty of exciting tourist destinations, such as museums, shopping centers, and business areas within a few stops away. 
In conclusion, Moolchand Metro Station is a fantastic alternative to battling heavy city traffic. It is not only quick and economical, but it is also convenient, making it an ideal choice when exploring the bustling streets of Delhi.