The Delhi Metro is an essential part of the infrastructure of India's capital city, connecting many satellite cities, like Faridabad, Ghaziabad, Noida, Greater Noida and Gurgaon. Public transportation, like the metro, is increasingly encouraged as the city struggles to deal with growing air pollution and other environmental concerns.
Delhi's metro is efficient and a much cheaper option for city travel, helping to save time and money. It transports an astonishing 2700 passengers daily and is considered a dependable form of transportation.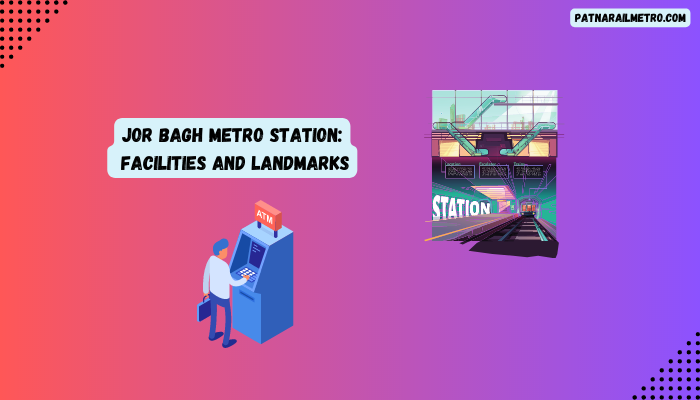 One of the important stations of Delhi's metro rail is Jor Bagh. Located on Aurobindo Marg, it marks the northernmost point of the Yellow Line metro route, which is approximately 49.31 kilometres long and boasts 37 metro stations, partly running aboveground and partially underground.
Here, one can find numerous points of interest, such as famous attractions and nearby facilities. This blog post will explore the features of Jor Bagh and other essential details, like a map of the route and other landmarks nearby.
Jor Bagh Metro Station-At A Glance:
Station Structure: Underground, Double Tracks
Line: Yellow Line
Platforms: Platform 1- HUDA City Centre; Platform 2- Samaypur Badli
Station Code: JB
Gates: Gate 1: Opening towards Fire Station Safdarjung; Gate 2: Rajiv Gandhi Bhawan; Gate 3: Safdarjung Airport office complex
Opened on: September 3, 2010
Owned by: Delhi Metro
Operated by: Delhi Metro Rail Corporation (DMRC)
Preceding Metro Station: Lok Kalyan Marg towards Samaypur Badli
Following Metro Station: Dilli Haat – INA towards HUDA City Centre
Contact Info: Email:

helpline@dmrc.org

; Phone: 8800793138
Jor Bagh Metro Station-Location:
Located in Jor Bagh, New Delhi, the station's address is Sri Aurobindo Marg, Safdarjung Airport Area, with a pin code of 110003. Its latitude and longitude coordinates are 28.5860802°N 77.2120368°E. Additionally, the metro station is situated near several historical sites in Delhi.
Jor Bagh Metro Station-Design And Structure:
The hustle and bustle of this metro station can be heard echoing throughout. Upon arrival, one will be welcomed by a ground level with an entrance and exit point. Further, this station offers two platform levels. On platform number one, commuters will find a southbound route to HUDA City Centre, while platform two takes one on a northbound journey to Samaypur Badli. 
Amidst the steady buzz of the crowd, one can locate the station agent and a ticket/token counter to cater to the travellers' needs. Adding to the convenience are various shops for additional purchases.
Most impressively, the station is large, tidy and well-managed. Plus, with thoughtful signage, visitors will find themselves in familiar territory in no time. All in all, it's a place well-equipped for the perfect metro ride!
Jor Bagh Metro Station-Route And Timings:
The Yellow Line metro route, which stops at the Jor Bagh station, travels from North to South Delhi. 
It is available from 5:30 a.m. to 11:30 p.m. daily, but times may change due to maintenance or other unforeseen circumstances. 
For commuters' convenience, the fare for rides on the Yellow Line metro route fluctuates from weekdays to weekends. 
So, one should always be informed of the current timings and fares to ensure a safe and cost-effective journey.
Jor Bagh Metro Station-Distance To Popular Places:
Jor Bagh Metro Station to AIIMS:
Jor Bagh metro station is very convenient for accessing the All India Institute of Medical Sciences (AIIMS) in Delhi. It is only 2 km away, and you can take a direct train towards HUDA City Centre from platform 1. This ride is only 2 stops, making it the most suitable option.
Jor Bagh Metro Station to Delhi Aerocity:
For Delhi Aerocity, one must take the train from this metro station towards Samaypur Badli and change trains at New Delhi station to board the train towards Dwarka Sector 21 on the Orange Line. The distance between these two places is around 20 km, making 9 stops.
Jor Bagh Metro Station to Airport:
The journey from Jor Bagh to the Indira Gandhi International Airport requires the train to be taken towards Samaypur Badli from this station and get down at New Delhi. Take the train towards Dwarka Sector 21 on the Orange Line to reach your destination. It is 21 km long, taking around 10 stops.
Jor Bagh Metro Station to Karol Bagh:
The train to reach Karol Bagh from Jor Bagh must be changed at Rajiv Chowk to take the train towards Dwarka Sector 21 on the Blue Line. It is 8 stops away, and the journey can take approximately 20-25 minutes.
Jor Bagh Metro Station to Hauz Khas:
For travelling to Hauz Khas from Jor Bagh, you must take the train towards HUDA City Centre from platform 1. It is only 5 kilometres away with four stops in between. This ride takes about 10 minutes.
Jor Bagh Metro Station-Facilities:
Jor Bagh Metro Station, located in Delhi, is known for its many facilities. The station offers several amenities that make travel safe and convenient. 
One of the essential facilities available is ATM services. This is an added benefit as commuters can withdraw cash elsewhere.

Easy accessibility for differently-abled people has also been ensured in the station. Ramps and designated spaces are present for those who require special assistance.

Furthermore, toilets and first aid rooms are provided to all passengers. In addition, there are escalators and lifts for those unable to use the stairs.

Lastly, CCTV cameras have been installed throughout the station to ensure the security of all commuters.
The Jor Bagh Metro Station in Delhi is thus a popular choice among travellers due to its wide range of facilities and safety measures.
Jor Bagh Metro Station-Distance To Landmarks:
Situated in Delhi, the Jor Bagh metro station is a critical junction for various travellers from far and near. Connecting several historical sites and landmarks, this station is popular amongst tourists and locals. 
Just a mere 20 metres away lies the renowned Rajiv Gandhi Bhawan. Established to mark the late prime minister's memory, it is a solid testament to his contributions to India. 

The Safdarjung tomb, situated a stone's throw away at 350 metres, is a captivating piece of architecture that tourists enjoy exploring.

A little farther away, a mere 800 metres away, to be precise, is the well-known Lodhi Garden. Spread over 90 acres, and this green heaven gives people an unparalleled outdoor experience amid majestic surroundings. 

Similarly, Laxmi Bai Nagar Market is a top-rated shopping destination, at a distance of 1 garaj Park, 1.5 km from Jor Bagh station and Shri Mahadev temple, 1.1 km away, is also frequented by tourists in search of a great spiritual experience. 
Therefore, Jor Bagh Metro Station in Delhi is surrounded by several historical sites and places of interest that appeal to many visitors.
Jor Bagh Metro Station-Nearby Restaurants:
Located near the bustling streets of Delhi lies Jor Bagh Metro Station, home to many restaurants only a few minutes away. 
If you're looking for something delicious and flavourful, Sagar's Kitchen is a must-try, just a stone's throw away from the station at 850 m. They have an array of north and south Indian dishes to satisfy any craving.

Alternatively, you could visit Naanzeria, a mere 850 m from the metro station. Here, you will find classic Indian curries, Mughlai specialities and more.

If you're up for something light, head to Garden Chef. With 1.0 km between it and the metro station, it is worth the journey. Garden Chef specialises in vegetarian dishes like Dosa, Idli and Pakoras, which will surely make your taste buds dance joyfully.

For a dose of something continental, The Curry Pot awaits you. Just 1.1 km from the metro station, The Curry Pot offers classic curry dishes from across the globe, like Butter Chicken and Biryani. 

Lastly, take a short trip to Ping's Cafe Orient. Found 1.9 km from the station, it is known for its variety of delicious oriental and European fare. From pasta to Dim sum and Thai curries, they have it all! 
Jor Bagh Metro Station-Nearby Residential Properties:
Jor Bagh Metro Station in Delhi is one of the top choices for those seeking residential properties nearby. Its location, connectivity, and availability of amenities have made it a popular area for potential home buyers.
A wide range of residential properties can be found here, from 2 BHK to 6 BHK apartments, for sale and rent. The average price per square foot ranges from Rs. 8,000 – Rs. 20,000 and beyond, making it a good investment for those willing to put in the effort.
Nearby residential buildings include Vaibhav Shivi, which is 1.1 km away, Gujrat Apartment at 1.2 km, Gauri Apartment at 1.7 km, and Block 14 Lodhi Colony, also 1.7 km away. Home buyers can easily find the perfect residence with all these options available.
Jor Bagh Metro Station-Nearby Commercial Complexes:
Located in Delhi, Jor Bagh Metro Station is a bustling station in the city's bustling centre. Situated near numerous commercial complexes, many conveniences are nearby for passengers and commuters.
One such complex is Padma Bazaar, located 650 meters away from the station. Offering the best of merchandise, visitors and commuters will surely be pleased with its range of products.

A bit further away, at 950 metres, is PVENTS (P&E). This complex offers plenty of entertainment opportunities, ensuring that there's never a dull moment in this city.

The Tyagaraj Sports Complex is also close, just 1.8 km from Jor Bagh Metro Station. This complex is ideal for sports fans with its impressive range of sporting activities.

Finally, the Air Force Auditorium, at 1.6 km from the station, is excellent for those looking to attend cultural events or concerts. The range of options available to passengers at the Jor Bagh Metro Station will surely please all.
Jor Bagh Metro Station-Parking Facility:
Jor Bagh metro station in Delhi is one of the city's most frequently used transportation hubs. But, unfortunately, this station has a setback- the absence of a parking facility. 
Safety Guidelines For Delhi Metro:
Delhi Metro is a safe and convenient way of transportation in Delhi and its adjoining areas. However, a few tips and rules should be followed to make the journey safer:
Valid tokens or smart cards are a must to enter the station, and in case of not having either, a fine of Rs.50/- will be imposed. 

No smoking, drinking or eating is allowed inside station premises, trains and metro areas; the fine is Rs.200/-. 

A minimum charge of Rs.100/- for buying a smart card has to be done, of which Rs.50/- is non-refundable, and the rest is fare. 

Carrying flammable materials, firearms and explosives is strictly prohibited, and it can result in a four-year imprisonment and Rs.5000/- fine. 

Pets are also prohibited in the metro; the maximum baggage weight should not exceed 15kg. 

Moreover, seats are reserved for women, children and the elderly, so one should always offer their seat in need. 
Delhi Metro passengers can ensure their safe and comfortable journey by following safety tips and rules.
Conclusion:
The Jor Bagh Metro Station in Delhi is among the best-structured and well-equipped stations. Not only does it serve regular commuters, but it also entices tourists to visit the city to explore the area and its attractions. As part of the 49.31 km long Yellow Line metro route, the station is partially elevated and has 37 metro stations. It is the farthest station on Aurobindo Marg in the city's north. 
For people interested in buying or renting a residential space, the vicinity has a lot of homes that come in sizes ranging from 2 BHK to 6 BHK, with an average price per square foot ranging between Rs. 8,000 to Rs. 20,000. In addition, the metro route has a lot of proposed developments in the area to ease further commuting in the area.
Aside from this, the Jor Bagh Metro Station also offers visitors various amenities and facilities such as shops, restaurants and entertainment outlets. In addition, the surrounding area also has multiple commercial and residential complexes to add convenience. In line with this, the Delhi Metro is making the travelling experience faster and smoother with the constant developments around the metro station.