Metro is the fastest and most affordable rail in the country. It was introduced by E Sreedharan in India, and his first metro was established in Kolkata on 24th October 1984, this was India's first metro, Distance of 3.4 km.
Metro is a mass rapid transit system (MRTS), and Delhi has the busiest metro route among the other cities; it is the second metro rail that was introduced after Kolkata. Delhi metro is the most popular metro in the world because of its world-class facilities. It has 10 color-coded lines with interchanging lines between them, which makes people living in Delhi commute more easily from one place to another. Metro gives great connectivity throughout the city, making it easy for people to relocate to their places.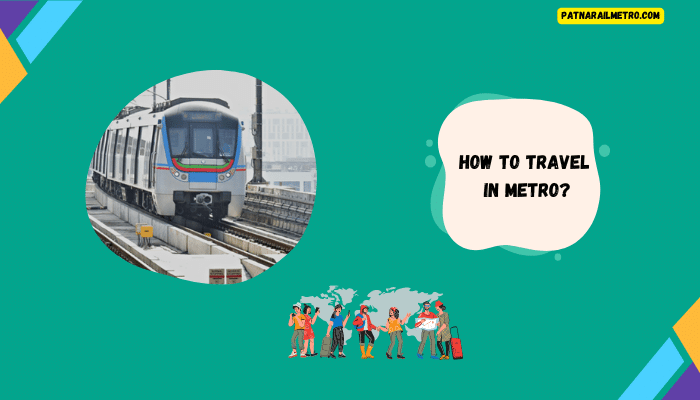 In this article, we will discuss how to travel in a metro in India so that you can understand it better and easily travel.
Why Should You Be Aware Of Metro Timing And Operative Authorities?
Metro Timing:
Metro can be very time-consuming public transport which can take you to your destination on time without any problem, only when you are familiar with the metro timings. Therefore, you should also be aware of the metro timings as different cities with the metro system have various operative times. So passengers should know the timings to reach their destination on time.
Metro Operative Authorities:
Every metro network in cities of India has its operative authorities, for example, Delhi Metro is operated by the Delhi Metro Rail Corporation (DMRC), also for Bangalore BMRC. These metro states authorities have provided numerous benefits for the passengers who travel via the metro.
Metro stations are all well maintained, with technology blooming inside the stations to make it easier for the commuters ie. token vending machines to add value machines to elevators and escalators everything is inside a metro station.
Metro stations are designed in such a way that it has both underground and elevated features, it is accessible to disabled people as they are given assistance as well as braille buttons present inside the lifts, and wheelchair facilities will be provided.
Metro is also considered environmentally friendly as it helps in reducing air pollution and produces less sound/noise pollution. Some stations in India work on solar panels to run the metro ( ie. Kochi Metro ) metro has also helped in controlling road congestion like Traffic jams and road rages.
However, many metro plans in different cities of India are yet to come as some metro rail projects have been proposed and some are under construction which will soon be opened to its citizens on a large scale.
Benefits/Facilities Metro Provides To Its Citizens:
Here we gonna discuss the benefits and features that are provided in the metro to give the riders a comfortable journey:
Metro trains as air-conditioned, giving a world-class facility to its passengers
Cost-effective– it is a very cost-effective mode of public transport, making it easier and less spending on public transport so far, that is why more and more people prefer to travel via the metro.
Environment Friendly– the metro train has been proven Eco-Friendly because it is pollution free, be it noise or air, reduces vehicular movements, and prevents road congestion.
Quick mode of public transportation– it is considered that the metro train is the fastest mode of transport, as we discussed above, ie. It reduces the time spent traveling from one place to another because of the high speed of the metro train.
Safety– it is one of the main concerns for every passenger traveling by using public transport. Still, in the case of the metro train, it is one of the safest public transport as it provides safety you can contact customer care, and special carriages are allocated to the elderly and handicapped people, making it safer travel for these people who are old and disabled, even there is special seat provided for pregnant ladies as well as a single coach of the metro is dedicated for the women riders only. The metro rails and stations are under high security and Hi-tech CCTV surveillance.
Hub Stations– the stations of the metro rail are designed in such a way that it is available near hubs for shopping, commercial complexes, apartments, offices, schools/colleges, hospitals, and so on so that the passengers can access these places very easily by utilizing their travel through metro trains.
TVM/AVM Machines– every metro station has a ticket or card vending machine where passengers can easily go and take tokens or cards from these machines automatically on their own.
Metro cards– Metro Cards are the most beneficial system introduced by the authorities as the passenger does not have to wait in queues for tickets because they have a card that can easily scan and board the train, they must always check their metro card balance to if it is less than they should recharge it either online or through the TVM/AVM machines. It also gives discounts on each trip as well.
Lifts and escalators– these are present in every metro station, whether it's underground or over the ground.
Pollution reduction– nowadays the use of metro trains has increased therefore that is why the public has reduced the use of their vehicles such as four-wheelers and two-wheelers, this will effectively reduce pollution levels in the city.
Therefore these are some benefits that all the passengers who travel through the metro daily enjoy, it is important to know these facilities because if you are traveling for the first time, then you might not be aware of these features so it is better to go through the above-mentioned facilities so that you can also be part of it. Metro is helping many people daily by giving them these facilities and benefits.
What Are The Do's And Don'ts Of Traveling A Metro?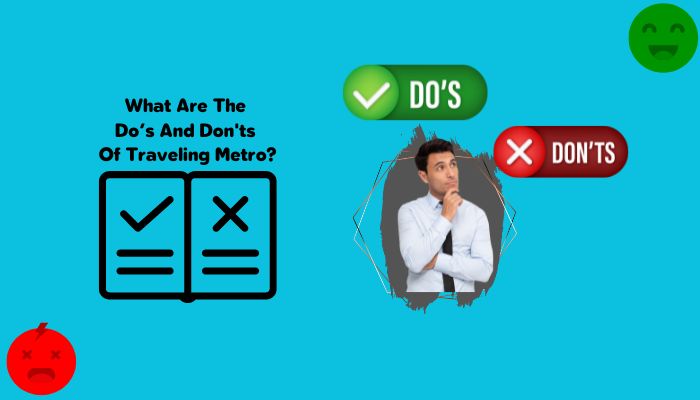 As we discussed above, the facilities and benefits that are provided to us by using the metro and how much we enjoy these above-mentioned benefits but do we know what the rules which are also provided by the Metro authorities are we should also highly maintain that so that we can have a safe and comfortable trip through the metro.
In this portion of the article, we will cover the Dos and Don'ts of commuting in a metro train which is applicable in every metro network city where the passengers need to follow the metro rules properly.
Here Are The 'DOs' of traveling In A Metro, Which Is Mentioned Below:
Travel with a proper ticket or smart card is the foremost necessity to travel via metro train, so make sure you possess any of the two things ie, a smart card or tokens with you before entering the metro station's platform, as it is difficult to enter the platform without any those items with you so make sure once you enter the station purchase your metro ticket or at least have an access of the metro smart card.
Always be in the queue during the peak/rush hours ie. mainly in the office hours of morning and evening, the peak hours occur, which is an obvious thing as everyday metro servers passengers in mass amounts. Therefore people often try to break the rules by dogging the queues or breaking the lines to get access to the tokens or sometimes they also push the other commuters to board or exit from the metro train. Still, such acts can cause injuries or nuisance among the other passengers who are already correctly standing in the queue, and that is how a rule gets broken. So make sure you do not make any of these mistakes. Hence it is better to be in the queue alongside others to get your job done easily and on time.
Always be patient while boarding the train, that is whenever the metro train reaches the station, and you are about to step out or board, make sure you wait for the passengers who are ahead of you to get down or board the metro train, as there is this saying that "Patience holds the key." If you are waiting outside the metro train and waiting for your entry, let the passengers inside the metro train exit before you barge in.
These are the Dos of traveling in a metro train if the passengers follow these above-mentioned rules, which are very easy to follow. Passengers should always regard the safety and security of themselves and other passengers.
These are the necessities that are required in every metro rail system.
Now we will learn about the constraints of traveling in the metro.
The Don'ts Of traveling On A Metro Train:
Just follow the instructions of the on-duty security guard, and things will be fine.
No smoking- smoking is strictly prohibited inside the metro train and station, as it can cause serious health problems not only to the person smoking but to other passengers as well, it would be great if you avoid smoking as it can cause you fine charges as well.
Do Not Litter: all the metro stations in India is kept very clean as they have provided two types of dustbins at your service ie. green for biodegradable wastes and blue bins for plastics wastes. Therefore we must keep our metro stations clean and neat.
No eatables- eating inside the metro is also not allowed as it can cause litter inside the metro train system.
Carrying minimum language is allowed.
And some items, such as knives, guns, or any weapons that threaten human life or others, are strictly prohibited.
Therefore, some serious Don'ts are strictly prohibited inside the metro train and stations. If you access any of these constraints, you might face serious charges by the metro authorities.
How To Travel In Metro Rail?
Now we will learn How to travel via the metro, as we discussed earlier, how the metro connects with the other prime parts of the city, and we should also know how to access the metro to reach our destination on time. If you are new, this is helpful for you to understand.
First, visit the metro station near your locality then the first step is to possess tokens or get a metro card.
Then go for the security check-in, which is mandatory in every metro station.
After the security check, go for the right platform from where it can take you toward your destination,
Maps of every route are present inside the platforms or even in trains, so see according to that.
When the train comes, follow the DOs and board the train with great ease, and you will get down to your desired station easily
These are the steps to travel in the metro, followed in every city in India, which consists of the metro. Follow these steps properly so that you can reach your place or location without facing any hurdles therefore, it is important to know all the Dos and don'ts to have a comfortable journey.
Conclusively, this article portrays the steps to travel in the metro if you are new to any of the metro network cities, then this article will help you, so make sure you go through every part of it.
We learned about the significance of a metro train and how it helped people in mass to travel from one place to another as metro connectivity covers the prime locations of a city. Metro these days is the most popular public transport as people now avoid traveling in private and public vehicles and reducing pollution along with traffic jams.
More metro connectivity will be coming soon, so stay tuned for all the updates on the new metro networks in India.
Frequently Asked Questions:
What is the procedure for buying a Metro Rail ticket?
To travel in Metro Rail, you can buy a ticket at the ticket counter or use a smart card. The smart card is a rechargeable card that can be used multiple times, whereas the ticket is for one-time use only. You can purchase a smart card at the ticket counter or from the automatic vending machines available at the station.
How do I know which Metro Rail route to take to reach my destination?
You can use the Metro Rail route map available at the stations or online to identify the route that goes to your destination. The route maps typically show the various stations and the different routes they are connected to. You can also ask the station staff for assistance in selecting the appropriate route.