Mumbai Metro is a Rapid Transit (MRT) System serving Mumbai, Maharashtra, India. The Mumbai Metropolitan Region Development Authority is responsible for maintaining the Mumbai Metro. Still, Maha Metro is also responsible for all the rail projects in Maharashtra except the Mumbai Metropolitan region.
As Mumbai also faces serious traffic issues so, to prevent this, Road Congestion Metro was introduced to its people so that they can have a peaceful journey to work, college, and so on.
This was also built to control the overcrowded Mumbai suburban railway network.
The Mumbai metro began its operation on 8th June 2014 and has completed 8 years of serving the Mumbai people. The Mumbai Metro is the sixth longest operational metro network in India. The operational length is 46.4 km (28.8 mi), according to January 2023.
Only three lines of the Mumbai Metro are currently operational, while the remaining lines are under construction, and some lines have been approved. All lines are owned by Mumbai Metro Region Development Authority (MMRDA) except line 3, owned by the Mumbai metro rail corporation (MMRC), as it is being built in three phases over a 15-year period which is expected to be overall completed by October 2026.
In 2019 the MMRDA unveiled a new master plan of 337 km for the Maha Mumbai metro system containing 10 lines, they also introduced a new nodal agency known as Mumbai Metro Operations Corporation Limited (MMMOCL)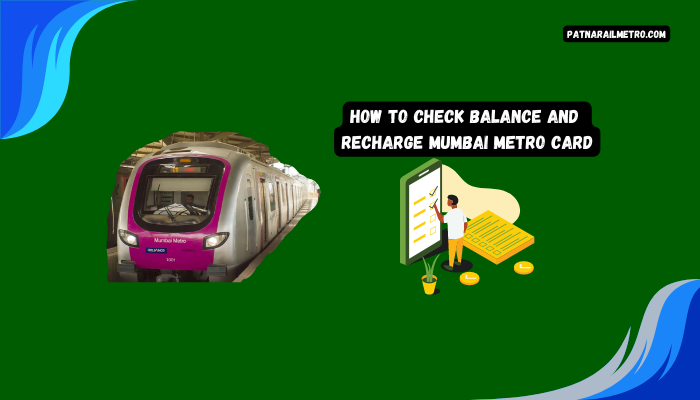 Therefore, Reliance Infrastructure has partnered with the Mumbai Metro Regional Development Authority (MMRDA) in Mumbai to Successfully establish a world-class Mass Rapid Transit System (MRTS) for the people of Mumbai. Mumbai metro stations are well maintained with proper care and have many facilities for the passengers, such as Token vending machines or add-value machines. Along with other benefits, it is also disabled-friendly.
Once fully operational with all the still-under-construction lines, Mumbai Metro will provide its people with seamless, affordable, comprehensive connectivity solutions. Even the fare is not so expensive, and the Mumbai metro has also provided another best facility to its daily passengers ie. the Mumbai metro card.
As for now, the total number of active stations is 43 in the Mumbai metro, including all the operational three lines; the number of stations will exceed in the future once the whole project is done, it will be around 264 stations.
In this article, we will learn how to check your balance and recharge your Mumbai Metro Card; here, we will follow the steps properly so that you don't face any challenges while recharging or checking your balance in your metro card. If you are a new Metrocard holder, then this article is helpful for you, so keep looking forward to understanding it more accurately.
How To Recharge Your Mumbai Metro Card?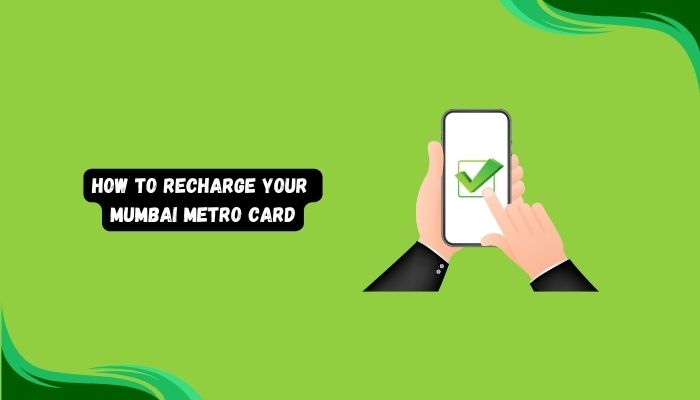 Metro card is the most accessible and affordable metal card with so many benefits; passengers having a metro card can avoid standing in long, time-consuming queues. Passengers also get Discounts on their every recharge and travel. So to enjoy these benefits, collect your metro card soon.
Here are the steps to recharge your Mumbai metro card mentioned below. Take a look at the recharge procedures so that you can do it properly on your next recharge:
How To Recharge Your Mumbai Metro Card Online?
Go to the official portal of the Mumbai Metro Instacharge Portal on the Reliance metro website ie. https://www.reliancemumbailmetro.com
Then it will show three options click on the 'Instacharge'
After clicking the 'Instacharge' fill in your card number, which is engraved on it, again re-enter it for confirmation.
Then enter your current balance
Then recharge amount
Now you have to fill in your correct personal details ie. your official name, mobile number, Email ID, gender, and Address.
After filling in your details, you have to enter the captcha code.
Then click to confirm for the procedure to begin.
Now you have to enter the amount and make the payment
There will be ways of payment methods such as Net banking, debit card, credit card, UPI, and Paytm as well as you can use google pay.
After completing the payment wait for the transaction to get done then you can get your card topped up from an add-value machine from your nearest metro station. Now that it is recharged, you can use it successfully.
Recharge By Paytm:
Here are some steps to recharge your Mumbai Metro Card via Paytm:
First, install the Paytm app on your mobile
Create a Paytm account.
Then go to the search option, which will show you metro options for all the metro cities.
Select Mumbai Metro
Then click on the recharge option
Enter your Mumbai Metro Card number, which is engraved on the metro card.
Then click submit and add the recharge amount where the recharge price is mentioned below select ie.Rs accordingly. 100, Rs. 200, or Rs. 500, then tap to proceed.
Now you will see modes of payment options.
Choose according to that, such as through net banking, Credit card, Debit card, UPI, or Paytm wallet.
Once done with the payment, wait for the transaction to get complete, you will receive an SMS on your phone.
Then after two hours, visit your nearest metro station and get your Mumbai Metro Card topped up from the add-value machine.
Therefore the steps mentioned above are for recharging your Mumbai metro card online, avoiding the long queues for recharge. Now we will discuss the offline mode of recharge of the metro cards in the Mumbai metro.
You have to visit your close metro station in Mumbai, where you can swipe your metro card inside the TVM or AVM machines, enter your card details and information that are asked for, then select your recharge amount displayed on the screen then proceed for payment after payment is done wait for the card to complete its transaction, once it is done your card will be recharged. You can also ask the ticket counters inside the metro station to recharge your metro card. The minimum recharge value is Rs. 100, and the Maximum recharge value is Rs. 3000.
How To Check Your Balance In Mumbai Metro Card?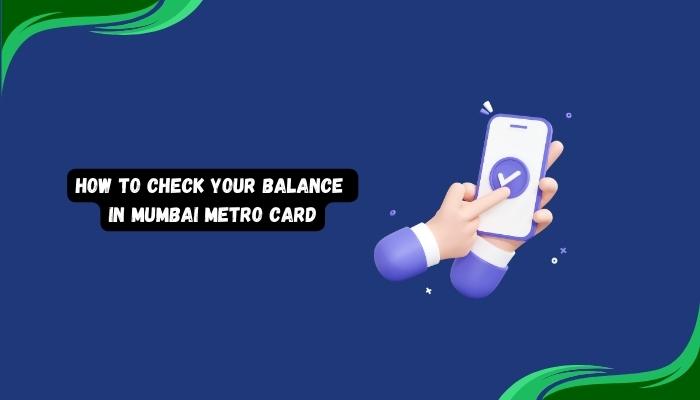 You can check your Balance on your Mumbai metro card, through the Reliance Mumbai metro Portal or online. The steps are provided below.
Visit the Reliance Mumbai Metro Portal
Enter your CSC smart card number imprinted on your metro card.
Re-enter the metro card number to confirm it
Then enter the captcha code and tap submit
Then on the next page, you can see your balance on your display screen.
Through offline mode, visit your nearest metro station, swipe the card inside the TVM or AVM machines, enter your card details and information that was asked for, and then click submit to proceed. Then on the next page, your respective remaining balance will be displayed on the screen of the machine.
Conclusively, now that we know the steps for recharging and checking our balance Mumbai Metro Card, we will now easily access these benefits smoothly, but if you are still not having your metro card, then what is stopping you go get yours as well so that you can also enjoy the ridership with ease in the Mumbai Metro and reach your destinations on time.
Frequently Asked Questions:
Q: How can I check the balance on my Mumbai Metro Card?
A: You can check the balance on your Mumbai Metro Card by tapping it at the Automatic Fare Collection (AFC) gate or ticket vending machine at any Metro station. You can also check the balance on the Mumbai Metro App or by visiting the Mumbai Metro website and entering your card details.
Q: What are the different ways to recharge my Mumbai Metro Card?
A: There are several ways to recharge your Mumbai Metro Card, including:
Online through the Mumbai Metro website or mobile app
At ticket vending machines at any Metro station
At Customer Care Centers located at certain Metro stations
Through authorized recharge vendors or e-wallets like Paytm, PhonePe, or Google Pay.