Kochi Metro is a rapid transit system in Kerala, India, operating in the vibrant city of Kochi. The project is overseen by Kochi Metro Rail Limited (KMRL), a Special Purpose Vehicle (SPV) created specifically for the Kochi Metro Rail Project. Former Prime Minister Dr. Manmohan Singh inaugurated the project in 2012, and Prime Minister Narendra Modi officially launched the passenger service between Aluva and Palarivattom on June 17, 2017. In September 2022, the foundation for the Phase II corridor was laid by the Prime Minister of India
Notably, Kochi Metro is the first transit system in the world to have all of its administrative functions managed by women. Additionally, each station on the Kochi Metro system features a unique theme inspired by Kerala's rich culture and geography.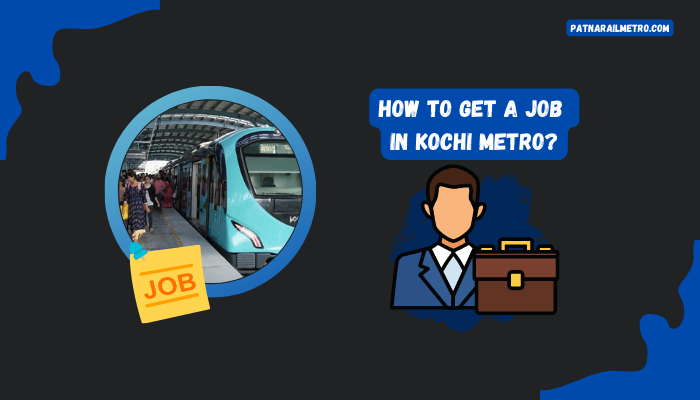 The Kochi Metro operates Alstom Metropolis trains with three carriages. Each train is 66.55 meters long and can carry up to 975 passengers, with 136 seats available. KMRL has added a new fleet to the Muttom Yard, bringing the total number of trains to 25. The trains can reach a maximum speed of 80 km per hour.
How To Get A Job In Kochi Metro?
The city of Kochi benefits from the services of Kochi Metro Rail Limited (KMRL), a rapid transit system established to provide swift transportation. Since its inauguration in 2017, the Kochi Metro has become a crucial mode of transport for Kochi's residents and professionals. Consequently, many job seekers are eager to secure a position within the Kochi Metro. If you're one of them, this article will guide you through the steps necessary to increase your chances of landing a job in the Kochi Metro.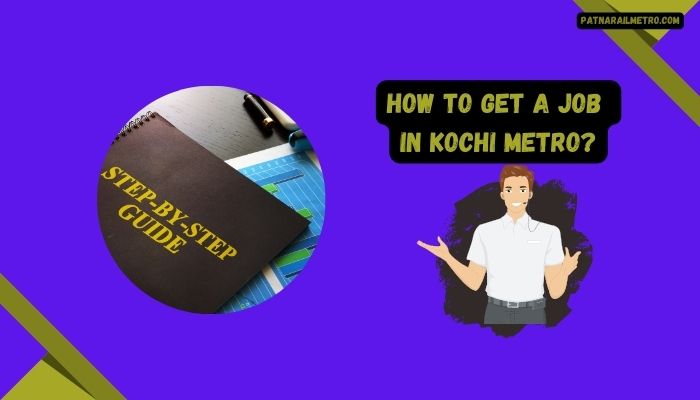 Step 1: Research The Available Positions
Getting a job with Kochi Metro is not difficult, but it does require some research. Begin by looking into job postings on KMRL's website, newspapers, online job portals, and any social media listings.
There are a wide variety of jobs offered by the Metro. Common positions include station controllers, customer service agents, train operators, and maintenance workers. Other available roles include administrative and financial costs and engineering jobs. Read all the job requirements carefully and ascertain if you have the skills and qualifications to fulfil them.
The best way to increase your chances of securing a job in the Kochi Metro is to make sure that you submit an accurate and comprehensive application, along with your updated resume and any other relevant documents. Having strong references can also work in your favour.
Step 2: Meet The Eligibility Criteria
Before deciding to apply for a job, it is essential to determine whether or not you meet the necessary criteria. Although the specific criteria can vary from position to position, some universal standards will likely apply to most opportunities.
Educational Qualification: Educational qualifications are a primary requirement when applying for any position. Depending on the role you want to fill, the required qualification level could range from the 10th standard (SSLC) to a master's degree.
Age limit: Additionally, it is essential to ensure that you are of an appropriate age. While those can fill some positions as young as 18, others have upper age limits as high as 35. It is important to double-check the requirements to determine your eligibility.
Work experience: Some jobs may also require previous experience in a related field. If you're unsure of what experience you may need, consult the job listing for more details or contact the hiring organization directly.
Review the eligibility criteria carefully before applying for a job in the Kochi Metro.
Step 3: Prepare Your Resume And Cover Letter
A well-crafted resume and cover letter are essential for a successful job application. Your resume should be tailored to the position you're applying for and include educational qualifications, relevant work experience, and certifications. Ensuring it's written professionally is crucial to making a great first impression.
In addition to the resume, a cover letter should be sent to introduce yourself further. Include your interest in the position, the skills and experience you can bring, and any relevant qualifications you may have.
Your resume and cover letter should be thoroughly proofread for spelling and grammatical errors before submitting them. Investing the extra time to ensure they are perfect will go a long way toward making a great first impression on potential employers.
Step 4: Apply For The Job
Once you've researched the available positions, reviewed the eligibility criteria, and prepared your resume and cover letter, it's time to apply for the job. You can typically apply online through the KMRL website or by sending your application by email or post.
Follow the instructions carefully and include all the necessary documents, such as your resume, cover letter, and educational certificates. Submitting your application before the deadline is essential, as late applications are typically not accepted.
Step 5: Prepare For The Interview
If your application is shortlisted, the next step is typically an interview. The interview process may include a written test, group discussion, or technical round, depending on the position you've applied for.
Preparing for the interview is essential to research the company, practising your responses to common interview questions, and dressing professionally. You should also be prepared to answer questions about your relevant experience, skills, and educational qualifications.
Listen carefully to the interviewer's questions during the interview, speak clearly and confidently, and maintain eye contact. After the interview, don't forget to thank the interviewer for their time and follow up with a thank-you email or note.
Frequently Asked Questions:
Q: What are the different job positions available in Kochi Metro?
A: Kochi Metro Rail Limited (KMRL) offers various job opportunities across different departments, such as engineering, operations, customer service, human resources, etc. Some popular job positions include station controller, train operator, customer relations assistant, manager, assistant manager, and engineer. Interested candidates can visit the official KMRL website or job portals to find available job positions and submit their applications accordingly.
Q: What is the eligibility criteria to apply for a job in Kochi Metro?
A: The eligibility criteria for different job positions in Kochi Metro may vary depending on the nature of the job, the level of experience required, and other factors. However, candidates who have graduated or post-graduation in relevant fields such as engineering, finance, management, or any other relevant discipline are eligible to apply. Candidates should also possess the required skills and experience specified by the KMRL. The selection process usually involves a written exam, interview, and other tests depending on the job position.
Conclusion:
Finding a job in the Kochi Metro can be a daunting task. However, your chances of securing a job increase by researching, being well-prepared, and having persistence. Research all the positions available in the Kochi Metro. Familiarise yourself with the criteria for eligibility, prepare your resume and cover letter, and apply for the job.
Networking is a beneficial strategy when job searching. Speak with current or former employees of the Kochi Metro and attend job fairs and industry events. Building a strong professional network will ensure you stay informed about job openings, leading to potential employment opportunities.
In conclusion, the Kochi Metro is a significant source of employment in the city of Kochi. If you're interested in working in the metro system, it's important to be diligent in your job search and preparation. You can land a fulfilling job in the Kochi Metro with the right skills, qualifications, and approach.