Gurgaon has earned its nickname, the Millennium City, as a bustling IT hub for many renowned multinational companies in North India. In addition, it has been drawing in an increasing population from various states across India and Delhi, with an estimated population of 876,969.
Gurgaon commuters are well served by the two metro networks of the city: the Yellow Line connecting to Delhi and its own Rapid Metro. People prefer using the metro for work, school, or college instead of congested roads. With the Delhi metro yellow line, commuters from Delhi and the surrounding NCR are well-connected and can travel on time.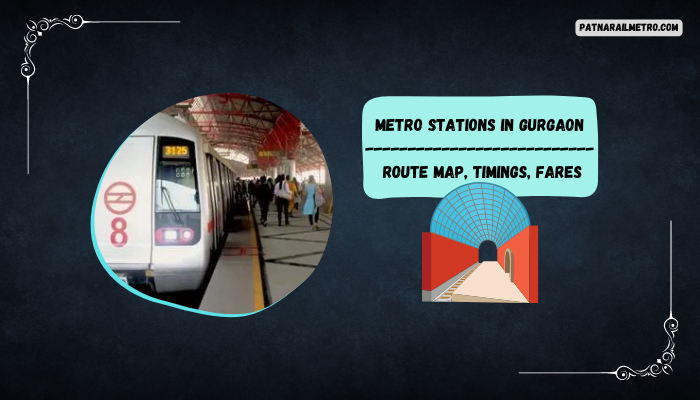 In addition, the Rapid Metro of Gurgaon also runs along many important metro stations and destinations. The main purpose of the rapid metro is to facilitate fast commuting within Gurgaon, allowing commuters to visit popular areas in a safe and timely manner. From Sikanderpur to the IFFCO Chowk metro station, people have many choices regarding travel destinations.
For all those in the city and visiting, Gurgaon's two metro networks keep people moving and the city growing with great efficiency. As the city moves forward with its population boom, more metro stations are added to help people with their everyday travel needs.
Gurgaon Metro Stations Of Yellow Line: More Detail
Gurgaon Metro, run by the Delhi Metro (DMRC), is an elevated metro station running on a yellow line. It covers the locale of Gurgaon in Haryana. The yellow line runs through five stations: Guru Dronacharya, Sikanderpur, MG Road, IFFCO Chowk, and HUDA City Centre.
The track layout at the Guru Dronacharya, MG Road, and HUDA stations is double track, while the Sikanderpur station is 4-track. It first opened for operations on the 21st of June, 2010. All stations have station codes assigned for easier access. Guru Dronacharya has a code of GE, Sikanderpur is SKRP, MG Road has MGRO, IFFCO Chowk has IFOC, and HUDA City Centre has HCC.
Parking is available for all stops, as well as disabled access for all of the five metro stations. Sikanderpur Stop serves as an interchange station with the Rapid Metro. It runs on a broad gauge track with the maximum train speed being 100km/hr.
Gurgaon Stations On Delhi Metro Yellow Line:
The Delhi Metro Yellow Line, or Line 2, was the second line to be laid after the Red Line in Delhi. This massive 48.8 km track comprises 37 stations, the most and busiest on the system, stretching from Samaypur Badli (Delhi) in the north to HUDA City Centre (Gurgaon) in the south, with Kashmere Gate and Rajiv Chowk as the most frequented stops.
Five stations in the Delhi Yellow Line are located in Gurgaon, managed by the Delhi Metro. The details of these stations are listed below:
Guru Dronacharya: Phase 2, opened on 3 September 2010. It has no interchange connection and is an elevated station.
Sikanderpur: Phase 2 opened on 3 September 2010. It is an elevated station and provides an interchange connection with the Rapid Metro.
MG Road: Phase 2, opened on 3 September 2010. It is an elevated station with no interchange connection.
IFFCO Chowk: Phase 2 opened on 3 September 2010. It is an elevated station and has no interchange connection.
HUDA City Centre: Phase 2, opened on 3 September 2010. It is an elevated station and has no interchange connection.
Gurgaon Metro Station Delhi- NCR Location:
Situated in the thriving city of Gurgaon or Gurugram, Haryana, the Gurgaon Metro Station has been a mainstay for commuters since 2010. Spanning over two phases and on the yellow line, the metro system has been in service for the past 12 years and has an approximate ridership of around 50,000 to 55,000.
For those planning to ride the Gurgaon Metro Station, here is a handy fare chart based on the distance traveled. The fare from Monday to Saturday and National Holidays have different rates, so be sure to make a note.
Up to 2 km, the fare for Monday to Saturday will cost Rs. 10 and Rs. 10 during national holidays. The fare between 2 to 5 km will cost Rs. 20 and Rs. 10 during national holidays. Those traveling between 5 and 12 km will cost Rs. 30 on weekdays and Rs. 20 on national holidays.
From 12 to 21 km, the fare will cost Rs. 40 and Rs. 30 during national holidays. Those going from 21 to 32 km will need to pay Rs. 50 during weekdays and Rs. 40 during national holidays. Lastly, if you're going beyond 32 km, the fare will be Rs. 60 and Rs. 50 during national holidays.
Gurgaon Metro Stations of Yellow Line- Timings:
The Yellow Line of the Gurgaon Metro has a convenient timetable for commuters. Starting at 5:30 AM, the first train departs each morning to ensure passengers easily get to their destinations. The service ends at 11:30 PM, ensuring travelers can make it to their locations even when running late.
This timely service has helped commuters save precious time traveling to and from Gurgaon. With reliable timing, they can now worry less about arriving late and focusing more on reaching their desired destinations.
Gurgaon Metro Stations- Fare:
The Gurgaon metro fare is as follows:
For trips beginning at the origin station, the minimum fare is Rs. 20, and the maximum is Rs. 35. This applies to all Gurgaon metro stations, including Phase 3, Moulsari Avenue, Cyber City, Belvedere Towers, and Sec 55-56.
The fare for trips beginning at Phase 2, Sikanderpur, Sec 42-43, Sec 53-54, and Sec 54 stations is a flat rate of Rs. 20.
In conclusion, riders traveling on the Gurgaon metro can look forward to reasonable fare prices.
Gurgaon Metro Station Delhi NCR, Yellow Line- Route Map:
Gurgaon Metro Station Delhi NCR is convenient for locals and tourists. Every day, around 65,000 commuters use it to move around the city. Whether it be for business or leisure, it is a great way to get around the bustling city
Gurgaon Metro Station Delhi NCR, Yellow Line: Distance to Popular Places
The HUDA City Centre metro station is the perfect starting point for reaching the nearest popular destinations in Delhi NCR. The distance to popular places like IGI Airport, Gurgaon Railway Station, and Delhi Aerocity Metro is below.
To get to IGI Airport from HUDA City Centre, take the first train towards Samaypur Badli, platform 2, on the Yellow line. After that, take the second train towards Janakpuri West on Platform 1, Magenta Line. It is 29 km long and comprises a total of 18 stops. It will take 53 minutes to reach IGI Airport from the metro station.
The Gurgaon Railway Station is just 9 km away from the HUDA City Centre metro stop. It is just a 10-minute ride without any changes.
Delhi Aerocity Metro is 44 km from HUDA City Centre and can be reached in 1 hour and 21 minutes. Take the first train towards Samaypur Badli, platform 2, on the Yellow line, and then the second train towards Dwarka, Sector 21, platform 2, on the Orange line. This journey comprises a total of 25 stations and 1 change.
Gurgaon Metro Station Delhi NCR, Yellow Line: Nearby Restaurants
Guru Dronacharya Station is home to the nearby China Club, located only 230 meters away. Visitors can also head to MG Road, just 200 meters away, or Pirates of the Grill.
At the Sikanderpur station, one of the nearest restaurants is After Stories, a mere 350 meters away.
The best spot to dine at the IFFCO Chowk station is the food court in the station itself, ensuring that you don't have to venture far from your Metro station for a meal.
Lastly, at the HUDA City Centre station, you can conveniently access the food court within the station. These restaurants near the Gurgaon Metro Stations on the Yellow Line are great dining options when you're out and about.
Gurgaon Metro Station Delhi NCR: Real Estate Details
Gurgaon, popularly known as Gurugram, is one of the country's largest and most important IT hubs and North India. With its fast-developing infrastructure, imposing skyscrapers, and steady economic growth, it is a key area for potential investors and property buyers.
New Gurgaon is a real estate hub with several upcoming developments. To name a few, Dwarka Expressway links to New Gurgaon, there is a proposed Inter State Bus Terminal nearby, and plans have been announced by the Haryana government for a railway station to be constructed on 25 acres of land in Sector 101.
When investing in the area, one should consider the property rates. The approximate cost per square foot for different sectors of New Gurgaon is listed below:
Sector 108: Rs. 5,900 – Rs. 11,200/sq ft
Sector 112: Rs. 7,400 – Rs. 9,300/sq ft
Sector 114: Rs. 7,400 – Rs. 9,300/sq ft
Sector 106: Rs. 4,600 – Rs. 7,000/sq ft
Sector 85: Rs. 4,500 – Rs. 7,800/sq ft
Sector 82A: Rs. 4,600 – Rs. 10,200/sq ft
Sector 72: Rs. 6,700 – Rs. 10,200/sq ft
Sector 95: Rs. 3,100 – Rs. 5,600/sq ft
With this comprehensive listing of costs in New Gurgaon, one can make a well-informed decision on where and what property to invest in.
Gurgaon Metro Station Delhi NCR, Yellow Line- Landmarks:
Visiting the metro stations around Gurugram can be quite an enriching experience as the bustling metro system serves various purposes. The biggest bonus is being connected to the hub of the city's best shopping malls and arcades.
One of the prime metro stations is the Guru Dronacharya Metro Station which is located 200 m away from JMD Regent Plaza Mall. It is one of the premier malls around the city and is a great destination for shopping, movies, and eateries.
Another popular destination close to the Metro station is Sikanderpur Metro Station, which is situated 200 m away from the Grand Mall. This shopping mall has something for everyone and offers an immense variety of shopping options.
Near the MG Road metro station lies the MGF Metropolitan Mall, just 50 m away. This mall has various entertainment options, luxury brands, and stores that attract shoppers from all over.
IFFCO Chowk is also one of the primary Metro stations, with some amazing shopping places within its radius. Central Mall is a destination you should not miss when you're in the vicinity, as it is situated 500 m away from the IFFCO Chowk station.
HUDA City Centre Metro Station also serves as an excellent shopping hub, and Sushant Shopping Arcade is located only 1.1 km away from the station. This mall offers some of the best deals, and one can buy many products here.
Gurugram is the ideal destination for a memorable shopping experience, and these malls close to the metro stations are a testament to that.
Gurgaon Metro Station Delhi NCR, Yellow Line- Parking Space:
Traveling can be a stressful experience, especially when commuters are running late. Thankfully, parking facilities across all Gurgaon metro stations provide commuters with the comfort they need and make the rush of traveling a bit easier.
These parking facilities provide plenty of spaces and often feature amenities such as round-the-clock security, separate sections for bikes, etc. It not only makes it more convenient for commuters to park their vehicles but also allows them to rest assured knowing that their vehicles are being taken care of.
Latest News And Updates On Gurgaon Metro:
Gurgaon Metro Project Gets Approval; Three New Metro Links Proposed by CM.
In February 2023, the Chief Minister of Haryana announced during the budget presentation for 2023-24 that the Gurgaon Metro project had received approval from the central government's Public Investment Board. The project will have 27 elevated stations, including a spur leading to the Dwarka Expressway. Construction of the Gurgaon Metro will begin in the upcoming fiscal year, pending final approval from the Union Cabinet.
In addition to the Gurgaon Metro project, the Haryana government plans to establish three new metro links in the same fiscal year. The first route will connect Southern Peripheral Road to Panchgaon via Manesar and Global City. The second route will extend the Bahadurgarh Metro to connect with the Haryana Orbital Rail Network and KMP expressway. The third proposed metro route will connect Rezangla Chowk to Delhi's Indira Gandhi International Airport.
Gurgaon Metro Station- (Helpline) Customer Care:
If you have any queries or need further information about the Gurgaon metro stations, you can reach out to the following contact number or email:
Conclusion:
The Gurgaon Metro Stations have been gaining popularity among travelers due to their convenience. Whether you are in Delhi NCR or living in Gurgaon, they have proved to be the most reliable option to reach their destinations within the city.
In conclusion, Gurgaon Metro Stations make traveling to Delhi or Gurgaon a breeze, especially during peak hours. Furthermore, the city is fast-developing, with new projects always on the go, making it easier for those living in Delhi to find work in Gurgaon without relocating. With the yellow line and Rapid Gurgaon metro station, the city has become a great place for seamless travel.
Frequently Asked Questions:
Q: What are the timings of the Metro stations in Gurgaon?
A: The Metro stations in Gurgaon operate from 6:00 am to 11:00 pm daily. However, the timings of the first and last trains may vary slightly depending on the station and the day of the week. It's always a good idea to check the Metro Rail website or app for the latest schedules and timings.
Q: What are the nearby landmarks or places of interest near the Metro stations in Gurgaon?
A: The Metro stations in Gurgaon are in a prime location, with several landmarks and places of interest nearby. Some popular landmarks and tourist attractions in the vicinity include Cyber Hub, Kingdom of Dreams, Ambience Mall, and Leisure Valley Park. Additionally, the area has several restaurants, cafes, and shopping centers, making it an ideal location for both locals and tourists. The Metro stations in Gurgaon are well-connected to other parts of the city, making it a convenient mode of transport for commuters.