Right To Public Services Bihar is an online portal led by The Government Of Bihar for the people of Bihar to access online services. This scheme is beneficial for the citizens of Bihar as they are getting all the Government related work done under one portal, which the Bihar Government introduced.
People can register into the portal to access all the services the Bihar Government offers. In this article, we will understand the RTPS scheme, how to apply for it, and the certificate services provided in the portal in detail.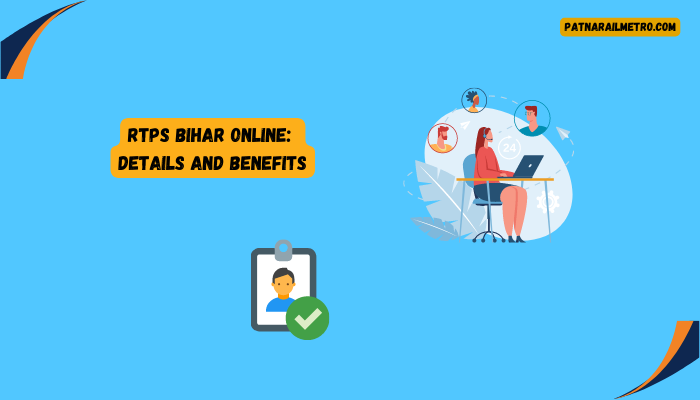 What Is RTPS?
Citizens of Bihar will obtain documents like Caste Certificates, Income Certificates, and Residence Certificates for availing Various Governmental services through one Portal, including schemes and scholarships. Therefore, the Government of Bihar has introduced e-services online through a portal, i.e. serviceonline.bihar.gov.in. for providing RTPS and other government-related services.
This facility guarantees transparency so that public utility services would be delivered without delay. Right To Public Services enactment is decided by the law, which is legally justifiable, which is a specified time-framed conveyance of administrations for different other administrations executed by the state government, which rejects the wrong way of working in the administrations.
It also decreases the violation among the administrative authorities and develops open responsibility and accountability while being straightforward. The RTPS portal also helps people apply for various certificates, where they can check their application status, download them, and access other services on the Official Portal of RTPS Bihar.
About RTPS Bihar:
RTPS (Right To Public Services) is an online service that enables people to use various online services under a single portal. This becomes very useful and easy to handle without any hurdles, a new technology that people can access easily. RTPS was introduced on 15 august 2012 as a center for collecting income, caste, and residential certificates at the RTPS center Bihar Bhawan, inaugurated by the Hon'ble Chief Minster of Bihar.
Many states, including Madhya Pradesh Government, might have been the first to talk about or introduce the RTPS schemes to its public, but Bihar Govt. still stands in the first rank of RTPS implementation.
This is because it used its own specially made software, "ADHIKAAR", which requested good services provided to the people of Bihar. Thus, they wanted it to reach every part of Bihar, be it cities, towns, villages, or districts. So that every Bihar Citizen can access it with ease under the Bihar RTPS act.
Bihar RTPS Act 2011:
The Right To Public Service Act 2011 authorizes the conveyance of public services within a time-bound without hurdles in a crystal clear manner. This keeps track of the commitments and has fixed accountability, also the right to appeal if there is any unjustifiable delay or getting denied with provisions to impose charges on the responsible public servants.
Here, RTPS covers around 10 departments to provide 50 services to the people. Madhya Pradesh was the first to establish the RTPS on 18th august 2010 act, and then Bihar was the second to develop this bill of the RTPS act on 25th July 2011; therefore, other states put into the established RTPS.
This act is crucial, as Bihar was touted for lack of straightforwardness and responsible administrations therefore known as wasteful administration. Because the literacy rate and poverty was massive issue in Bihar before this act was implemented. However, Bihar is developing and focusing on every problem to get solved and make everything soulful for the people of Bihar.
Benefits Of RTPS Bihar:
Government provides a variety of schemes and plans for the Bihar citizens, where caste income and resident proof and certificate are required.
Also applicable for government jobs in both State and central.
Enables people to use a wide range of government online portals at once. 
Can access their audits that have been rejected, postponed, or appealed for.
Facilities Provided By RTPS Bihar:
Getting a Caste Certificate and local residence certificate.
Purchasing an OBC certificate.
Certification for procuring profits.
Tatkal services for caste, income, and residential certificates.
How To Apply For RTPS Bihar Caste/Income and Residence Certificate Online?
Visit the website of eServices Bihar to create an account for RTPS or Bihar https://serviceonline.bihar.gov.in/.
Then go to apply online and click on the "General Administration Department" under the same website. The same link is also given on the left side of the home page under RTPS services.
Then there are various options for RTPS services which are, Issuance of a Residental Certificate, caste, Income, non-creamy layer Certificate (for Govt. of India), and asset certificate for the economically weaker section.
Click on the relevant services based on your preference.
Then select the Level, Sub-Division Level, and District Level.
Then, you will be directed to a new page that will display the application form.
Below are the application forms for various types of Certificates, namely the Bihar caste, income, and resident certificates.
Complete the application form by giving the required details and information, including name, mother's name, husband's name, state, district, gender, subdivision, village, etc.
Then, upload the required documents online and proceed to apply. You can check your application status from the same link after entering your details.
RTPS Documents Required:
People who are applying for Caste, Income, and Residence Certificates must submit these required Documents for RTPS Bihar are:
Caste Certificate Required Documents are:
Identity proof like Aadhaar Card, Voter ID Card, PAN Card, or even a Passport
Address proof, such as Aadhar Card, Residential warranty, Rent Slip, Rent Agreement, or Driving license, is also needed.
And Ration Card Copy
Income Certificate:
Age proof like a birth certificate or Class 10th Marksheet
Residential Proof, Voter ID
Self-attested declaration form
Aadhar Card, PAN Card, Ration Card
Income Statement like Monthly Salary Details
For Residential Certificate:
Aadhar Card
PAN Card
Ration Card
Voter ID
Class 10th Marksheet
Electricity Bill
How To Download RTPS Certificate Online?
To download the RTPS certificate, such as the Caste, Income, and Residential Certificates, visit the Bihar Government's official portal for RTPS certificate download, i.e. serviceonline.bihar.gov.in website and click on the "Download Certificate" then the users will be directed to the next page. Now they have to select the RTPS services or other services from the drop-down list, enter the applicant's application reference number and name, and click on the "Download Certificate."
The certificates will be given to the applicant in various modes, such as:
Download the certificate link at the RTPS portal.
Download the link in the SMS.
Email attachment
Even through DigiLocker
SevicePlus inbox
Nearest community service center, kiosk, RTPS counter, etc.
So, the new users can download the caste certificate in Bihar. Similarly, residential and income certificates from the RTPS Bihar portal can be downloaded with a few clicks.
If you wanted to obtain it offline before the online facility was introduced in Bihar, the citizens used to visit the appropriate place in their area and get these certificates from the department assigned for these RTPS certificates.
Did RTPS Help Bihar?
RTPS did bring a change throughout Bihar because of its easy availability and access. It also changed the works of administrations like how it used to work before now it has a fast pace of working in administration. Also, Bihar got technologically upgraded through it somewhere, as people can do all their work simultaneously.
One can visit government offices infrequently. It can be done anywhere or in any part, remote or city. Readily available in the local language to the people as well. This act has brought a change. Sohar, so many people got job opportunities through these authentic certificates. RTPS is accountable to the people to resolve their problems.
The portal of RTPS is informative so people can make it accurately. It helped The Bihar people and the government. Therefore, it did justice to all the people of Bihar and was a significant step led by the Bihar Government to introduce this initiative to the Bihar citizen and also gave them a platform full of services.
Isn't it amazing completing all official work at once while being close to home online without having tons of round to government office? Nowadays, people are all active in technology, so RTPS still benefits everyone. However, The RTPS ACT has helped the public regarding three Ws related to their work known as "who, where, when".
Because it has given all the information in RTPS, get your caste, income, and Residential certificate in a straightforward, systematic way which RTPS will help you.