Miyapur Metro Station has quickly become one of the busiest hubs of Hyderabad. It is situated on the Red Line of the Hyderabad Metro and sees a huge influx of commuters daily.
As cities all over the country increasingly resort to metro rail lines for tackling existing traffic issues, urban development, and improved commuting experience, Hyderabad to is witnessing rapid progress in its metro route expansion plan. Miyapur is the key station on the new stretch and stands out for its phenomenal commuter activity.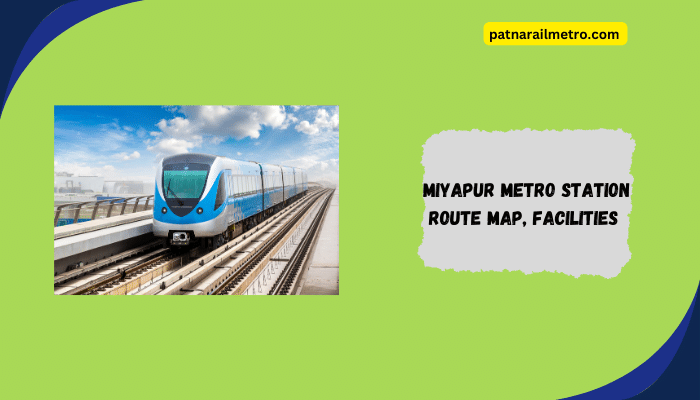 The continuous addition of routes and infrastructure development shows Hyderabad's commitment to helping its people travel more easily, no matter where their journey starts or ends.
Miyapur Metro Station- Location:
Miyapur, situated in the North-West of Hyderabad, is an affluent residential area under the administration of Greater Hyderabad. It hosts various educational institutions and commercial hubs, making it an upscale locality.
The Miyapur metro station, situated on the Mumbai Highway, can be located at the following address: Miyapur Metro Station, Nadigada Tanda, Hafeezpet, Miyapur, Hyderabad 500049. The station coordinates are 17.4968°N 78.3614°E, which facilitates easy digital map search.
Miyapur Metro Station- More Details:
The Miyapur metro station falls on the Red Line of the Hyderabad metro and is the terminal of Corridor I. This elevated station is built above ground level, connecting both sides of the Mumbai Highway Road. It was opened for operations on 29th November 2017.
The metro station has three levels – street, concourse, and platform.  The entry point for the elevators, parking areas, and Automatic Fare Collection (AFC) gates are present at the street level. Inside the concourse, tickets can be obtained, and passengers can enter the AFC gates before going to the platform.
This concourse level has two sections – one paid and one non-paid. People in wheelchairs are allowed to go through the AFC gates here. The station is open from 6.00 AM to 11.00 PM, the first train starts at 6.00 AM, and the last train departs at 11.00 PM.
At the platform level, people board and off-board the train. Security guards are present at this level to ensure safety.
Miyapur Metro Station- Amenities:
Miyapur metro station is one of the city's most well-equipped transit hubs, with many facilities available to passengers. For those with accessibility issues, ramps, and elevators are available, making navigation through the station a breeze.
In addition to those amenities, there are also staircases, so you're guaranteed safe passage no matter which mode of transportation you prefer. Moreover, you'll also find well-maintained outdoor landscapes which enhance the aesthetic beauty of the station.
If you lose something at the station or want to complain, there is a Lost and Found center and Help Desk. And for those arriving at the station in their own cars, parking facilities and electric vehicle charging points are also provided for convenience. To top it all off, the station is also equipped with restrooms.
The Miyapur metro station offers all its passengers comfort and convenience, making it a wonderful experience.
Miyapur Metro Route Map:
Miyapur is the first and most spacious station on the Hyderabad metro's Red Line. It also has parking facilities and is the starting point for the entire metro route.
The station immediately next to it is the Jawaharlal Nehru Technological University station, which provides an airport shuttle service. After this, the Kukatpally station is reached.
The eleventh station on the Red Line is Ameerpet. The line junction is where the Blue Line can be accessed if desired. Gandhi Bhavan and Osmania Medical College stations are also part of the Red Line, after which another line junction appears – the M.G. Bus station. This connects the Red Line to the Green Line, and the Red Line ends at LB Nagar.
Miyapur Metro Station- Distance To Popular Places:
Miyapur Metro Station is centrally located, with convenient distances to many popular places in the city. For instance, it is just 200 m from the Miyapur Bus stand. A 1 km journey will bring you to the Hyder Nagar Bus stand. The Pushpak Airport Liner Bus stop, is a 3 km journey from Miyapur Metro Station.
Manjeera Mall, one of Hyderabad's most popular shopping destinations, is just 4 km away from Miyapur Metro Station. A 5 km journey will take you to Begumpet Airport. The Hafeezpet Train Station is 6 km away. The Hitech City Train Station is only 7 km away from the station.
Miyapur Metro Station is a convenient 9 km from the bustling Madhapur area. Last, but not least, the Rajiv Gandhi International Airport, Hyderabad's most important air travel hub, is a 41 km journey from the station.
Miyapur Metro Station- Distance To Nearby Landmarks:
Miyapur Metro Station is located conveniently close to various popular landmarks. Here is the distance between Miyapur Metro Station and the nearest landmarks.
| | |
| --- | --- |
| | Distance To Nearby Landmarks |
| | |
| | |
| | |
| | |
| | |
| South India Shopping Mall | |
| | |
| | |
| | |
| | |
| | |
With so many popular places located so close, it's no wonder that Miyapur Metro Station is such a convenient spot to commute from. Whether you are heading out for work or enjoy a weekend getaway, you're sure to find plenty of options at Miyapur.
Miyapur Metro Station- Nearby Restaurants:
The following are the restaurants near Miyapur Metro Station:
Rollsking Miyapur, a small roadside kiosk inside the Miyapur metro station, offers delicious rolls.
KFC, located just a few steps away, is a great place to grab a quick bite, and their crispy chicken burgers are simply mouthwatering.
Just two kilometers away is Jain Kitchen, the ideal spot for vegetarians to have a fulfilling meal. They have a variety of vegetarian dishes and lip-smacking desserts.
Sri Vyshnavi Restaurant, located just as near, is a good place to indulge in delicious South Indian meals and fast food.
Another two kilometers away is Indian Red Chillies. This restaurant serves a variety of Indian cuisine.
Just a few kilometers away from there is Angaara Restaurant.
Vaibhav's Kitchen is located nearby and is the perfect spot to enjoy traditional Hyderabadi cuisine and a great evening atmosphere.
Honeybees Restaurant, located 4 km away, is great for couples to enjoy delicious multi-cuisine food in an intimate setting.
TGI Fridays is another great option, located just 5 km away.
Miyapur Metro Station- Nearby Flats/Houses:
Miyapur is a fast-growing, upscale residential neighborhood with over 600 new projects yet to be completed. This area's most popular residential units are 2 BHKs and 3 BHKs. Some of the most sought-after projects around Miyapur metro station are Nile Valley, DNR Adhya Residency, DNR Ashoka Hill Park Residency, Dhivya Shree Shakthi, NSK's Platina, and Nyla.
The price range for houses in Miyapur is broad, from 4,100-6,700 rupees per square foot. For renters, prices range from 9-14 rupees per square foot. The average prices of properties in Miyapur hover between 60 and 80 lakhs.
Altogether, Miyapur is a great location for anyone looking to buy, rent, or lease a property. Its abundant available housing and wide price range make it suitable for all budget ranges.
Miyapur Metro Station: Nearby Commercial Complexes:
Plenty of options are available for those looking to have a commercial complex near the Miyapur Metro station. From Dr. Reddy's Enclave at 5.5 km away to Ameenpur Industrial Area at 5.7 km, Bollaram Industrial Area at 7.4 km, and Hitec City and Gachibowli at 11 km each, there is something for everyone.
You can easily search for showrooms, office spaces, and other commercial buildings to rent and lease in Miyapur. You can check out the costs, deposit details, and other necessary information online.
Miyapur is an ideal location for those looking to open a business, given its high-commercial activity and all the other advantages of being near the Miyapur Metro Station. With its vast array of rental options, one can surely find the perfect fit for their needs here.
Miyapur Metro Station- Parking Availability:
Parking at Miyapur Metro Station is quite convenient for two-wheelers. If you choose to park, Gate D is the entrance for you. You have two ways to pay for the parking.
Firstly, you can use Park Hyderabad, an app that allows you to book slots in advance. The charges are a flat rate of INR 4/hr with a minimum booking of two hours.
Alternatively, you can also visit the premises and pay the operator directly. For up to three hours of parking, you will pay INR 15, while more than three hours will cost INR 25. There is also the option of buying a Monthly Pass, costing INR 525 with an additional charge of INR 50 for the card.
4-wheeler parking space is available on the premises, but it is limited.
Miyapur Metro Station- (Helpline) Customer Care:
If you have any queries or need further information about the Sarita Vihar metro station, you can reach out to the following contact number or email:
Address: Near Kalvari Temple, Nadigada Tanda, Miyapur, Hyderabad, Telangana 500049
Contact Number: 040 2338 8587
Email: customerservice@ltmetro.com
Conclusion:
Miyapur metro station is a popular destination for the citizens of the city. With footfalls averaging 17,000 to 20,000 daily, it's not hard to understand why. The Red Line in which this station falls makes traveling to other major locations in the city effortlessly and comfortable.
If you're sick of constantly dealing with traffic jams and increasing fuel costs, then now is the time to invest in a monthly pass and get accustomed to traveling via the metro. Not only is this better for the environment, but you also save money.
The station also stands out due to various office spaces, shopping spots, and restaurants near the Miyapur metro station. Its convenient location means that you can easily access it from any corner of the country. The Miyapur metro station offers more than just a convenient way of traveling. With plenty of nearby locations that you can visit, this station can provide the perfect break from your busy day.
Frequently Asked Questions:
Q: What are the nearby landmarks and attractions near Miyapur Metro Station?
A: Miyapur Metro Station is located in the Miyapur area of Hyderabad, and several popular landmarks and attractions are located nearby. Some notable attractions near the station include the Miyapur Allwyn Colony Park, the Sri Rajarajeswari Temple, and the Botanical Gardens. Additionally, several restaurants, cafes, and shopping centers are located within a few kilometers of the station, making it a convenient destination for commuters and tourists.
Q: What are the facilities available at Miyapur Metro Station?
A: Miyapur Metro Station is a modern and well-equipped station with several facilities and amenities available for the convenience of commuters. The station has lift and escalator facilities, making it easily accessible for people with disabilities or elderly commuters. Additionally, several shops and vendors are located inside the station, offering a range of products and services, such as snacks, beverages, and mobile recharge. The station also has a dedicated customer service center where commuters can seek assistance or raise queries or complaints. Furthermore, a dedicated parking area exists for commuters who wish to park their vehicles at the station.